Hand-pulled Noodles and Chinese Barbecue Meats – 173 Ramen Restaurant
BY CK Lam
A friend tipped me off to a coffee shop serving hand-pulled noodles on the busy Macalister Road. This fairly new stall offers freshly hand-pulled noodles (la mian) and koay teow th'ng. Other specialties include homemade prawn wanton and fish balls.
The owner Mr Loh starts his day by making the hand-pulled noodles at the kitchen. The hand-pulled noodles have a certain tenderness and texture, which is greatly distinct from mass made noodles. The noodle is available in two sizes – either thick rounded or string-thin. Mr Loh quoted that the texture and mouth feel of the noodles are as important as flavor!
We had several varieties, starting with the spicy "ma la" noodle, which is the highlight in 173. Mr Loh had the hand-pulled noodles dipped in boiling water. The blanched fine noodle is served with black sauce with a dollop of chili-red paste (also handmade), a Sichuan specialty with heat of chilies and numbing Sichuan peppercorns.
Priced at RM3.50, the dish comes with pieces of BBQ pork (char siew), chicken, fish balls, vegetables and aromatic chili paste. With the right thickness and nice chewy bite, the noodles absorbed every drop of robust flavor from the spicy and tingly chili paste. For those who prefer less spicy, be sure to inform Mr Loh.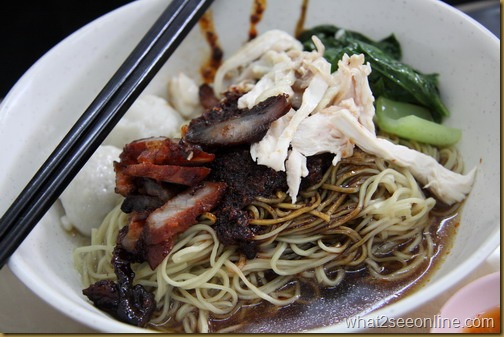 I ordered a bowl of thick rounded noodle with soup at RM2.80. Mr Loh added toppings of mushroom, fish balls, chicken and minced meat. On the whole, the soup was flavorful and sweet. The noodles, again, was equally excellent, with the same chewy texture and soft center.
Other options included the koay teow th'ng and the dried koay teow (RM2.80). The latter was served tossed with black sauce and complemented with reasonable servings of chicken, fish balls and minced meat.
Thick rounded ramen with soup and dried koay teow
We ordered additional prawn wantons and fish balls, both served in light broth. Quite plump in size, the wanton comes with a nice filling of fresh prawns. Meanwhile, the fish ball with its springy bite is best dipped in soy sauce with chili padi. "I used only Mackerel for the fish balls and I make fresh batches of them" says Mr Loh.
Prawn wanton and fish ball cost RM0.40 each
Besides hearty bowls of noodles, wantons and fishballs, 173 also offers Hainan chicken rice (RM3.70), blanched vegetables (from RM3 to RM5) and braised meat which is a mix of pork, chicken feet, egg and bean curd. I would come back another day for this interesting braised dish.
Other selections of meats include white chicken, siew bak and charred BBQ pork (char siew). Plain noodles are offered to go with the meats which are served with a garlicky chilli dipping sauce.
Mixed meat platter of BBQ pork (char siew) and white chicken
Smoked pork and simmering braised meat
173 Ramen Restaurant is another great place for a quick and tasty meal. It is hard to miss this place which is opposite Loh Guan Lye Specialist Centre and a few doors away from the Sister's Char Koay Teow. Click here for the Map Location. Business hours are from 8am to 5pm daily.
173 Ramen Restaurant
173 Macalister Road
10400 Penang
Tel: 2263835
* Many thanks to Ong for laying on this invitation.
* This is a reproduction of my article published in New Straits Times