Course menu with fugu and kani @Miraku Japanese Restaurant
BY CK Lam

Established under the Texchem Group, Miraku in G Hotel is a great place for customers to enjoy Japanese food. The main cuisine at this fine dining restaurant is Japanese food, with ala carte dishes and course menus.
Executive Chef Masaki Kurihara came up with creative dishes using seasonal and premium ingredients flown in from Japan, for traditional Japanese menus ranging from RM100.
We were treated to the course 3 menu, priced at RM200 and consisting of seven courses, including fugu (puffer fish) and kani (crab). The dishes were absolutely interesting, both in taste and texture.
The first appetizer featured fugu nikogori (fugu skin in a savory gelatin), fresh gingko, escargot, chicken and a cup of seaweed, cucumber and clams in vinaigrette. All the flavors came together but the soft fugu nikogori was the standout.
The sashimi was flounder, imported live from Japan. The thinly sliced translucent pieces of fish and two pieces of fillets (from near the fin) were delicate and sweet. I like the chef's idea of serving the flounder with fish liver pate and ponzu dipping sauce, which was the secret to this raw fish dish.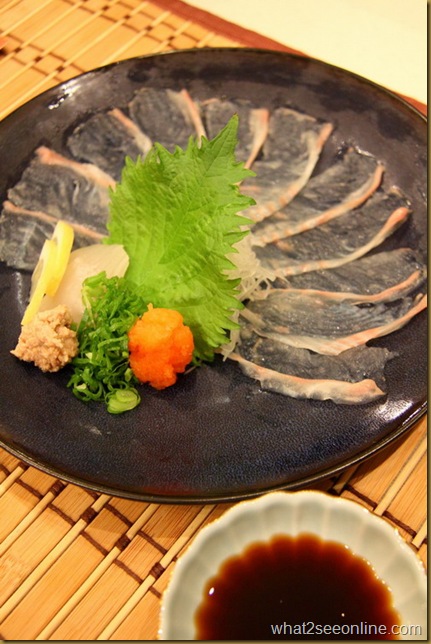 The following course was the grilled ribeye, a tender and flavorsome beef treat, cooked on the spot on a hot plate. We got to play chef and were told to give the meat a quick searing in butter.
SIMMERED DISH
Our meal included nimono (simmered dish) of agedashi potato. Kurihara simmered the mashed potato in a thick broth  of fresh seaweed flavored with dashi. The mashed potato was nicely done, brown on the outside and creamy inside. Indeed, it was comforting with the warm soup.
We were served with kani tempura. Airflown from Japan, the crab claws made a fabulous tempura dish. They were laid on white sheets of paper and served with soya sauce and wasabi sea salt. Both were equally tasty but I thoroughly enjoyed the piping hot succulent crab with the latter.
GRILLED SEAFOOD IN A DRINK
The Kani tempura was delicious with sake. We did have a lot to drink, sampling cold sake of Kani Reishu and Fugu Hire Reishu, with the former soaked with grilled crab claws and the latter with grilled fugu skin.
The sushi included blue fin tuna, served with a side of kombu seaweed soup with shredded kombu. The sushi needed only pickled ginger and a bit of soya sauce.
Chef Kurihara with the sushi
For dessert, we had sweet cheese tofu.
Miraku Japanese Restaurant
1st Floor  G Hotel
168A Persiaran Gurney
10250 Penang
Tel: 04 2298702
Business Hours:
Monday to Sunday
Lunch 12.00pm to 2.30pm
Dinner 6.00pm to 10.30pm
Website: http://www.miraku-restaurant.com/
* Many thanks to Texchem Group for laying on this invitation.
* This is a reproduction of my article published in New Straits Times