Golden Sands Resort, Penang Holds Sustainable Seafood Awareness Day
BY CK Lam
Golden Sands Resort, in collaboration with World Wide Fund for Nature Malaysia (WWF-Malaysia), the Penang Aquaculture Association and GST Group, held a Sustainable Seafood Awareness Day at the resort on Friday June 8, 2012. The event was to raise awareness for the need to protect our precious seafood supplies from depletion through indiscriminate fishing practices and unsustainable fish farming methods.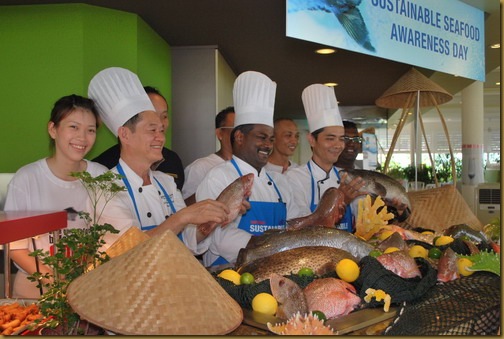 Golden Sands Resort is leading the way towards sustainable seafood
Attended by a number of NGOs, seafood suppliers, researchers, marine scientists, hoteliers,  chefs and media, the event was graced by the guest of honour, Law Choo Kiang, state executive councillor for Agriculture and Agro-based Industries, Rural Development and Flood Mitigation who delivered the keynote address.
YB Tuan Law Choo Kiang delivering the keynote address
There were also speeches by general manager of Golden Sands Resort Bruno Cristol and executive chairman of GST Group of Companies Datuk Goh Cheng Liang. Goh is also the chairman of Penang Aquaculture Association and president of Marine Fish Farmers Association of Malaysia. WWF-Malaysia made two presentations covering the status of fisheries in Malaysia and sustainable seafood consumption. The event included the screening of the docu-movie titled End of the Line.
The resort's corporate social responsibility executive, Amelia Lim said: "In conjunction with World Oceans Day and Coral Triangle Day which fall on June 8 and 9, respectively, this event is an initiative in support of sustainable fishing among our stakeholders. "Golden Sands Resort is the first resort in Penang to initiate such an event and we hope to inspire other hotels to do the same."
There was also a fish tasting session where guests enjoyed fish from a wild catch,  fish farm and hatchery.
Photo courtesy of Golden Sands Resort
In line with the sustainable programme, Golden Sands Resort is offering a sustainable seafood buffet, available every Saturday from 7pm to 10pm at its Garden Cafe. Prices are RM99++ for adults, RM49.50++ for teenagers and RM29++ for children aged 6 to 12. The buffet features two species of fish from the green list of WWF-Malaysia's Save Our Seafood (SOS) guide.
Shangri-La Golden Sands Resort
Batu Feringgi Beach
11100 Penang
Malaysia
Tel: 04 888 8888
* This is a reproduction of my article published in New Straits Times