Penang and Thai-style Tapas at Rasa Sayang Resort & Spa
By CK Lam
Let's go enjoy Penang and Thai-style tapas, also known as Pinang Thaipas, at the alfresco poolside Pinang Restaurant and Bar in Shangri-La's Rasa Sayang Resort and Spa. With a spectacular view of the sea, this place is the perfect spot to indulge in appetisers and finger food coupled with a glass of wine, cold beer or fresh juices.
Executive chef Kam Kok Wai offers customers authentic tapas with wonderful flavours and impressive presentations. The menu boasts a mix of nine local and Thai favourites.
He highlighted the tastes of Penang with chicken pie tee, deep-fried prawn and vegetable spring rolls and Penang Laksa. The latter is an appetizing dish that will have you hankering for more. The fresh rice noodle is doused with a tangy and spicy fish broth, and served in a dainty teacup topped with red chilies and mint leaf.
Kam's version of chicken pie tee, which is a Nyonya dish, has plenty of chicken pieces and julienned vegetables in crispy deep-fried shells. Other Penang favourites include deep-fried spring rolls. The rolls, which encase a succulent mixture of vegetables and prawns, proved to be our favourite. We thoroughly enjoyed it dipped in the mint jelly sauce.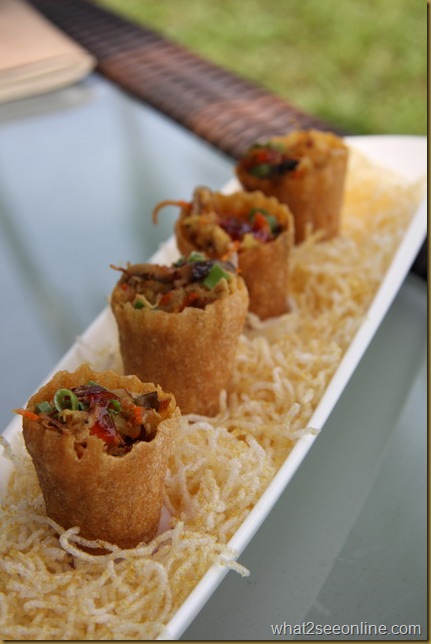 Chicken pie tee
Deep-fried spring rolls
For the Thai-style tapas, Kam presented a variety of dishes, including tod man pla, miang kham, som tam and tom yam goong. Kam has much Thai cooking experience, having worked with many Thai chefs.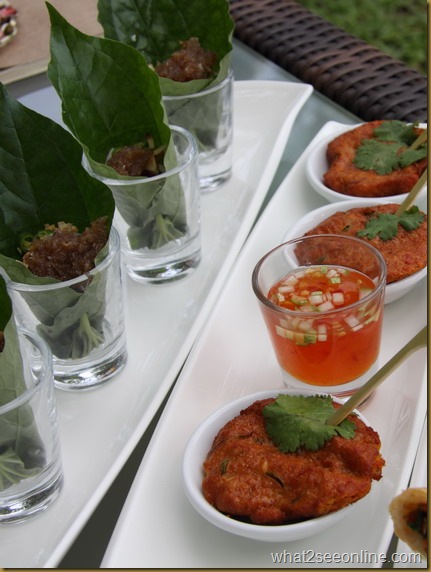 The tom yam goong shooter is spicy and packed with flavours. The soup comes with a generous-sized king prawn, and laced with truffle oil, giving an extra dimension of flavour to the dish.
The spicy som tam is a light and delicious salad with strips of green papaya, long beans and carrot, together with cashew nuts that have been tossed in a tangy lime and chilli sauce. The dish's novelty is the addition of cashew nuts.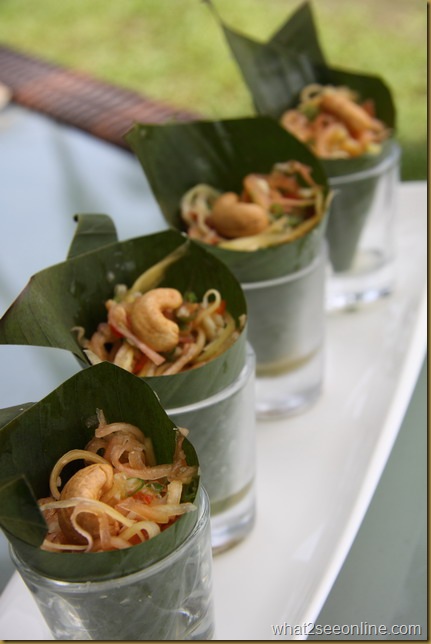 The tod man pla are deep-fried Thai fish cakes in red curry, made aromatic with herbs and spices. It is served with a well balanced mix of sweet cucumber relish. The small discs of fish cakes are pleasantly spicy and aromatic.
The cone-shaped miang kham wrapped in the slightly bitter wild pepper plant leaf is filled with cashew nuts, ginger, chillies, shallots, desiccated coconut, lime juice and a sweet and tangy sauce. This dish with many flavours in one bite has a unique taste, and you are bound to like it.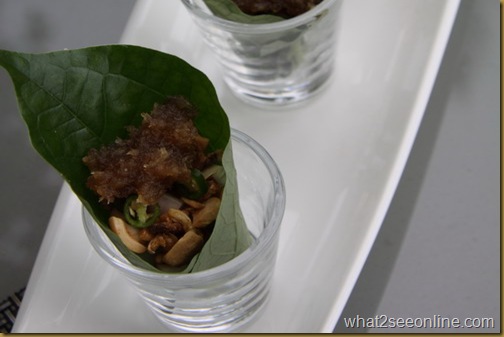 Save room for dessert, which includes the old favourite of sago gula Melaka – sago pearl pudding with thick creamy coconut milk and palm sugar syrup. Another choice is the mango rock and roll, a nicely hot, sticky rice roll served on a thick and creamy mango coulis. Both desserts are served in four shot glasses.
Sago gula Melaka and sticky rice with mango coulis
Prices of the tapas range from RM14++ to RM22++, with the tapas coming in sets of four, which makes it perfect for sharing between friends. There's a whole range of flavours for everyone on the menu, and best of all, Kam is currently tweaking a new list of tapas.
Pinang Thaipas is available daily from 10am to 10pm at the Pinang Bar. For details or reservations, call +604 888 8788.
Pinang Restaurant and Bar
Shangri-La's Rasa Sayang Resort and Spa
Batu Feringgi Beach
11100 Penang
* Many thanks to Shangri-La's Rasa Sayang Resort and Spa for laying on this invitation.
* This is a reproduction of my article published in New Straits Times