Old charming cafes around the heritage enclave of George Town
BY CK Lam
There are many new cafes with interesting ambience and unique features to explore in Penang, especially with the cafe culture gaining much popularity over the last few years. Most of these quaint cafes managed by both locals and expatriates are located in the heritage enclave of George Town and it is definitely worth exploring on foot.
MoonTree 47 houses a café, art gallery and a homestay as well. Simple but satisfying fares are offered at this café, with breakfast selections, juices and coffees. Don't forget to sample the traditional sesame biscuits. Opening times: Thursday – Tuesday, 9am-7pm.
47 Jalan Muntri
Georgetown
Penang
Tel: +604 264 4021
Eté Cafe is a family-owned coffee hotspot in Penang. This café located on Carnarvon Street is run by Taiwanese couple, Chiang Tsung Hsun and his wife Venessa. Both have spent time learning baking skills from Le Cordon Bleu cooking school. Customers get to experience siphon coffee and tea besides indulging in freshly baked pastry, desserts and a small selection of savoury items. Don't be surprised to find macarons, alhambra, tarte normande and the crunchy fromage baton. These items ensure a loyal following from customers who want French pastries.
79 Lebuh Carnarvon
Georgetown
Penang
Tel: +6017 435 0922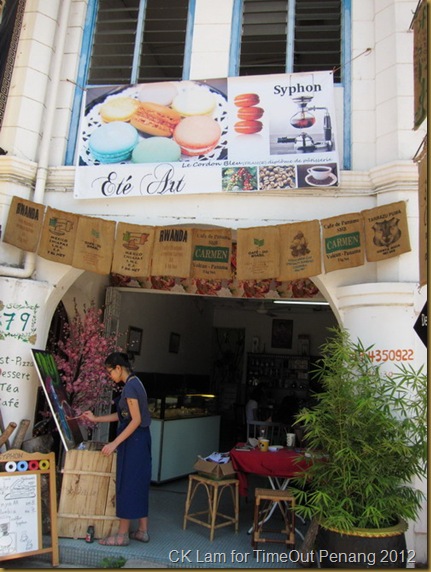 55 Café & Restaurant is a part of Coffee Atelier which also houses the Gehrig Art Gallery, 47 & 49 Residence and Coffee Museum. Formerly occupied by Kopi-C, the café has since been given minor renovations by its new owner, Stefan Gehrig and its menu contains Mediterranean-inspired cuisine and tapas. This quaint little café stays open for breakfast and lunch, from 9am to 5pm and look out for its delicious set lunch menu every Thursday.
47-55 Lorong Stewart
Georgetown
Penang
Tel: +604 261 2261
Opening times: Open daily, 9am-5pm
Kwong Sang House
When it comes to décor, Kwong Sang House puts the neighborhood cafes into a different league. This café was originally a tailor shop, so expect to find old world sewing amenities and similar decorative elements. Its unique décor has since seen many people flocking in for a spot of wedding photography. The café boasts Italian cuisine which includes lasagna, pasta and pizzas.
36 Lebuh Leith
Georgetown
Penang
Tel: +6012 493 9230
Opening times: Friday -Wednesday, 12noon-11pm
Behind 50
Located at the junction of Muntri Street and Love Lane is this tiny café. As the name suggests, the café occupies a small place in the back of an old shop house and is charmingly decorated with vintage toys and other quirky items. The menu includes simple Western fare like pasta and soup, with reasonable set menu deals. Seating area is limited and it is worth grabbing the high stool seats as they dominate the view of the happenings on Muntri Street.
50 Lorong Love
Georgetown
Penang
Tel: +6012 556 5509
Opening times: Monday – Wednesday & Friday – Sunday, 6pm-1am
Nostalgie Cafe
The owner has transformed the ground floor of a restored two-storey pre-war shop house into a café. As for the menu, pasta, pizza, sandwiches, local black coffee and Penang white coffee are available. For something more cooling, go for the cranberry juice with longan.
34 Stewart Lane
Georgetown
Penang
Tel: +604 261 0977
Opening times: Closed Thursdays. 11am-9pm
La Boheme
Run by Mathieu Guegan and his wife Huvi, La Boheme sells some of the most delicious and unique desserts. Mathieu personally makes the bread, desserts, pastries, galettes and quiches. The chalkboard showcases a selection of pizzas available only on weekends. Not to be missed is the almond croissant with almond paste filling together with nuts and bittersweet chocolate.
42 Jalan Sri Bahari Road
Georgetown
Penang
Tel: +6017 976 2153
Opening times: Tuesday – Sunday, 10am-6pm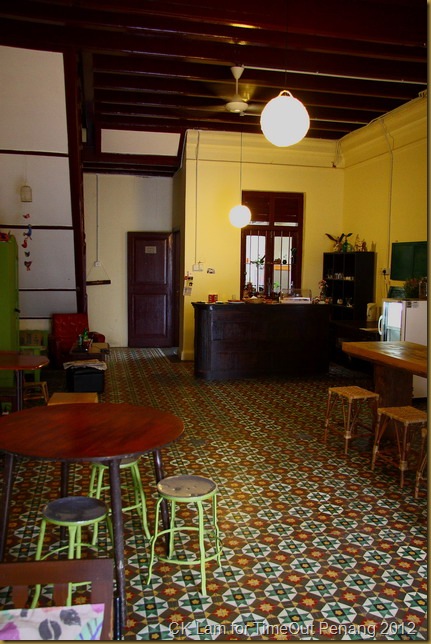 Irrawaddy Fine Foods
Conceived by Chef Tommes, he has since expanded from running That Little Wine Bar into this delicatessen and sandwich bar occupying two floors. This modern yet simple place produces an assortment of dishes, ranging from sandwiches, soup, and salad to cakes. In addition to the coffee and food, you can also purchase gourmet items too. Well stocked items are displayed in the many chillers and shelves, including a huge selection of specialty cheeses, hams, sausages, pates and vinegars.
4 Jalan Irrawaddy
Georgetown
Penang
Tel: +604 228 6360
Opening times: Monday – Saturday, 10am-6pm.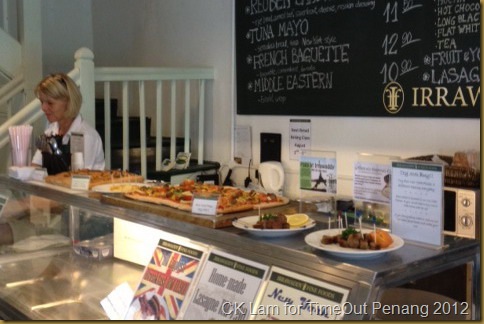 Kopi C
Housed in the heritage complex of China House is Kopi C. The menu of this cafe runs from breakfast through lunch and dinner. Do not pass up the chance to try their delicious home made pastries and cakes.
153 & 155 Lebuh Pantai
Georgetown
Penang
Tel: +604 263 7299
Opening times: Open daily, 10am-12midnight
* This is a reproduction of my article published in TimeOut Penang 2012 magazine