Jolly Time at G Ball 'White Sensation' Corporate Thank You Party @G Hotel, Penang
BY CK Lam
As a token of appreciation to all the corporate clients, G Hotel hosted the biggest Corporate Thank You Party in-style at the hotel's grand ballroom on Friday, 6 December 2013.
G Hotel presented an extravagant evening with the theme of "White Sensation" with great visual and musical performance by various artists, and lots of prizes, food and wine. The white themed corporate party had more than 300 corporate clients attired in white.
Mr. Michael Hanratty's (General Manager of G Hotel) welcomed everyone in his opening speech, and talked on the new G Hotel Kelawai which is due to open in the first quarter of 2014.
Guests enjoyed light moments with welcome cocktails from the "ice bar" at the ballroom foyer besides free flow red & white wine, cocktails, draft beer, soft drinks and refreshing juices.
Ice bar as one of the highlights for the event
Guests given a warm welcome to the party
Guests adjourned to the grand ballroom which was decorated in white to enjoy a sumptuous meal. The dishes, from appetizers through to desserts, were prepared using premium ingredients.
The detailed white ballroom
Everyone start off with the appetizer, made with tuna, crab meat, avocado, mango & pomelo, sun-dried tomato herbs dressing with black caviar. The appetizer with intriguing savory-sweet flavor is a surprising welcoming for everyone.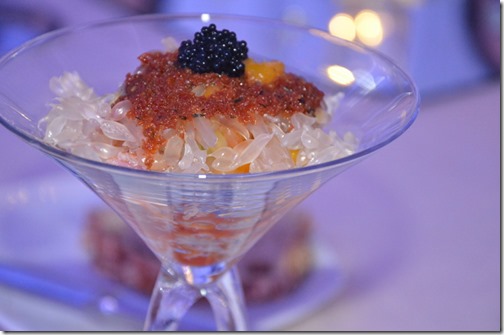 The next soup dish was prepared using simple ingredients of carrot, kumara and ginger. The kumara gave the soup a nice creamy richness. Garnished with yogurt & chives, the taste of the soup was comforting.
Guests were later treated to the refreshing roselle granita sorbet, resetting the appetite before the main dish.
Then main dish included a trio combination. Arranged side by side was the poached prawns, asparagus & soy butter sauce; roasted lamb rack with cranberry pear chutney, baby carrot & cherry tomato and chicken, capsicum, mushroom roulade on fennel puree with beetroot. Best of all, the combination works well.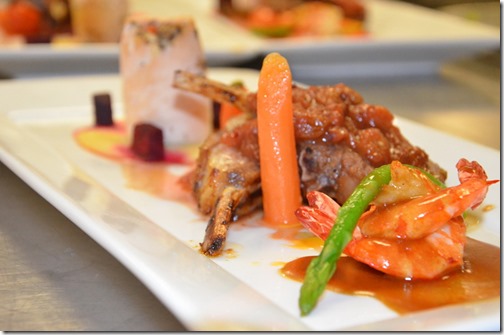 There was also the dessert, chocolate pralines and coffee or tea which came towards the end of the meal. The gula Melaka creme brulee was a nice smooth concoction.
The night was followed by 20 lucky draw prizes worth RM50,000 and T LED dance performance. Patrick Lasak took the stage with a live art painting of the Niagara Falls.
Patrick Lasak painting the Niagara Falls
The T LED dance performance by Katoon Network attracted the guests. The dance went along with a great futuristic component and choreographic movements.
Thank you, G Hotel, for a great night.
Photos credit: G Hotel