A Gold Win for Malaysian Chefs in Pattaya City Culinary Cup 2014
BY CK Lam
A Malaysian team of chefs did our country proud by winning the Pattaya City Culinary Cup 2014 recently. The three-day competition, which was held at the Royal Cliff Hotel Convention Center in Thailand, started on Aug 15.
The team received a gold medal in the Pattaya City Gourmet Seafood Challenge at the Food and Hoteliers Expo 2014. Daniel Tan Chia Yang, the team manager, and Mohd Fauzi Ilias, the captain, were from Eastin Hotel. The other members included Vince Tan Zhi Hong (Eastin Hotel), Chuah Lay Yen and Chng Fu Wuey, both from the Penang chapter of the Chefs Association of Malaysia.
 (From left) Mohd Fauzi Bin Ilias, Ch'ng Fu Wuey, Daniel Tan Chia Yang, Chuah Lay Yen, and Vince Tan Zhi Hong

They were up against participants from Hong Kong, Taiwan, Myanmar, Cambodia, Czech Republic and Thailand. The first part of the competition required the chefs to prepare a buffet for 20, using seafood. They had to prepare 11 dishes, which included the appetiser, soup, tapas, main course, and dessert, within four hours. They also had to prepare a non-seafood main course for 10 using a "mystery" protein and "secret" herbs within the first two hours.
Fauzi said the team had been planning the menu for six months and spent many hours brainstorming and working on their recipes. Their four winning creations consisted of two tapas, a soup and a main course.
One of the tapas was chilled oyster served with Vietnamese styled dressing. It was prepared using fish sauce, lime juice, shallots, red chillis and plenty of chopped fresh ginger. The pungent and zesty dressing added colour and fragrance to the oyster.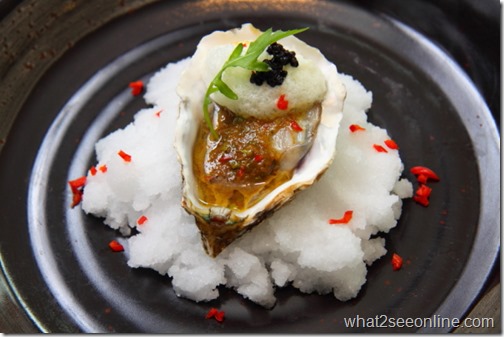 Chilled oyster served with Vietnamese style dressing
The second tapas was golden-brown crab cake infused with potatoes and diced red and green peppers which was beautifully plated with papaya, mango and orange dressing. Apple and chilli salsa balanced the sweetness and spiciness of the flavours.
Crab cake with papaya mango dressing and apple and chili salsa
The soup was roasted pumpkin ginger with seafood chowder, while the main course was baked fish with spicy pineapple chutney and fragrant coconut milk rice, which gave a twist to the much-loved nasi lemak and stole the hearts of the judges. The team also did away with the deep-fried anchovies.
Roasted pumpkin ginger with seafood chowder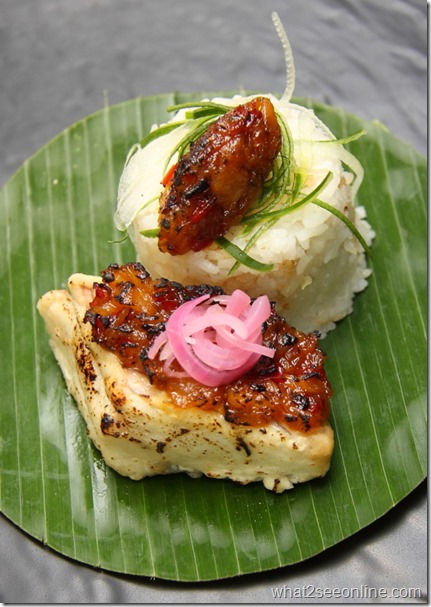 Baked fish with spicy pineapple chutney and fragrant coconut milk rice
Tan was proud that his team had done their best and worked so well together during the competition. "Everyone put in their best effort and gave an excellent performance,"" he said.
 (From left) Eastin Hotel Penang director of sales Choo Chan Chan, Mohd Fauzi Bin Ilias, Vince Tan Zhi Hong, and Eastin Hotel Penang general manager Raj Kumar
* This is a reproduction of my article published in New Straits Times