Black Kettle Bakery Cafe Launches 2020 Food Menu
Since its opening in 2015, Black Kettle on Beach Street in Penang has proved itself capable of satisfying the hunger pangs of its patrons with simple comfort food well made often accompanied by oven fresh bread. The cafe prides itself on their variety of bread baked in their own in-house bakery, with a range of sourdough bread incorporating their own levain!
A facelift for a restaurant every now and then is important to keep up with the times and with that, the menu recently underwent a total transformation – with breakfast offerings for your morning dining pleasure, served from 9am till noon.
There are brekkie favorites among the breakfast series, like the Sunny Side Up, Omelette, and the Scrambled Egg. If you are looking for something a little more unusual, start with the Cocotte, a dish of braised black-eyed bean with sausage, semi-dried tomato, baked egg, accompanied by the toasted baguette.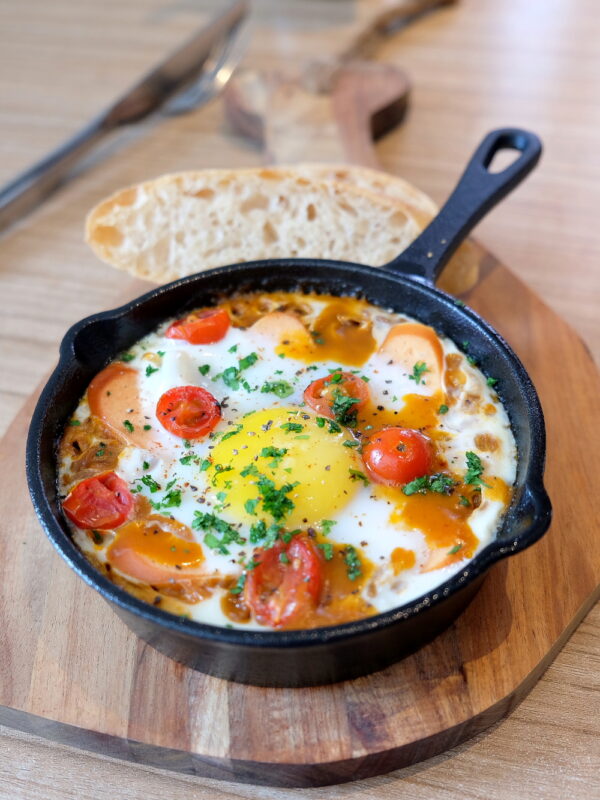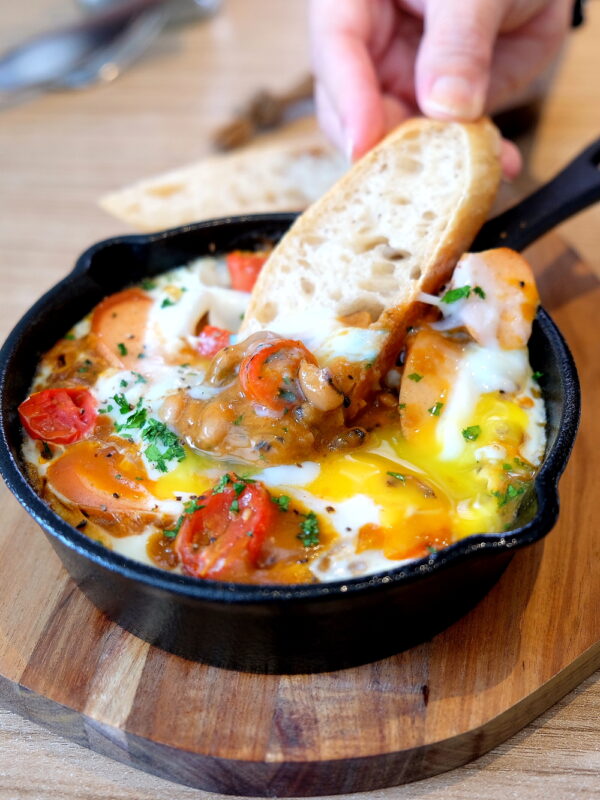 From noon onwards, the cafe serves lunch and dinner. Entrees include a plethora of fresh salads and warm soups. When it comes to pasta offerings, expect to tuck into the Seafood Risotto prepared with al dente Arborio rice. The creamy umami-rich risotto with many flavors and ingredients of tiger prawn, clams, calamari, and semi-dried tomato offers abundant heartiness.
In addition to pasta dishes, the menu also includes seafood, poultry, and meat offerings. Seafood lovers may be interested in the Fish & Chips, Grilled Prawn, and Poisson A La Nicoise (grilled fish fillet with Beurre Blanc). As for me, I went for the Bouillabaisse, a seafood stew with warm and comforting flavors served with a basket of toasted baguette.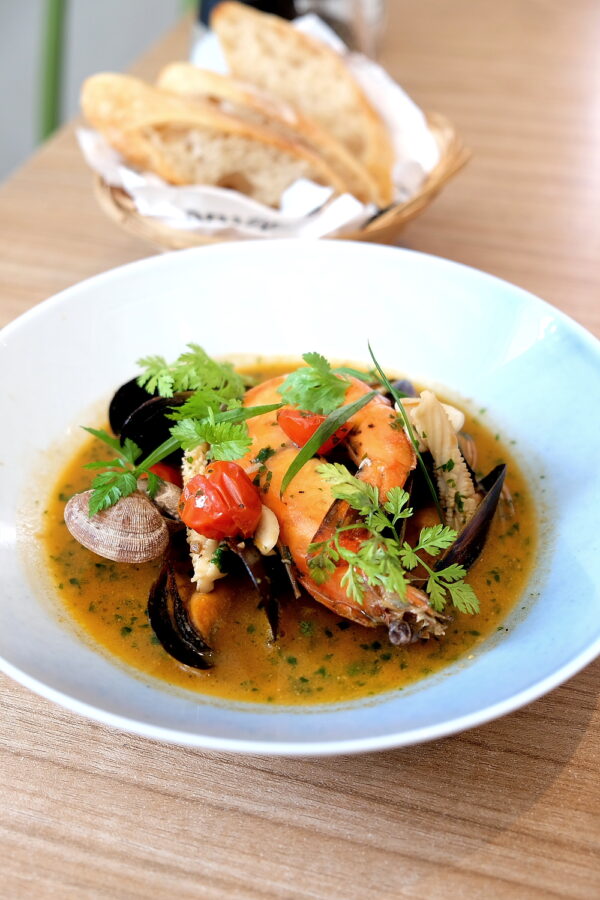 From the range of poultry and meat dishes, diners can indulge themselves with the Poulet Roulet (Pullay-Roti). It is a wholesome roast spring chicken dish with potato, carrot, French beans, demi-glace, and a bowl of garden salad.
Other poultry dishes include Confit De Canard and the Coq Au Vin. The latter which is slow-braised chicken thigh will definitely have a place in the heart of diners with the use of the local tender white-stalked Chinese cabbage fusioned into French palates. However if your tastes veer towards red meat dishes, you will be happy to find choices like a chargrilled homemade beef patty and char-grilled grass-fed striploin.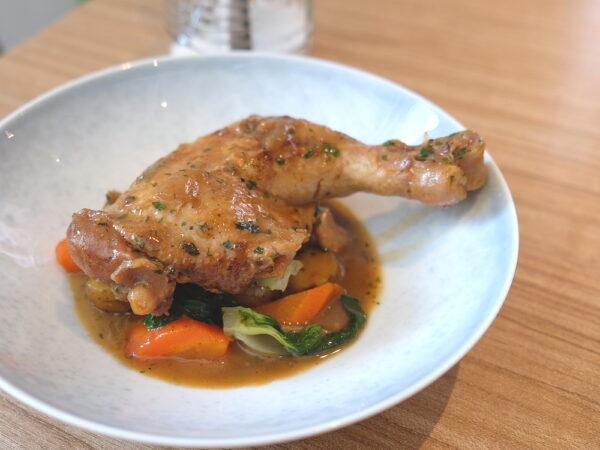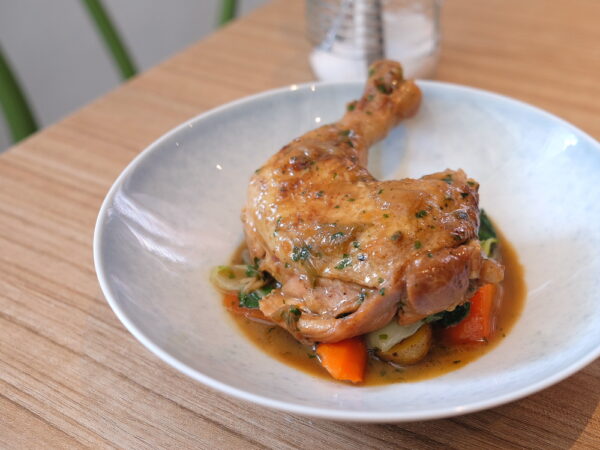 If you still have room, satisfy your sweet tooth with dessert and a cup of coffee prepared with Dimattina coffee beans. There are many new French desserts to choose from, with Entremet, Tarte Au Citron, and Paris-Brest. Round in a form of a bicycle wheel, the Paris-Brest is a ring of choux pastry filled with praline flavored cream and crunchy almonds.
Another newly concocted dessert would be the multi-layered mousse-based Entremet, with a glossy finish that pleases the palates with layers of spongy and creamy textures.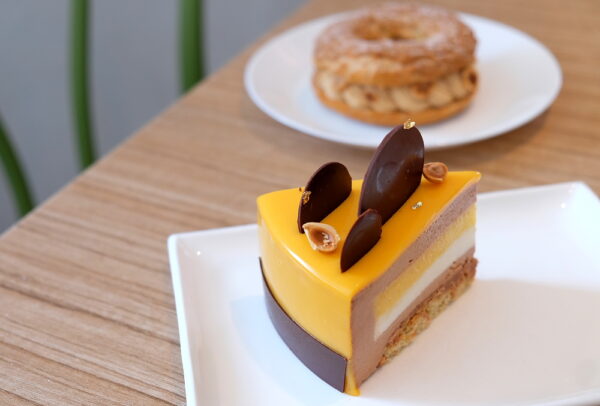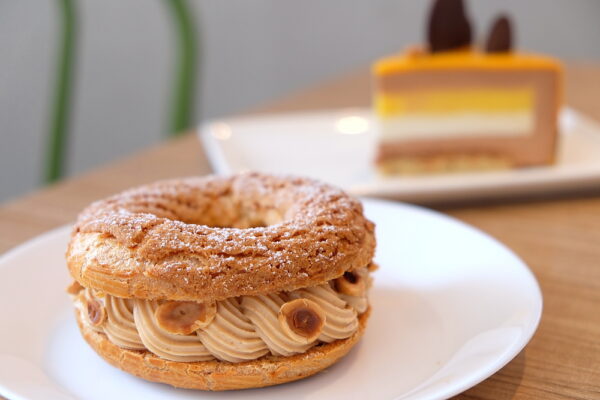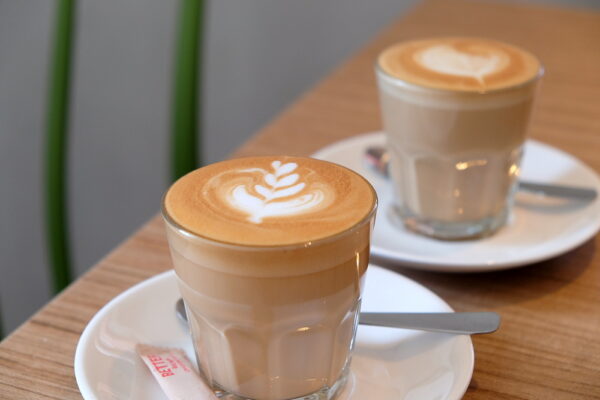 The cafe with its exterior coated in its iconic yellow color is open daily except Wednesday, from 9am till 9pm.
Black Kettle
105 Beach Street
10300 George Town
Penang

Tel: 04 – 2519270