Penang Food Bloggers Tasting Session at Ivy's Kitchen
If you are looking for varieties of Nasi Lemak, Nyonya cuisines and home cooked food, you might want to drop by Ivy's Kitchen located on Chow Thye Road, Penang.  This pork free restaurant with very basic deco is just beside Isaribi Japanese Restaurant and Jemputree.
A group of Penang Food Bloggers gathered there recently for a food tasting session.
Ivy's Kitchen served to us many varieties combo meals and most of them comes with a fresh juice and Soya Jelly with Longan. Customers having the combo sets can also add-on a plate of Rojak @RM2 (normal price RM3) and a bowl of Red Bean Soup @RM1 (normal price RM1.60).
The following combo sets comes with plain white rice along with all the side ingredients of crispy papadam, half a hardboiled egg, fried ikan bilis, peanuts and pickles. We had three mouth watering side dishes of Curry Prawn, Curry Assam Fish and Curry Lemak Fish. A set of rice with a curry side dish cost RM9.
Combo E – Curry Prawn
Combo G – Curry Assam Fish – sourish and tasty
Combo F – Curry Lemak Fish
This Nasi Lemak combo set comes with fragrant coconut rice with half a hardboiled egg, fried ikan bilis, peanuts, sambal, fried sardine fish, deep fried chicken wing, slices of cucumber and a piece of crispy fish cracker. This is the only combo meal that comes with Watermelon juice and Soya Jelly with Longan.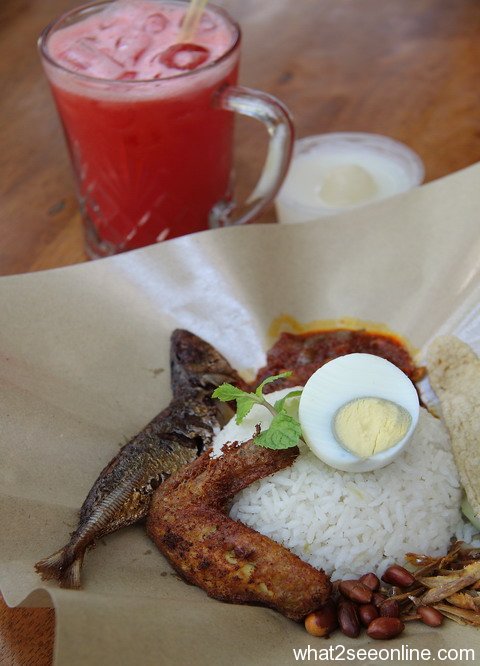 Combo C @RM7.50 comes with fragrant coconut rice & Watermelon juice
Both the following Curry Rendang and Beef Rendang set shared the same side ingredients of two pieces of crispy papadam, half a hardboiled egg, fried ikan bilis, peanuts and pickles. Both the rendangs were equally tasty but my favorite was the Beef Rendang.
Combo A – Flavorful Chicken Rendang set @ RM9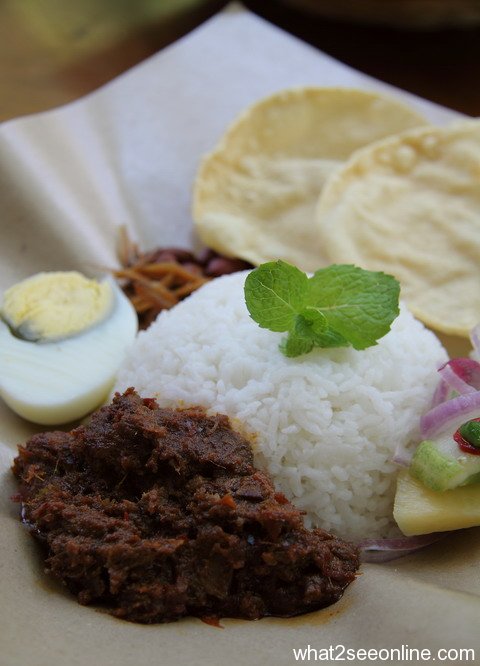 Combo B – Tender pieces of beef rendang in this set @ RM8.50
Customers who want other variety instead of the above dishes could opt for a piece of fried Cincaru (hard tail mackerel). The set would cost RM9. The fried mackerel is very fragrant with sambal filling which is spicy and sourish with hint of refreshing kaffir leaves. Recommended to have this dish.
As a side dish, a fish would cost RM3.80
Ivy's Kitchen has a wide choice of beverages, homemade drinks and fruit juices. Most of us opted for the fruit juices with prices from RM2.20 to RM2.80. It will cost an additional RM0.80 for a combination of two fruits and RM1 for three types of fruits. I had the fresh pineapple juice which was very refreshing.
Fresh & colorful fruit juices
After tasting all the spicy dishes, it was time to try out the Nyonya specialty, Joo Hoo Char. The sweet taste of the shredded turnip combined well with the cuttlefish. The accompanying sambal belacan gives the extra kick to this lettuce wrap.
Joo Hoo Char @ RM8
Ken's version of Joo Hoo Char wrap with a piece of Chicken Lobak

There were two different deep fried rolls, Chicken Lobak and Poh Piah Chee (spring roll). I like Pork Lobak but this Chicken Lobak version was tastefully done too. It is served with chili sauce. The Poh Piah Chee on the other hand has very thin and crispy skin with tasty filling of Fench beans, carrot, mushroom and turnip. Try this and you will be surprised to find black fungus in it too.
Chicken Lobak @ RM6
Each roll of Poh Piah Chee cost RM2 & at RM3.80 for a pair

Besides the grouper fish fillet porridge, Ivy's Kitchen also served us with noodle offering of Fish Beehoon and Penang Assam Laksa. The fish porridge @ RM9 is of the watery rice type and comes with generous amount of fish cutlets. It has a stronger taste of the preserved 'tong choy' which gives the soup a flavorful taste. This is an ala carte item.
The fried Fish Beehoon comes with many pieces of deep fried dory fish fillet and chicken meat ball in clear soup. Customers can have choices of cintan mee, tang hoon and beehoon for this dish. The portion was quite big  but I find the soup rather bland. This would be suitable for those who have a lighter 'ching' taste bud.
The Penang Assam Laksa comes with generous amount of fish pieces plus onions, cucumber and vegetable. The spiciness and sourish of the soup was well balanced but it was just slightly too salty for me.
Penang Assam Laksa @ RM5
The Red Bean tong sui comes in three different versions that are really tasty. We had all three with lily bud, longan and sago white fungus. The beans were boiled till soft and have the right sweetness. Indeed a satisfying dessert for me.
Per bowl of Red Bean soup cost RM1.60

This restaurant is run by the husband and wife team, Mr Tan and Ms Ivy who was very kind to invite all of us to this food tasting session which was arranged by Criz.
Drop by this place to try out their home cooked dishes and their steamboat (which I have yet to try). Click here for the Map Location. There are limited parking spaces in front of the restaurant especially during office hour but more spaces can be found in the spacious car park lot at 127 Food Court.
Ivy's Kitchen
58 Jalan Chow Thye
10250 Penang
Tel : 013 4337878 (Mr. Tan) & 016 4337130 (Ms. Ivy)
Business Hours: 9am – 9pm (except Saturday) & 6pm – 9pm (Saturday)
GPS Coordinates : N05 2529.0   E100 1914.6
* More of its Chinese New Year menu can be view here.