Nyonya Touch to Chinese New Year Menu at Ivy's Kitchen
* This article was published in the New Straits Times (Life & Times) on 19th January 2011.
Ivy's Kitchen is offering an alternative from the common Chinese meal for this coming Chinese New Year festive season with a menu sprinkled with several tantalizing Nyonya dishes. This restaurant is offering two different menus, priced at RM388++ and this special menu at RM688++. Both the food menus boast a wide range of dishes filled with auspicious meanings for this special day.
Traditionally the Chinese New Year banquet is kicked off with the Yee Sang. This dish of raw fish, crispy cracker and colorful ingredients which are symbolic is eaten with a coarsely ground peanut, plum sauce and lime juice dressing.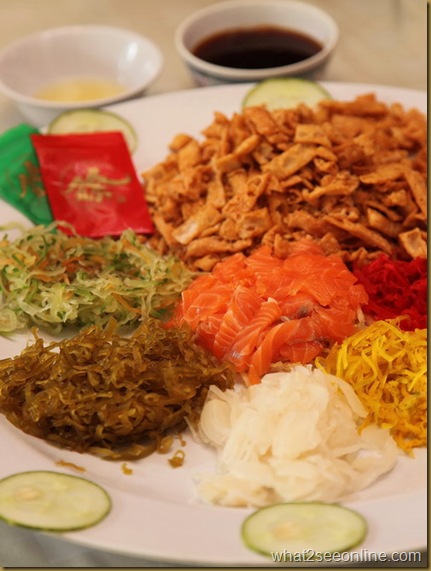 The fish is a must in Chinese banquets, and Ivy's serve up this simple festive dish with a thick piece of Cod fish steamed in light soya sauce.
The large king prawn is cooked in curry with salted fish and pineapple, which in Hokkien, sounds similar to the word "prosperous".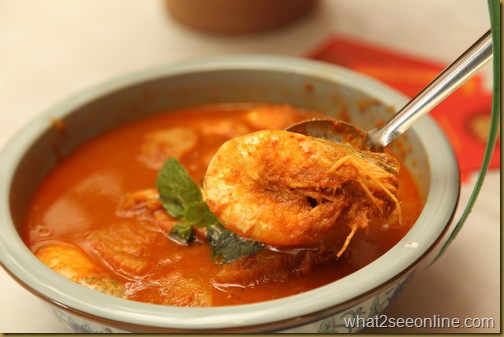 One of the highlights of the banquet is The Jewel of the Orient Soup. It comes with generous portion of white fungus, fish bladder, sea cucumber, pacific clams, chicken meatballs and mushroom in thick chicken stock.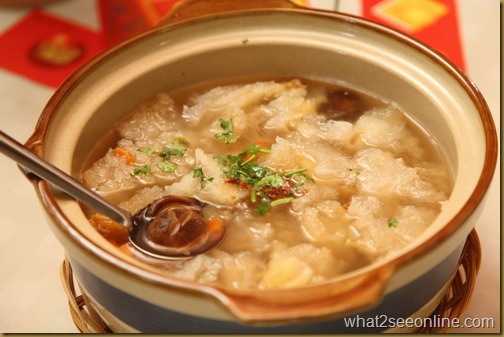 Signature Nyonya dishes are indeed great addition to the menu. The traditional Nyonya mixed vegetables, Joo Hoo Char, is presented with fresh lettuce and sambal.
On the other hand, the Inche Kabin also known as Nyonya deep-fried chicken, is prepared with crispy skin and is flavorful with the long hours of marinating. The combination of the chicken with the savory dipping Worcestershire sauce is divine.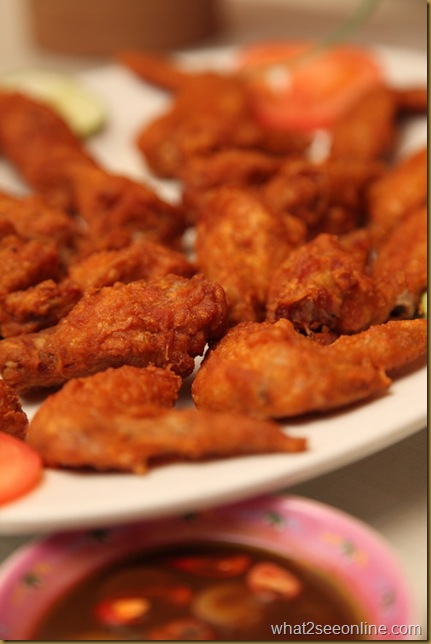 The vegetable dish of Stewed Assorted Mushroom with Broccoli and Scallop is brilliantly done at Ivy's Kitchen. The sauce is flavorful, with a hint of oyster sauce and there is a generous amount of scallops. The mushrooms are braised until soft.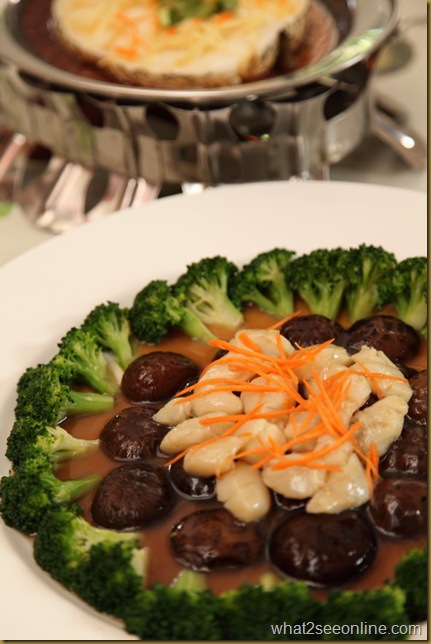 The meal is topped off with the dessert of the day – the Hot Red Bean Special with colorful Tong Yan (glutinous rice ball).
During this festive season, Ivy's Kitchen makes it convenient to its customers by hosting two rounds turnover for lunch and three rounds for dinner. Price includes free flow of rice and Chinese tea.
This pork-free restaurant run by Mr Tan and his wife is located within the heart of Chow Thye Road, one of Penang's bustling food streets. Click here for the Map Location.
Ivy's Kitchen
58 Jalan Chow Thye
10250 Penang
Tel: 013 4337878 (Mr. Tan)