Duck Rice (Pei Pa Duck) & Assorted Meat at Lorong Susu, Penang
First Famous Restaurant in the narrow Lorong Susu is one of the well known places in Penang for its good variety of roast meat particularly it's Pei Pa Duck. My family does frequent this place for its different selection of roast besides those from Sky & Star Cafe.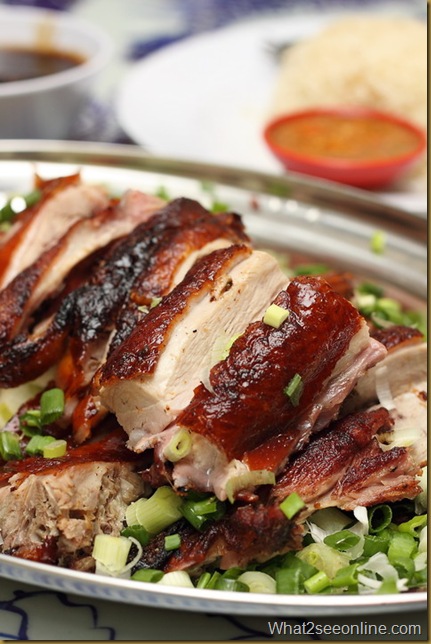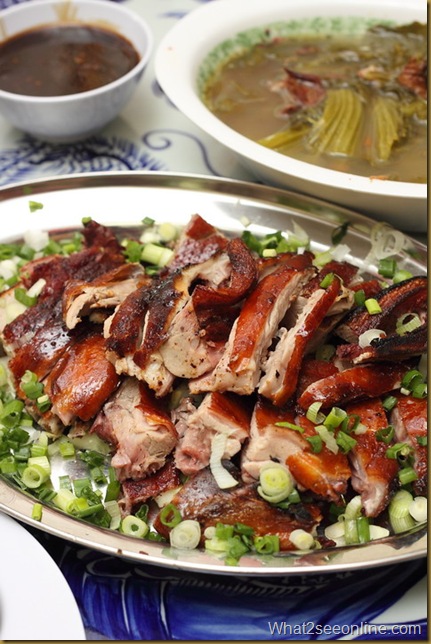 All orders will be accompanied with a complimentary bowl of preserved vegetable soup (chai boey) with duck meat too. The soup was tasty with a sensation of sour and spiciness and the strong fragrant of the lemongrass and ginger. The meal would not be complete without this addictive soup that gives a strong kick to the taste bud.
You could opt for a mix platter of Char Siew (barbecued pork) and Siew Bak (roast pork).  I usually go for the three layer Siew Bak with equal amount of fat and lean meat. The Char Siew was coated generously with the barbecue sauce giving the meat a hint of sweetness. The most aromatic pieces would be the ends which are slightly singed and burnt.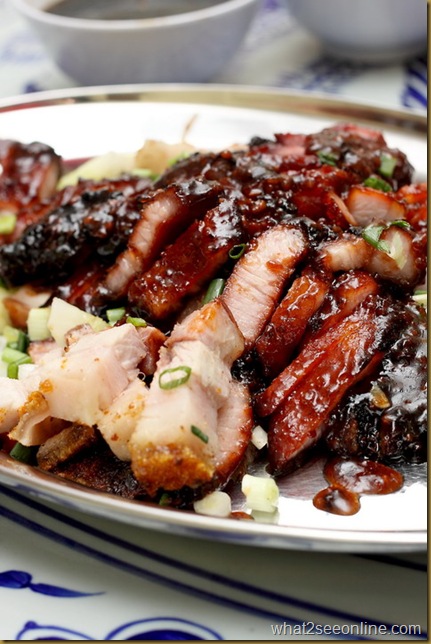 Besides the standard Siew Bak and Char Siew, do expect to find the classic steam and roast chicken. This mixed platter comes with steam chicken and Pei Pa duck on refreshingly crunchy cucumber alongside small bowls of brown sauces and the homemade chili sauce.
The Pei Pa duck is again heated up in the hot oil again before being served. The result is a crispy, aromatic and tender duck. You can catch all the action in my Vblog below!
The Duck was well seasoned, very meaty particularly the drumstick which I can't resist using my hands. A perfect lunch and I would say that the meats are consistently good every time!
The place is operated by Mr.Chan who has been selling for the past twelve years! He benefits his skills while working under his father and improved it himself through the years. His father still operates the chicken rice stall in Tong Hooi Coffeeshop along Datuk Kramat Road.
All the meat roasted with charcoal are hung inside the display window… with the whole Pei Pa duck costing RM35.00!
The shop is filled with diners during lunch hour and with people lining up for takeaways. It is located just beside the Sun Yat-Sen Memorial Center. Click here for the Map Location. In the evening you will find Mr Chan manning his stall in Pantai Timur Cafe in Paya Terubong, Air Itam. Both outlets are closed every alternate Monday.
First Famous Restaurant
3 Lorong Susu
Pulau Pinang
Tel : 016 4545847 (Mr Chan)
Business Hours: 10:30am till 4pm