Char Koay Kak and Tong-Sui in Air Itam, Penang
My latest food outing had me patronizing the Char Koay Kak stall which is located along the bustling Air Itam main road, in front of Suiwah Supermarket. There is an upbeat vibe to this road with so many hawker food stalls around – the tasty fried buns and tantalizing Assam Laksa.
Thanks to my readers for recommending this Char Koay Kak to me at my Kedai Kopi Wah Meng post 🙂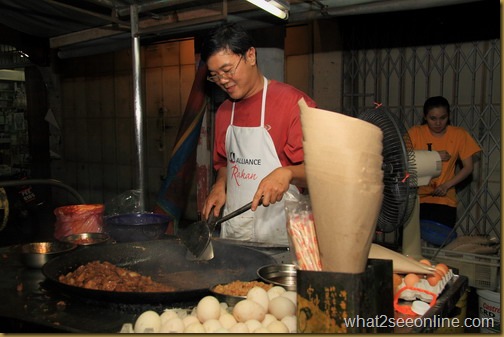 The Koay Kak, also known as rice cakes, are fried in a huge flat work in thick black sauce together with several different types of ingredients – garlic, eggs, bean sprouts and pieces of chye por (preserved vegetable). Even though using that few similar ingredients, every stall in Penang serves Char Koay Kak with slight variation in taste.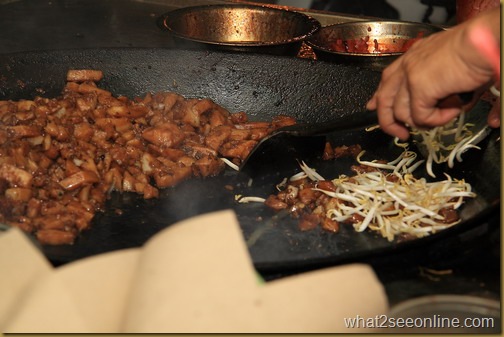 The pieces of koay kak are stir-fried with oil, chye por and dark soy sauce. After a few quick stirs, bean sprouts are added in followed by the chili paste which gives the dish a tinge of spiciness. All the ingredients combined well, adding in flavor to the flavorless koay kak. I personally like the texture which is slightly chewy and not as hard in comparison to other stalls.
The Char Koay Kak is made robust with the adding in of an egg. Chicken egg is often used but some customers prefer to have a duck egg instead as it further enhanced the aroma and taste of the Char Koay Kak.
The Char Koay Kak is only for takeaways and is wrapped up in a cone shaped lined with banana leaf.
It won't be difficult finding this Char Koay Kak stall with the noticeable smoke and aroma wafting around that busy part of the road. The stall is usually surrounded with people, all waiting for their takeaways of this salty, savory Char Koay Kak.
Besides the Char Koay Kak, this main road is lined up with many other food stalls. Do try out the neighboring Tong-sui stall. This stall is also one of the local favorite and sells a variety of sweet soups. We ended picking up a few packets of it, the green bean soup and the peanut soup. Both were excellent and great to enjoyed after the Char Koay Kak meal!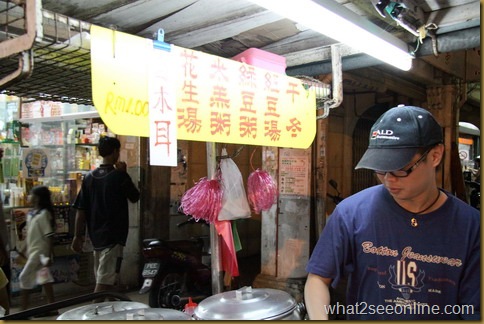 Delicious sweet tong-sui to top off the Char Koay Kak!
Click here for the Map Location of the two hawker stalls!
Char Koay Kak & Tong-Sui stall (infront of Suiwah Supermarket)
Jalan Air Itam
Penang
Business Hour : Evening till late in the night
GPS Coordinates : N05 24.054   E100 16.693