Lum Mee and Curry Mee @ Campbell Street Market
Near to the intersection of Campbell Street and Carnavon Street in Penang, is the Campbell Street Market. This corner market building with a brick facade still maintained its ornate cast iron columns and brackets. It has a poultry section, seafood and meat sellers.
In the morning especially during weekends, this wet market is very crowded. Busy atmosphere prevails by the stalls selling vegetables and hawkers pedaling their food along one side of the market building.
There are around five metal tables behind the curry mee stall, all snug up against the market's wall. I pull up a metal stool and sat behind the curry mee stall in the narrow walkway.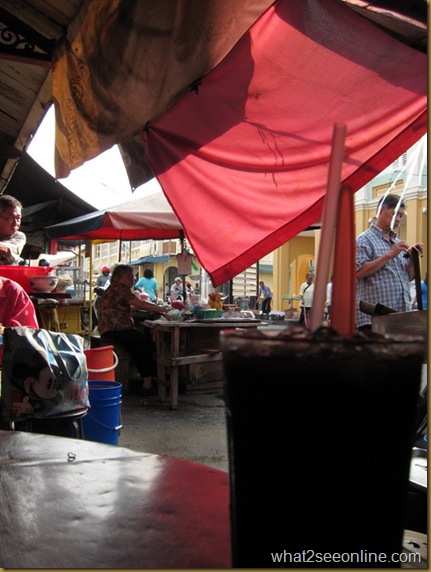 First to arrived was my kopi-o ping kau (strong black coffee with ice)
The bowl of curry mee has a rich spicy broth with three big prawns, coagulated pig's blood and tofu pok (bean curd puffs). Lots of bean sprouts are added-in the bowl of curry mee which was garnished with plenty of fresh mint leaves. The fragrant curry paste adds a pungent chili flavor to the bowl of curry mee.
A basic bowl of Curry Mee @ RM3
In addition to the curry mee, I enjoyed the clear qing tang mee (clear noodle soup) too. Served with smooth koay teow, the bowl of clear soup noodle came with a combination of pork pieces and fresh prawns. The stock is simmered to a light flavor. Red chilies flavored the noodle with some spiciness and the fresh spring onions added a refreshing taste to it.
The stall is partially hidden from the road by the plastic canvas shielding the facing morning sun.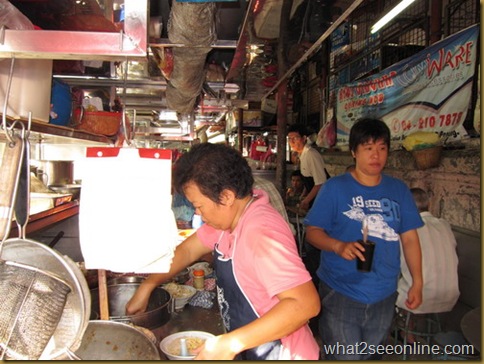 Some steps away from the Curry Mee stall, is another stall selling Lum Mee, commonly known as birthday noodle. This noodle is traditionally served at birthdays.
This place has its four tables packed with customers, all sitting patiently waiting for their bowl of Lum Mee. I enjoyed my bowl of Lum Mee with yellow noodles in clear flavorful chicken soup with three layer pork, big prawns, omelette strips, bean sprouts, shallots and garnished with plenty of coriander leaves.
The noodle is best eaten with the fiery sambal. This Lum Mee stall is open daily except Monday and every first and 15th day of the lunar calendar.
A basic bowl of Lum Mee @ RM3.30
If you happen to be in the vicinity, drop by this market which boasts other hawker stalls selling kuih, economy fried beehoon and soya bean. Click here for the Map Location.
The food stalls are located on the narrow walk way on the left hand side of  Carnavon Street leading to Chulia Street and a stone throw away from Yee Heong, TekSen and Sai Lam (popular for its braised beef wantan mee).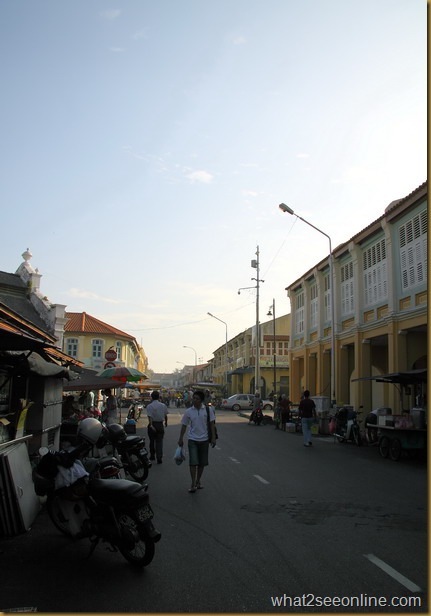 Campbell Street Market
Carnavon Road / corner of Campbell Street
Penang
Business Hour : Around 7am to 12pm
GPS Coordinates : N 05 41677   E100 33575