Italian Fare at Med.@Marche-Live in Renaissance Hotel Kuala Lumpur
* This article was published in the New Straits Times (Life & Times) on 8th December 2010.
On my hotel dining reviews in Kuala Lumpur, I have checked out several dining outlets in Renaissance Hotel Kuala Lumpur, and one of them was Med.@Marche-Live. The open concept restaurant offers a relaxed and casual dining atmosphere, with air-conditioned dining room and great terrace sitting.
These days, the restaurant brings a new dining experience to diners with the presence of Australian Paul Lewis as the Executive Sous Chef.  He took over the kitchen this year and has since made his debut in the MIGF 2010. We were privileged to meet up with the chef and at the same time sample some of his dishes from the menu, which focuses on unique Italian specialties and 'comfort' food!
Executive Sous Chef Paul Lewis
The meal started off with selection of crusty warm loaves served with interesting dips of eggplant, and pistachio with oil and balsamic vinegar.
My dining companions and I had the Tasting Plate for sharing. The plate came with a combination of taste and texture, including the Tuscan Chicken Drummettes, Marinated Field Mushroom, Crumble Goat Cheese with Apple Balsamic, Duck Proscuitto with Toasted Almond and Honey, and Marinated House Made Semi-dried Tomato. Obviously, a lot of emphasis has been put into the plate by Chef Paul.
The Tasting Plate, with side serving of bread and dips of mixed herb pesto and tomato basil salsa was simply a filling start to the meal. The plentiful ingredients were great paired with the Ruffino Orvieto Classico 2007, which has the fresh delicate flowery notes and fruity hints.
We were soon enticed with the aroma of the Quattro Formaggi pizza. It was perfectly baked with a thin crust, topped with generous serving of four cheeses; with a combination of Brie, Gorgonzola, Mozzarella and Pecorino over a spread of tomato sauce.
It was wonderful having the pizza paired with the Ruffino Aziano Chianti Classico 2007, a medium bodied red wine. Filled with aromas of black cherries, chocolate and nuts, the wine makes a good match with the strong rich taste and scent of the cheeses.
Quattro Formaggi RM30
The pizza was followed up with the Linguine allo Scoglio – pasta cooked with a variety of ingredients. Beside the array of soft shell crab, tiger prawns and scallops, this dish had something different; local cockles. It does sound strange but surprisingly it was a welcome addition with an interesting taste.
Linguine allo Scoglio RM36
For the mains, we went for the Trota di mare (ocean trout) and the steak. The beautifully cooked ocean trout, with buttery and smooth texture was served with the accompanying vegetables of artichoke, pea and florets of cauliflower on orange dressing.
Trota di mare RM78
Likewise, the Bistecca alla Fiorentina (Florence Steak) served with hand cut chips and panzanella was a hearty and satisfying dish.  The thick and juicy piece of meat was cooked to medium-rare as ordered. The meat was tender and tastefully complemented with the Grant Burge Barossa Valley Shiraz 2008, which is known for being a wonderful food wine.
Bistecca alla Fiorentina RM65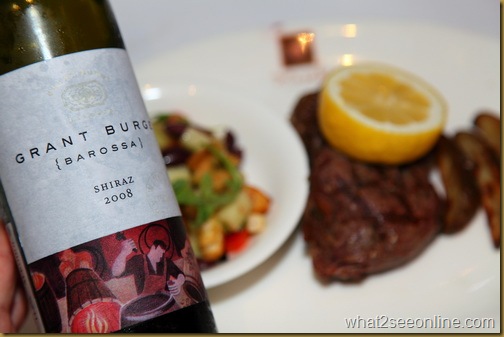 The meal was completed on a sweet note, with mouth-watering cakes and fresh strawberries which came hand in hand with freshly brewed aromatic Illy coffee. The tiramisu soaked in the robust coffee syrup tasted so good!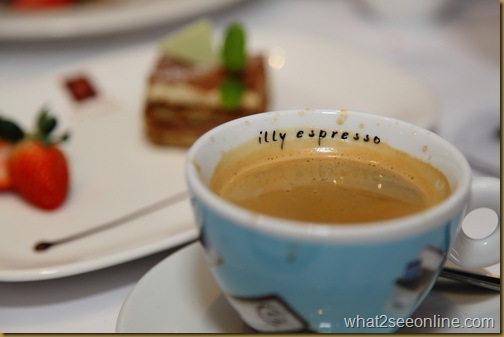 It was a perfect evening with impeccable service at Med.@Marche-Live! This restaurant with a cozy glowing setting is a charming place for either a meal with friends or a romantic dinner for two! On your visit, do check out the big chalk board with written words, depicting the tasty delights of the day.
Med.@Marche-Live
West Wing, 2nd Floor
Renaissance Hotel
Kuala Lumpur
Tel: 03 2162 2233 ext 33168
Business hours: 5pm till 1am
Close on Sundays and Public Holidays