Seafood Noodle & Porridge at Public Cafe, Gurney Drive Penang
BY CK Lam

Public Cafe is just another neighborhood coffee shop in the pleasant surroundings of Gurney Drive. Located next to the famed Song River Cafe, this coffee shop is a favorite spot for us as it has a stall serving both delicious and reasonably priced seafood noodles and porridge.
Take a pick from the striking mix of ingredients and several types of noodles. Prices varies according to the seafood ingredients, with pawns, crabs, paddy frogs (tin kai/chui kay) and varieties of fish.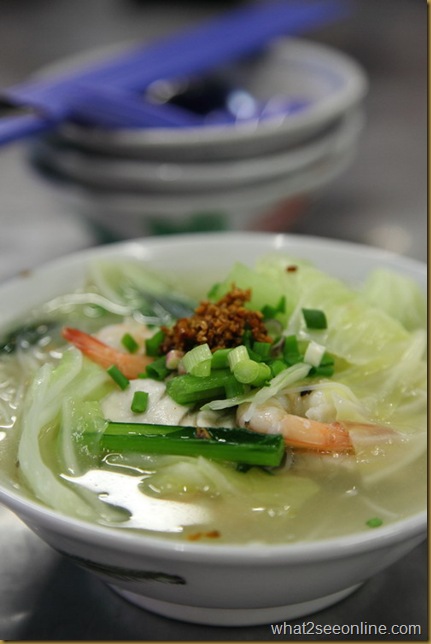 Piping hot bowl of Seafood Noodle

We ordered a number of dishes, starting with the crab noodles. The boiling hot dish came in a claypot filled with thick beehoon (rice vermicelli), crab, cabbage, choy sum and garnishing of spring onions and fried garlic.
The thick beehoon was satisfyingly al dente while the soup was simply marvelous packed with the sweetness of the crab. The crab was quite huge and there were plenty of fresh and succulent sweet meat to go around.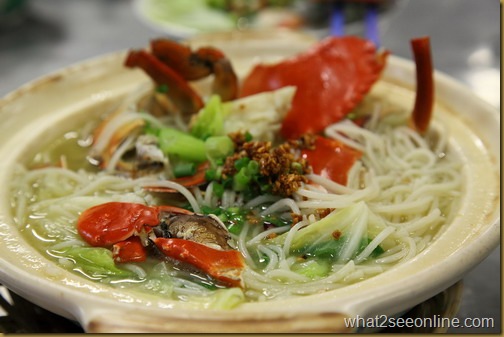 The steamy bowl of thin beehoon was cooked with a few prawns along with several thick pieces of fish, cabbage and choy sum. Even though I enjoyed the sweet broth with fresh bouncy prawn, the beehoon was a bit hard and coarse. It would have been better if the beehoon was prepared with a softer texture.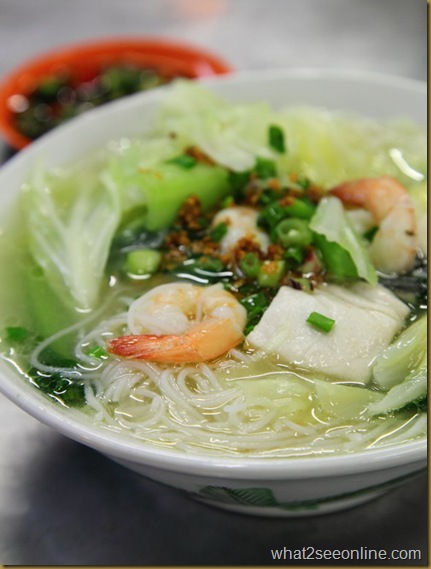 The eatery serves up stir-fried yellow noodles and mee tiau, both prepared with harmonious suite of flavors from the plentiful seafood. The round yellow mee was given a hokkien char version, slightly wet while the fine mee tiau was dried-fried. The accompanied sambal added spiciness to the two dishes.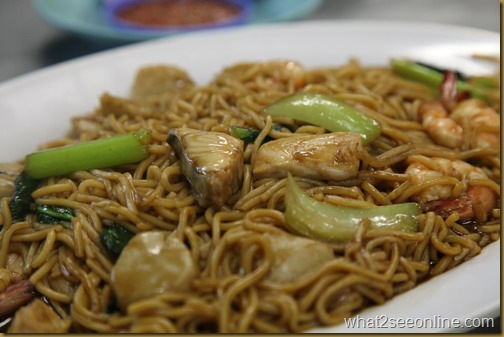 Hokkien char version, an all time favourite
Fried Mee-Tiau was equally good
Porridge is also found on the menu and we chose to have it cooked with fish. The robust fish porridge with pieces of fresh fish was delightfully flavored with light seasoning. Chopped coriander, spring onions and a dash of pepper topped off the dish perfectly.
Apart from the noodles and porridge, there are other stir-fried dishes. We topped off the meal with stir-fried kai-lan and the beancurd with leeks. The dishes proved to be excellent additions to the meal.
If you are looking for seafood porridge and noodles along Gurney Drive, do make a visit to this eatery. Click here for the Map Location. Prices of the food are displayed on the board.
Public Cafe
Gurney Drive
Penang
Business Hour : Late afternoon till night
Closed on Tuesday
* This is a reproduction of my article published in New Straits Times