Seafood at DeHappy Seafood Restaurant, Macalister Road Penang
* This article was published in the New Straits Times (Northern Streets) on 4th April 2011.
DeHappy Seafood Restaurant is a convenient dining place located right on busy Macalister Road. This restaurant which is just a stone's throw away from the hawker stalls at New Lane, specializes in seafood.
DeHappy offers an abundance of choices, with Geoduck, Alaska Spider Crab, Lobster, Tiger Grouper, Mantis Prawns, Tiger Prawns, clams and mussels. Diners may select the fresh seafood from the displayed trays and tanks, and DeHappy will prepare them in a wide variety of taste.
A wide range of seafood at DeHappy
The first dish is the Steamed Mantis Prawns, our firm favorite. The meat of the prawns are kept bouncy and not overcooked, while the egg is done with smoothness with fragrant aroma of Chinese wine.
Another favorite is the Grouper Fish soup. Deliciously prepared, the light flavorful fish soup came with a hint of Chinese wine and pieces of beancurd and spring onions. Every spoonful of the soup packed a punch, as it draws its flavor from the various ingredients, ultimately the fish.
Besides fish, this restaurant also dishes out poultry. A simple dish consisted of chicken slices stir-fried with black pepper and dark soy together with capsicum, celery and onions. The flavor is not that pleasant as the  black pepper is not as pungent as expected.
A delectable seafood spread is never complete without crabs. There are plenty of preparation methods, and we went with the waiter's recommendation of steamed crabs! The fresh and juicy crab meat won us over.
The plate of stir-fried Baby Mussel was done with ginger and chili padi.
DeHappy offers either white rice or noodles to complement the meal, and one of the noodle dishes that we had is the Fried Mee Tiau.  The noodles were stir-fried with seafood, bean sprout, egg and other vegetables. It was slightly oily; however it was done with strong wok hei.
Dinner is perfectly complemented with some green vegetables; they are simple yet prepared just right. The stir-fried Seasonal Vegetables with Preserved Beancurd & Macadamia Nut and the other plate of Sambal Kangkung is packed with flavor, with the gravy locked in.
Seasonal Vegetables with Preserved Beancurd & Macadamia Nuts
Sambal Kangkung
This restaurant which offers both open-air and air-conditioned seating is patronized by both locals and tourists.  Parking is convenient with a big parking space just next to the restaurant and it is free for DeHappy Seafood diners. Click here for the Map Location.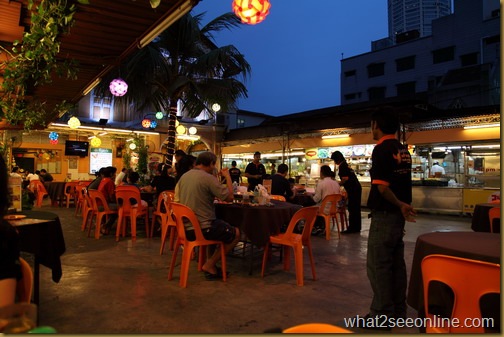 DeHappy Seafood Restaurant
62 Macalister Road
10400 Penang
Tel: 04 2277809
Business hours:
Seafood: 5.30 pm- 12 midnight
Porridge: 9.30pm – 5.30am
Open Daily
Pork Free
GPS Coordinates : 5.41548   100.327274