Travel for Food in Kuala Lumpur 2013 – Part 1
BY CK Lam
Our trips to Kuala Lumpur had us visiting many places, savoring the city's food and staying at Aloft Kuala Lumpur Sentral. Recommended by friends Alison and Narelle, the hotel with a casual, hip vibe offers solid bed to help us sleep through the nights.
The hotel is a convenient place of accommodation, especially for those who do not have transport as it is located opposite the KL Sentral transportation hub.
One of the best things about holidaying in KL is we get to spend more time with our youngest son and eating the food that we love. We found a great surprise in Yeast Bistronomy. Hidden in Bangsar, this charming cafe offers lots of classic French artisanal breads and pastries.
We had the Valrhona chocolat chaud & latte together with smoked duck cheese puff and chicken sandwich. The smoked duck cheese puff is a most fulfilling puff.
Finding a parking space in Bangsar is not easy, but don't be put off by the difficulty.
Smoked Duck Cheese Puff RM13
Chicken Sandwich RM15
  Hot Chocolate & Caflatte
We have access to some of the nice food outlets at 1Utama, which include Menya Musashi. This small Japanese outlet at Eat Paradise in Isetan isn't about raw fish but rather ramen. Posters of samurai adorned the walls and the pictures complete the bowls too.
We had two ramen on our lunch visit; the Kuro Ajitama ramen in a black broth at only RM24 and the Musashi Tsukemen at RM27. How to eat Tsukemen – Dip the noodles into the bowl of thick soup and slurp them up.
Putien at 1Utama left us spoiled with many choices of Heng Hwa cuisine originating from the  town of Putian in Fujian Province in China. The set dinner at RM228 offers interesting dishes such as handmade 'nine-fold' intestine braised in traditional sauce, stir-fried Heng Hwa Bee Hoon prepared with premium thin rice noodles from Putian.
Not forgetting the delicious cold pork jelly which provides a curious hint of flavor and texture.
Cold pork jelly & yam duck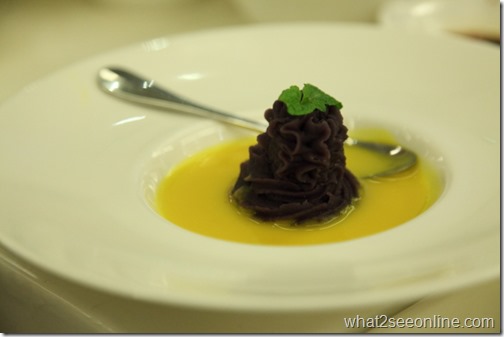 Red bean dessert
We settled with a few dishes for lunch at Ben's General Food Store. Located in Publika, Solaris Dutamas, this eatery offers a simple menu with food served in enamel-coated plates. We shared the quiche Lorraine, beef pie and mushroom lasagna prepared with pasta sheets layered with generous strips of earthy sauteed mushrooms.
The beef pie comes with rich flavorful cooked beef and is enjoyable with the side salad of vegetables, pineapples and roasted cod fish.
Beef pie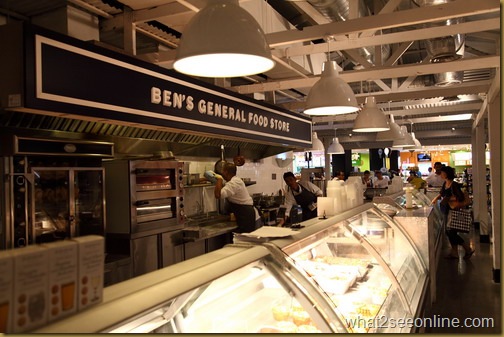 Varieties of food displayed in the open kitchen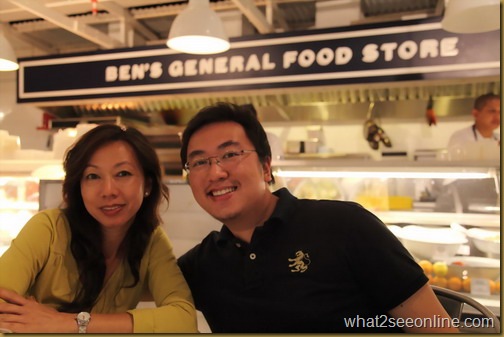 Zac and mummy
The trip included an invitation to the Hairy Crab Press Conference held at Dragon-I in Sunway Pyramid. The meal is indeed something to be savored.
The Japan Sweets Fair event that we attended in Isetan KLCC is a sweet extravaganza, featuring lots of Japanese sweets. The event is capped off with the special appearance of Iron Chef Hiroyuki Sakai and Chef Toshihiko Yoroizuka.
We met up with Bok and Ken after the Japan Sweets Fair. The two knowledgeable foodies friends took us to pig out at Wong Ken. Located off Jalan Pudu, this is a one stop place for roast meat. The star here is the roast pork (siew yoke).
Many hungry locals are willing sit and wait for  the roast pork which is only ready at 12.30pm sharp. The roast pork renders thin crispy skin, and layers of melting fat between tender meat. The luscious meat doesn't come cheap, at RM96 for a kg.
Tel: 03-2145 2512
There is always a crowd  at Sek Yuen, an old restaurant ideally located along busy Jalan Pudu. This restaurant offers a long list of dishes for lunch and dinner. We never miss ordering the roast duck (pei par arp) and stir-fried prawns (kon jin har lok).
Sek Yuen Chinese Restaurant has little changed over the years and still has the rice served steamed in individual aluminium bowls.
A restaurant worth returning to time and time again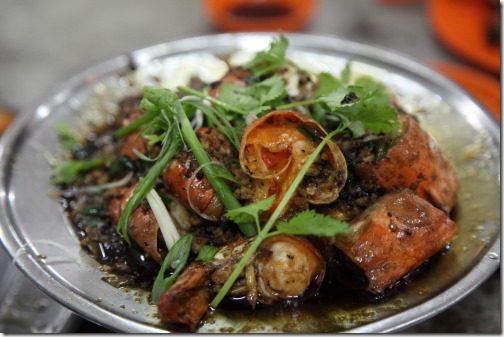 Stir-fried prawns
Win Heng Seng coffeeshop has been around for decades and has become quite a popular place for breakfast and weekend brunch. We are loyal fans of this old kopitiam in Jalan Imbi, especially for its noodle with minced pork, sui cheong (roasted stuffed pork intestine) and pork balls. Aside from the noodle, we would at times go for the chee cheong fun with assorted fishballs, beancurd sheet and yong tau foo served with sweetish, KL-style brown sauce.
We had some freshly baked mini egg tarts and siew pau (baked pork buns) too.
Mini egg tart and distinctly KL-style chee cheong fun
Our night outing could not have been any better at Journal By Plan B at Publika, Solaris Dutamas. We lingered long with some bites and freshly brewed coffee before calling it a night.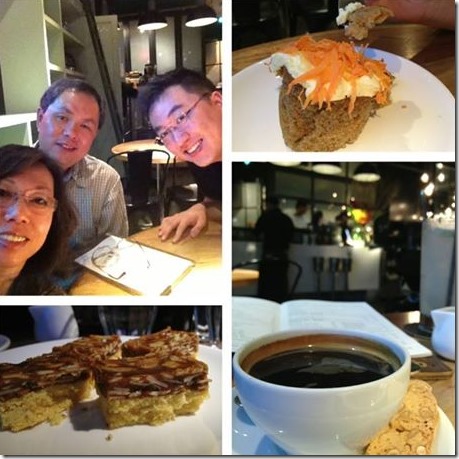 Part 2 of  my KL food trail can be view at:
https://www.what2seeonline.com/2013/12/travel-for-food-in-kuala-lumpur-2013-part-2/