Sugar Honey Cafe at Campbell Street, Georgetown Penang
*The outlet has since closed down
The bustling stretch of Campbell Street in Penang has always been packed with shops dealing with Chinese dry product specialties and restaurants. The mix of restaurants include Il Bacaro, Tho Yuen, Toh Soon, Hameediyah, and Kedai Makanan Yee Heong.
In the last year, the neighbourhood has many new cafes like Sugar Honey Cafe, Moustache Houz, Kantan Cafe and The Safe Room. The Sugar Honey Cafe is known for its waffles and other light bites besides pasta and sandwiches.
Desserts at Sugar Honey Cafe are truly delightful with eight varieties of sweet and savory waffles to choose from. The freshly made waffles are 'brighten up' with creative flavors. Prices are between RM9.90 to RM19.90.
There is something so simple and satisfying about the Hitam Manis waffle. The waffle made with gula Melaka and pumpkin seeds is delicious and we finished every bit of it with the mildly sweet ice-cream.
Another version that is bound to have many hankering for is the Naughty Nutty. The nutty waffle comes with a serving of homemade caramel sauce and peanut ice cream.
For something savory, go for the Big Brunch. At RM19.90, it is a generous dish with shroomy waffle served with cheesy scramble eggs, turkey bacon, chicken sausage along with grill tomatoes, salad and harsh brown.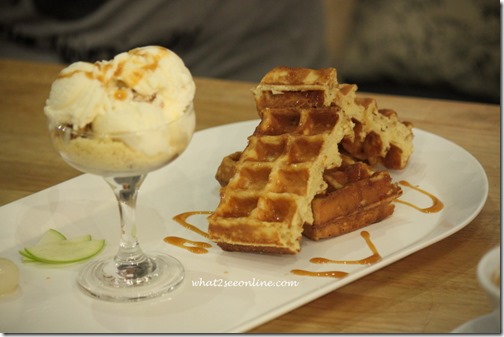 Naughty Nutty Waffle RM16.90
Then there is the "Japanese Tofu Cake" with soothing and mild flavor. A side serving of gula Melaka (coconut palm sugar) provided fragrant delicate sweetness to the cake. Besides the Japanese Tofu Cake, we also ended up ordering the earl grey granola.
Other exciting cake choices are the cendol crepe, chocolate passion, pistachio cheese and lavendar white. I have a feeling that I will return for the cendol crepe cake.
Japanese tofu cake and the Earl Grey granola
Of course there is a beverage menu, in fact a long menu with freshly squeeze fruit juice, ice blended, tea, coffee and hot chocolate.
Pear, apple and guava juice RM10.90
Long black and latte

Besides the mains, there are hearty sandwiches served in focaccia and also wheat bun.
Worth ordering is the B.E.L.T, a burger with turkey bacon, pan-fried egg, cheese, veggie and tomatoes in a good homemade wheat bun. It comes with crisp fries. The homemade wheat bun had chew, and plenty of seeds scattered throughout.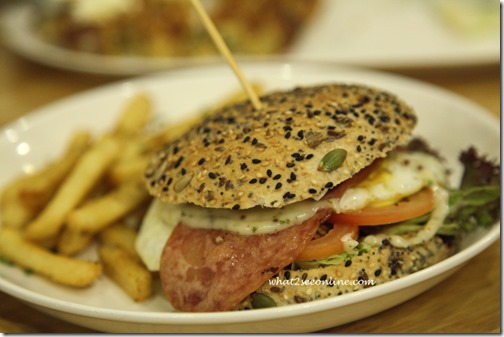 B.E.L.T  RM14.90
We enjoyed good food choices on our several different visits with friends. The deco is simple and walls adorned with many photos and colorful plates.
Sugar Honey
26 Campbell Street
10100 Georgetown
Penang
Business Hour: 12pm – 12midnight
Closed on Tuesday
Tel: 04-2620622