Sin Kheng Aun Restaurant situated in Chulia Lane is one of the prominent Hainanese restaurants in Penang. This restaurant is very popular with the locals and tourists for its Hainanese food and also local dishes. Specialist of this restaurant includes the Curry Gulai Tumis, Kerabu Prawns, Hainanese Pork/Chicken Chop and many other selections of dishes.
My family and I have tried most of the dishes here as we have patronized this restaurant countless of time over the years. Their unique Haninese Pork Chop is a favorite and comes deep fried with an egg coating and paired with onions, peas and quarters of fried potatoes. The meat has a crispy exterior and went well with the slightly thick delicious gravy.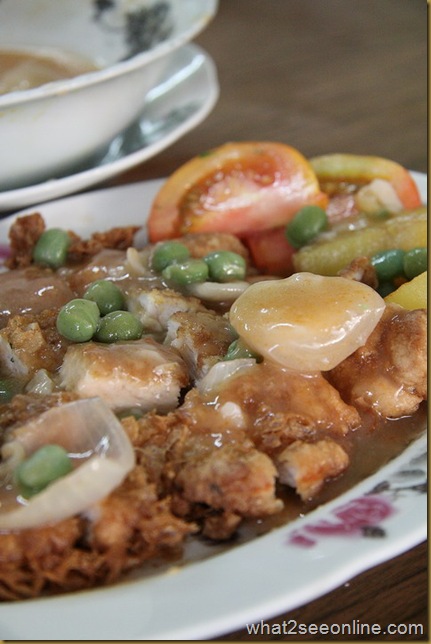 We had Curry Gulai Tumis, one of their famous specialties which is known for its tasty gravy. They served this curry dish with the more expensive promfret fish (tau tei). There are many version of curry tumis in town but I still find this among one of the best. The curry is sourish, with a good hint of belacan which gives that extra kick. We usually opt to have it with blanched beehoon rather than rice…do give it a try. This dish is always a must have for us.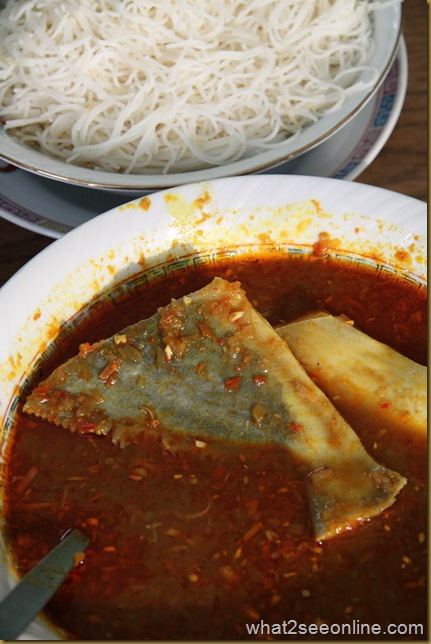 The fish is always fresh
The boss, Mr Ong even took the time to share with me these lovely little bowls that was in his possession since the earlier years.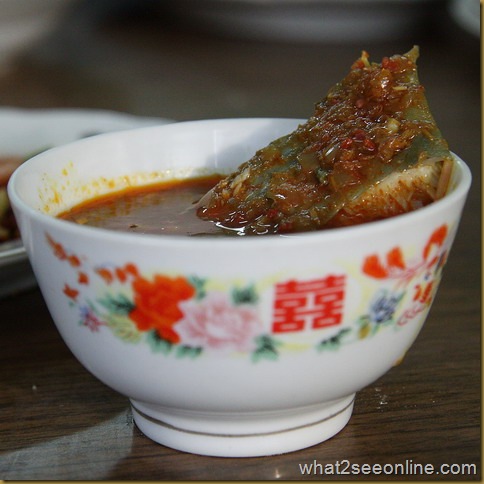 Beautiful little bowls in a row
This plate of stir fried tofu and leeks offer a generous portion of prawns.
Tofu with leeks (tauhu char suan nah)
The Kerabu Prawn was absolutely spicy delicious with plenty of onions and cooling cucumber. The spicy sambal and coarsed peanut gave this dish a good combination of flavor.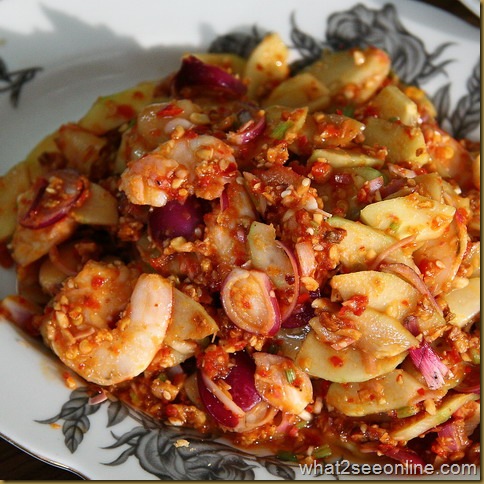 Besides Pork Chop, they do have Chicken Chop too. Simple way of preparing by dipping the meat in flour and egg. The quality and taste of these chops has been maintained throughout the years.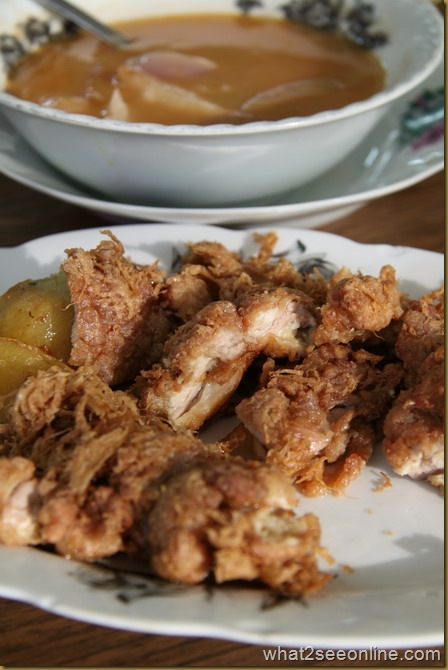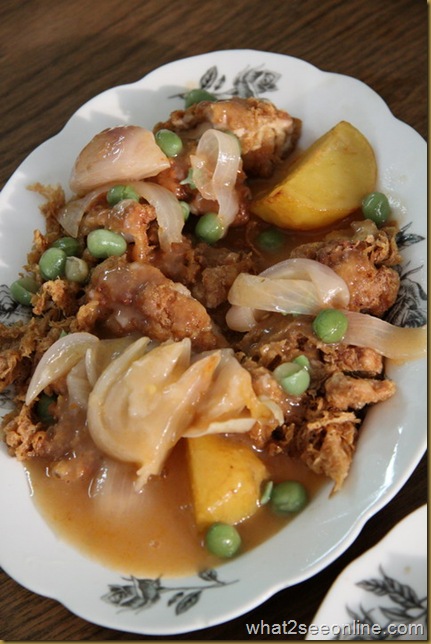 This non air-con restaurant has two dining area, the ground floor and first floor. A unique lift is used to deliver food from the kitchen on the ground floor to the dining area on the first floor. The metal lift is pulled up manually.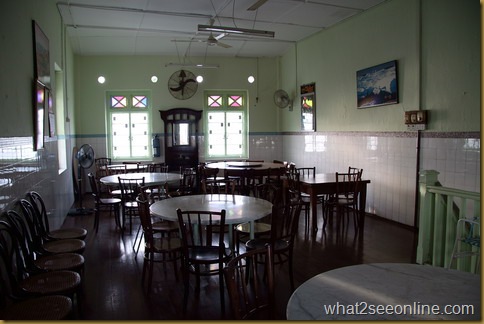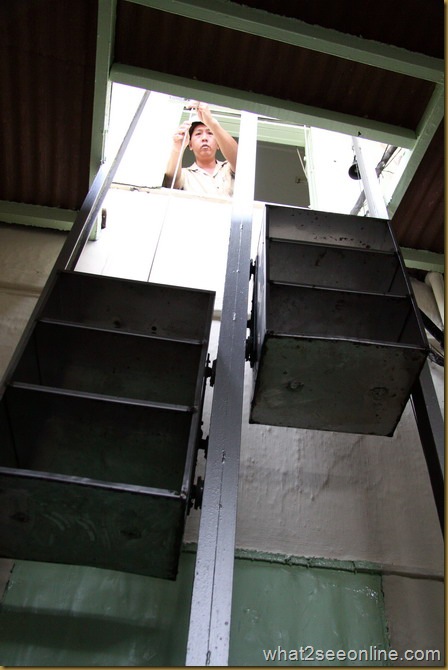 Dining at this restaurant guaranteed happy mood for diners as Mr Ong is a friendly down to earth person. He does take the effort getting to know every one of his customers by their names. This place is crowded and packed with customers especially during public and school holidays. Click here for The Map Location.
Our meal cost around RM90 and by the way, the only payment in this restaurant is by cash only.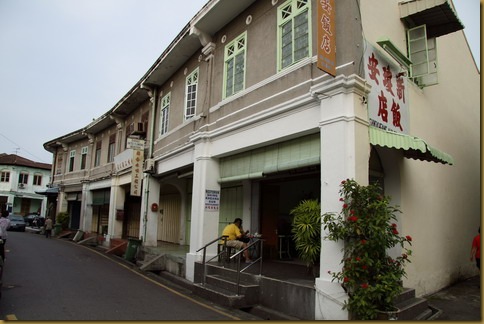 P.S. Do make a reservation for a table on the ground floor if there is an elderly person as the stairs leading to the dining hall upstairs is a bit steep.
Sin Kheng Aun Restaurant
2 Lorong Chulia
10200 Penang
Tel :
04 261 4786
Business Hours : 11am – 2.30pm and 5pm – 8.30pm
Closed on every alternate Mondays
Tags: Array, Beancurd, Belacan, Chicken Chop, Chulia, Cucumber, Curry, Delicious Gravy, Dining Area, Floo, Fried Potatoes, Fried Tofu, Generous Portion, Good Combination, Groud Floor, Gulai, Hainanese Food, Hainanese Restaurant, Holi, Keng, Kerabu, Leeks, Local Dishes, Lorong, Onions, Penang Restaurant, Pork Chop, Prawn, Prawns, Restaurant In Penang, Restaurants In Penang, Sambal, School Holidays, Shing, Sin, Stir Fried, Suan, Tasty Gravy, Tumis