Penang Food – Traditional Penang Porridge
Hubby and I came across this old eatery on Magazine Road which has been around for 60 over years. This place which serves porridge is operated by the elderly Mr Tan with the help of his son. This eatery has an amazing seating arrangement, with tiny wooden stools (bangku) on top of long benches.
Amazingly, this place is one of the handfuls of stalls left in Penang that does not even have a signboard!
The stools can be stacked upon another one to get the perfect height as the sitting position of each individual person is different…and here's where the amazing art of balancing comes in…!
As lunch hour draws near, more customers came in and fill up the places surrounding the stall. They were perching high on the tiny stools enjoying their piping bowl of porridge.
The porridge was stored in earthen pots which help to keep the porridge warm. Very traditional and homely feeling, I would say. The home cooked style type of dishes, comprising meat and vegetable are cooked at the rear of the shop.
Earthen jars to keep the porridge warm
There are many different kind of meat and vegetables to go with the white porridge. With the limited space of the counter, even the dishes have to be stacked up! 😀
Taukua with lots of spring onions

Ham Choy with stingray – slightly salty and very appetizing
Deep fried fish – the taukeh only covers the fish with soy sauce when served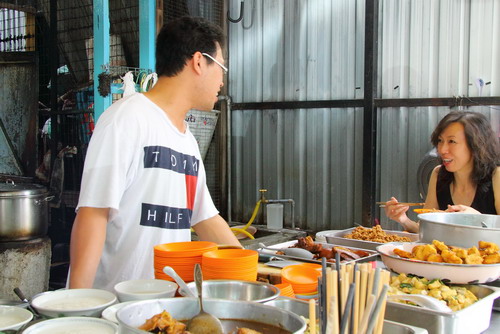 Stingray in Tau Cheong sauce
Minced pork in appetizing sauce gets the appetite going!
Flavorful braised meat with egg & another dish of fried salted fish
Small lala fried with garlic & chili sauce
Side dish of nam yue, foo yue & salted egg…simple yet tasty compliments!

For the first time in our lives, we had the experience of sitting on stools perched on the bench in an eatery! It required a bit of balancing for me, but got the hang of it pretty quickly. There are also tables and chairs available. Do drop by this eatery as this is the only one left in the island since the one in McNair street has closed down. It is right beside Bank Rakyat, while Traders Hotel is diagonally opposite it!
Hubby perching high on the tiny stool
Business Hour : 11.30am till 4pm
Closed on Monday, Tuesday and Wednesday
GPS Coordinates : N 5 24.817   E 100 19.794