Goreng pisang is a filling and tasty snack to have in between meals. There are a few Chinese stalls that I patronize and the Penang Tanjung Bungah Goreng Pisang stall is one of them. It is located on the left hand side of the road leading to Batu Feringghi and has been serving its customers for the past forty years.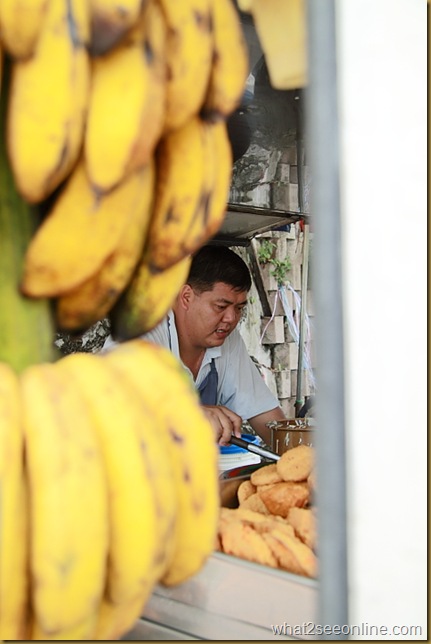 A whole bunch of pisang Raja hanging in front of the stall
This stall uses only ripe pisang Raja, which is best among the varieties. The banana fritters were just delicious, with a crispy and light batter. The banana is tender on the inside bursting with the sweetness flavor of the pisang Raja which have me asking for more.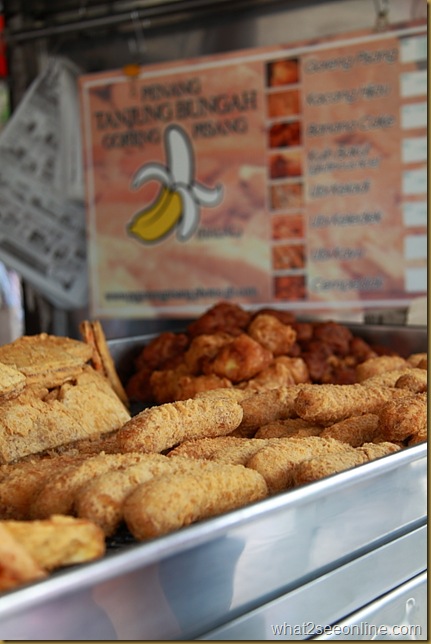 This stall is run by owner Lim and his cousin Teh with the presence of the Lim's father helping out occasionally.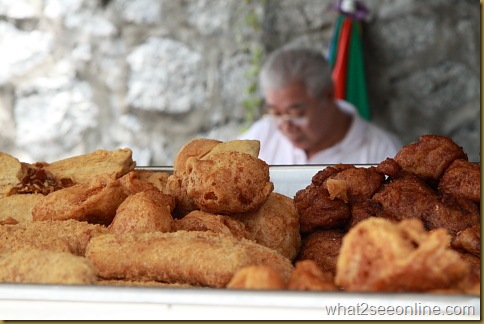 The next fried item is the deep fried cempedak. In most goreng pisang stalls, the seed of the fried cempedak is hard and not edible. It was just impossible to find any soft ones. The elderly Lim went on and explained that it is not advisable to fried the cempedak seed too long as the flesh of the cempedak will turn too soggy.
Fresh cempedak fruit, ready to be fried!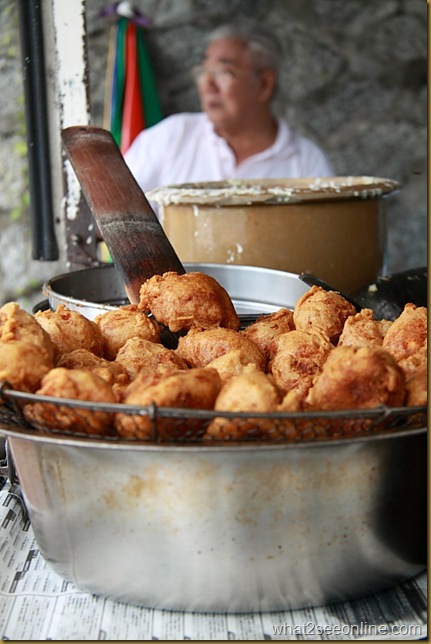 Deep fried cempedak, left to sit for a moment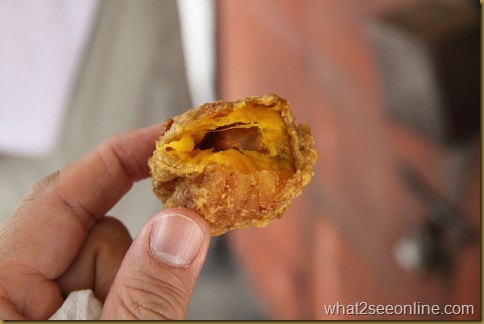 Makan time! Hubby going for his favourite Cempedak!
Next item was the deep fried tee kueh which has three layers, with a piece of homemade tee kueh (gultinous rice cake) placed between the sweet potato and the yam. The tee kueh was fried perfectly until the tee kueh is sticky and gooey. They tasted good.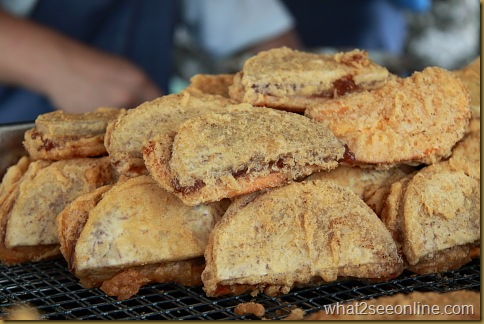 Crispy pieces of three layer tee kueh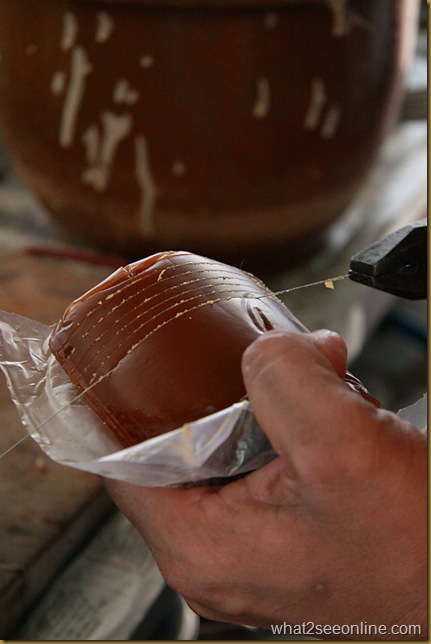 The tee kueh being sliced with a guitar string
Other varieties of fried items available in this stall are the deep fried sweet potato (in chips form and large pieces) and the Kuih Kodok (mashed banana) with a chewy texture. All the take-away items are packed in brown paper bags.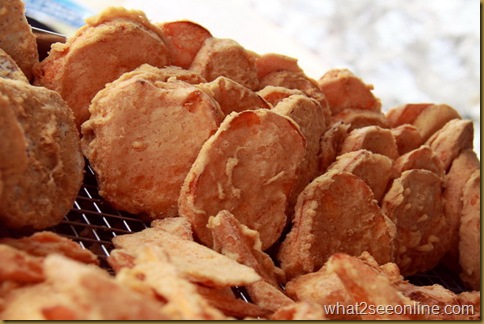 Look out for this stall housed in a white van. It can be seen on the roadside after the Tanjung Bunga Police Station traffic light. Click here for the Map Location.
P.S. It is best to eat these fritters when they are hot as they looses its crispness after a while.
Penang Tanjung Bungah Goreng Pisang
Lim Thuan Hin
Tel : 019 4467343
Teh Choon Pin
Tel : 012 423 6499
Business Hour : 12.00noon to 6pm daily
GPS Coordinates : N05 2757.4   E100 1647.1
Website : http://www.pggorengpisang.photos.gb.com/
Email : pggorengpisang@gmail.com
Tags: Array, Banana Fritters, Brown Paper Bags, Cempedak, Cempedak Fruit, Chewy Texture, Edible Seed, Forty Years, Fried Sweet Potato, Goreng Pisang, Guitar String, Hubby, Kueh, Kuih, Left Hand Side, Light Batter, Lim, Mosque, Penang, Pisang Raja, Police Station, Rice Cake, Sweetness, Tanjung Bunga, Tanjung Bungah, Tasty Snack, Traffic Light, Yam