BY CK Lam

Like in all countries, Singapore also has many varieties of hawker food, adding to the comfortable hotel cuisines. You can find countless hawker food stalls located inside the shops, eating areas and food courts all over the city with reasonable prices and interesting food. The variety of food is actually amazing.
The gastronomic adventure had several of us visiting many parts of the city. We started with breakfast at Chin Mee Chin Coffee & Cake Shop, an old-school kopitiam located in an old shop house.
Chin Mee Chin
204 East Coast Road,
Singapore 428903
Business Hour: 8.30am to 4.00 pm
Closed on Monday
This traditional Chinese confectionery is charming with its defining floor tiles, ceiling fans, marble-top tables and wooden chairs of the earlier years. All these give the place a very 'old school' look.
Like in all kopitiam, Chin Mee Chin generally serves breakfasts with toast and hot coffee. The toast came slathered in butter and homemade kaya, delicious together with a cup of coffee. Do sample the custard puffs, pies, and varieties of bread, cakes and several other products which were all neatly displayed in the glass counter. All these treats may just look ordinary but they definitely pack a punch! The light breakfast delighted our taste buds, and filled up our tummy before we ventured to the next food outlet.
Nam Sing Hokkien Fried Mee
Old Airport Road Food Court
#01-32
Singapore 390051

Business Hour : 11am – 8pm (till sold out)
Our next destination was at the Old Airport Road Food Court. We ordered a few of the local delights, and the first dish was the fried Hokkien Mee from Nam SingHokkien Fried Mee stall #01-32.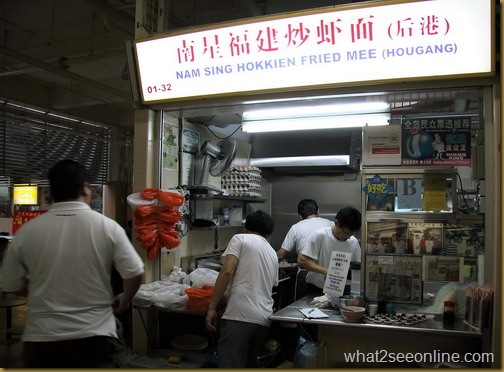 Don't assume that this dish is similar to the Penang Hokkien Mee. The name might sound the same but it is totally different. The owner, Mr Ng dishes out this popular Singapore dish with the yellow noodles fried with egg, prawns and pieces of squid. The noodle was fried moist and served with cut chilies and lime.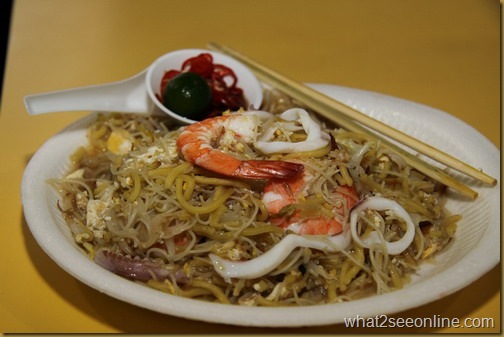 Other delights that we selected in the food court included several steamed longevity paus with lotus paste filling, and a plate of rojak coupled with fruits, vegetable, and fried crullers all tossed in a shrimp paste sauce sprinkled with crushed peanuts. Besides the rojak, we had a bowl of fish sliced beehoon from stall #01-121. The fish pieces were absolutely fresh, but the creaminess of the milky broth is an acquired taste especially for us Penangites.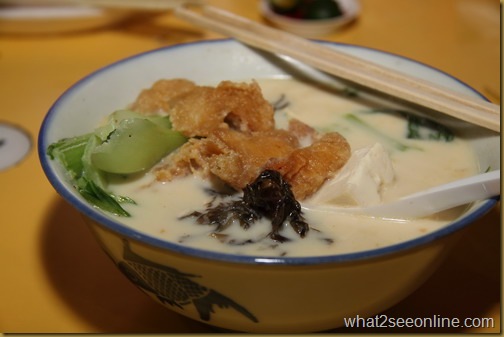 328 Katong Laksa
216 East Coast Road
Singapore 428914
Business Hour: 8am to 10pm Daily
We savored Singapore's very own famous 328 Katong Laksa, located in the East Coast Road. The Laksa was served with seafood and topped with chopped Laksa leaves. It tantalized our taste buds with its unique taste and delicious hints of spiciness and creaminess. The difference is apparent in the noodles as well, as Singapore's Laksa come in shorter strands, to be eaten using a spoon.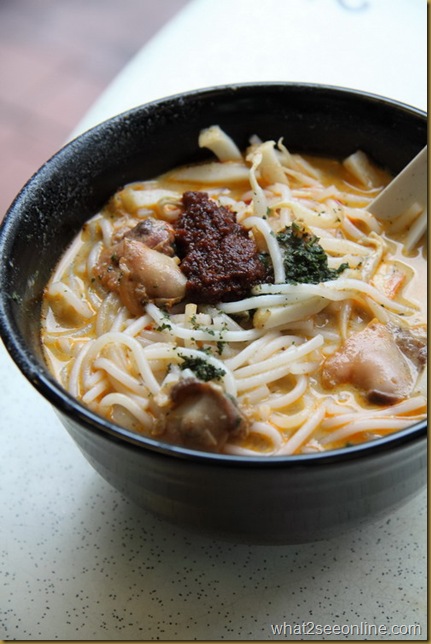 Tanjong Rhu Pau & Confectionery
7 Jalan Batu
#01-113
Singapore 431007
Business Hour : 12.30pm – 8pm
Closed on Sunday
Apart from the Laksa, we even sampled the da pau (big pau) from Tanjong Rhu Pau & Confectionery. It was amazing how the 'pau' makers skillfully placed the meat filings into each of the mini size 'pau'. The exterior is soft, fluffy and sweet, while the inside was filled with tasty and juicy meat. Each bite was a delight, and one 'pau' is definitely insufficient as it is gone in two to three bites.
Small size da pau
Another day had us setting off early to visit the Bedok Interchange Food Centre.
Bedok Interchange Food Center
207, New Upper Changi Road
Singapore 460207
Bedok Chwee Kueh stall #01-53
In this food court, the first stall that we patronized was the Bedok Chwee Kueh stall #01-53. I joined in the queue with several customers lining up for the rice cakes, topped with chye poh (preserved radish).
This simple snack of rice cake was real cheap, with a few pieces at a dollar. The rice cakes had great smooth texture and perfect eaten with the fried aromatic chye poh and chili sauce.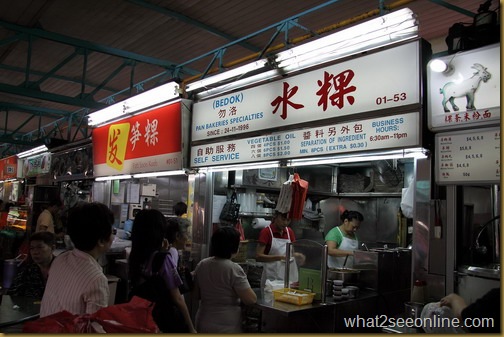 New World Mutton Soup stall #01-55
We ordered a bowl of mutton soup with ribs and balls from the neighboring New World Mutton Soup stall #01-55. The soup was very aromatic and rich with mutton taste. Other available additional ingredients are the tendon and stomach. Appetizing sides are the kiam chye (salted vegetable) and braised tau kua (beancurd). This Chinese version of mutton soup is hardly found in Penang.
Song Zhou Luo Bo Gao stall #01-18
At Song Zhou Luo Bo Gao stall #01-18, a long line of customers were seen waiting for their fried carrot cake (rice flour cake). They have both the black and white version with the option of adding-on prawns and squid.
We had the white version, fried flavorfully with egg, garlic and chye poh (preserved radish). The carrot cake was soft and yet it has a bite to it.
Changi Village Market and Food Center
2 Changi Village Road
Singapore 500002
Business Hour : 11am – 11pm Daily
We moved on to Changi Village Market and Food Center. Beef lovers should not miss out the beef noodles from theChangi Beef Kway Teow Mee stall #01-19.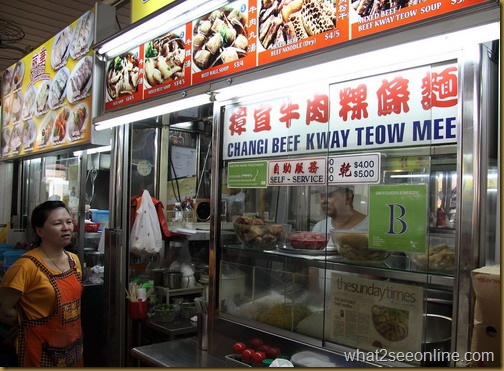 The dry kway teow with a Teochew touch was served with shreds of kiam chye (salted vegetable) in thick beef-rich gravy. The noodles come together with a bowl of sweet flavorful soup with beef balls and tender pieces of beef.
The texture of the thick gravy is quite similar to the Penang 'Lor Mee'. The bowl of kway teow was greatly enhanced with the cincalok sauce and lime, something pleasingly different from the usual condiment. Absolutely tasty!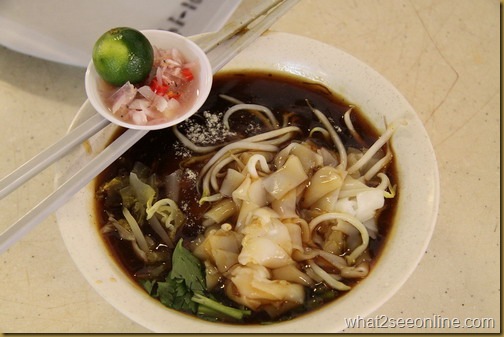 A stroll at Changi Point Coastal Walk had us stopping by an ice-cream cart. We were delighted to sample the wafer ice-cream and roti ice cream (ice-cream wrapped in colorfully patterned bread). We devoured these childhood snack with pleasure.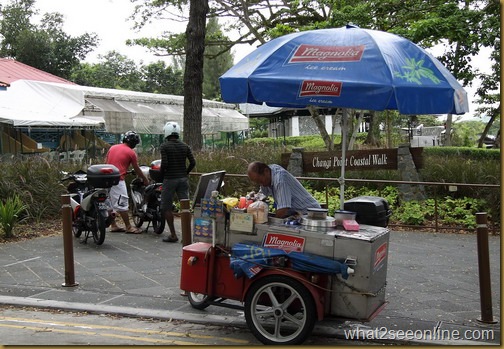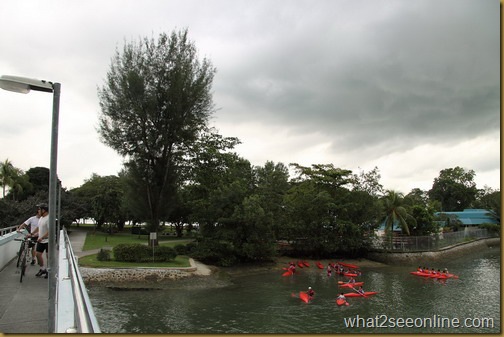 The serene view at the Changi Point Coastal Walk
Beach Road Prawn Noodle House
370 East Coast Road
Singapore 428981
Business Hour : 8am – 4pm
Closed on Tuesday
The next stop was at the Beach Road Prawn Noodle House where we settled down for the Prawn Mee. The flavor of the broth is very light, without much of the prawn flavor as compared to Penang's Hokkien Prawn Mee.
This particular dish disappointed me as it did not stack up against our Penang's very own Hokkien Mee. That was until I was introduced to the boss and he generously prepared another bowl for us. It came with wild tiger prawns instead. This time around, the soup was much savory, enriched with sweetness from the prawn. With this I conclude that the personal preparation by the hawker himself instead of his helpers really make a difference in the dish!
Besides the prawn mee, customers can opt for the pork rib mee or pork tail mee.
Two bowls of prawn mee with different types of prawn
Good Morning Nanyang Cafe
133 New Bridge Road
#03-01 Chinatown Point
Singapore 059413
Monday – Friday 8.00am – 8.30pm
Saturday, Sunday and Public Holiday 10.30am – 8.30pm
From Beach Road Prawn Noodle House, we headed towards Good Morning Nanyang Café in Chinatown Point. This popular kopitiam was packed with stream of customers waiting for a seat. The kopitiam's menu has a variety of beverages and food, ranging from black coffee, teh C (tea with evaporated milk) to Dinosaur (iced Milo) and toast.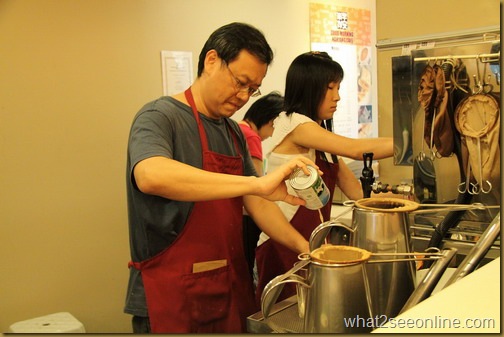 Check out the orange ciabatta with freshly made custardy kaya filling, which was indeed unique. The lightly toasted ciabiatta had a refreshing hint of citrus and went well with the homemade pandan flavored Kaya spread.
Tong Fong Fatt Hainanese Boneless Chicken Rice
Maxwell Road Food Centre
Singapore
Closed on Sundays and Public Holidays
As night fall over the Lion City, we headed to Maxwell Road Food Center, which is reputedly one of the oldest food courts in Singapore. Located nearby Chinatown, this food court has over 100 stalls. There are two popular chicken rice stall. We started off with the steamed chicken from the Tong Fong Fatt Hainanese Boneless Chicken Rice stall.
The plate of chicken and a serving of rice were served with a bowl of soup accompanied with chili sauce, minced ginger and the surprising oyster sauce. The oyster sauce is very Cantonese as most aficionados would know; it is not a common condiment in Malaysia chicken rice stalls. The texture of the chicken was good and best taken with the aromatic rice and the condiments.
Hum Jin Pang
Stall 28
Maxwell Road Food Centre
Singapore
Business Hour: 1.30pm-8pm
This food court has a stall which is famed for its Hum Jin Pang. A few small pieces of salted or sweet tau sar cost only a dollar. The popularity of this snack draws in a long queue. The most interesting part was having the customers queuing up, frying the savory snack themselves (DIY) using a giant pair of wooden chopsticks.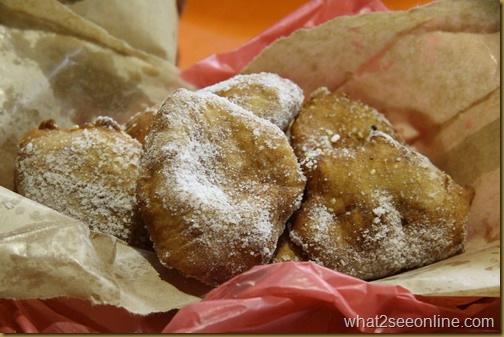 We left the food court munching on the simple snack. A short walk leads us to Chinatown, a place with hive of activities with lively atmosphere and street culture. The brightly lit place was packed with shops and arrays of stalls. Visitors can buy anything, from clothing, shoes, costume jewelry, trinkets, bags, stationary items to souvenirs.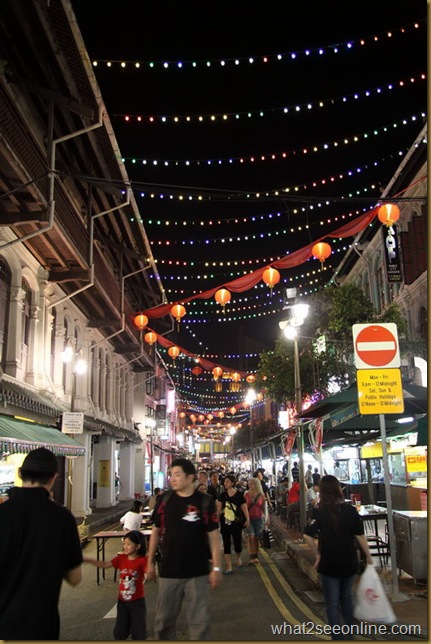 The place was packed with stalls selling excellent array of Chinese fare and surprisingly, German fare too.
Erlich's Wuerstelstand
Chinatown Night Market
3 Trengganu Street
96274882
Business Hour : 3pm to 11pm Daily
We came across an Austrian at work in his food stall in the middle of Chinatown. Erich has been selling gourmet delights for years and has since appeared in many dailies and even on television, as seen on the cuttings displayed in the stall. We ended up buying some grilled German sausages and cured meat from the array of international gourmet products.
Mei Heong Yuen
65-67 Temple Street
Singapore
Business Hour : Monday – Friday 10:30 am –  8pm
Saturday & Sunday 10:30 am – 10pm
Along the way, we stopped by at Mei Heong Yuen, the place that guarantees sweet sensation. This double storey shop lot was crowded, packed with customers waiting in line for a seat.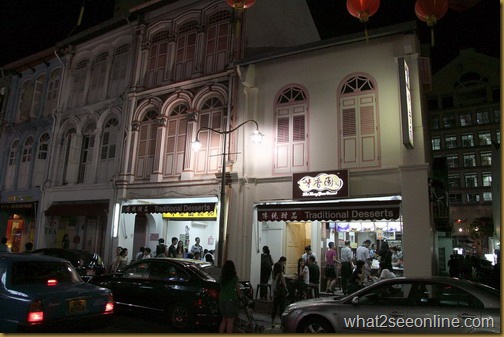 The menu featured a wide array of traditional Chinese desserts and snow ice, for just a couple of dollars each. We had the mango snow ice, mango sago with pomelo and the macha snow ice with red beans.
Among the best cold item was the mango sago with pomelo. The chilled bowl of thick mango puree with shaved ice was topped with chunky pieces of mango cubes and pomelo sacs. I thoroughly enjoyed the combination taste of the sweet mango and the slightly sour pomelo.
The traditional Chinese desserts Ohr Nee was just as delicious. This warm dessert of smooth creamy yam paste was served with pieces of pumpkin and gingko nuts (pak kor).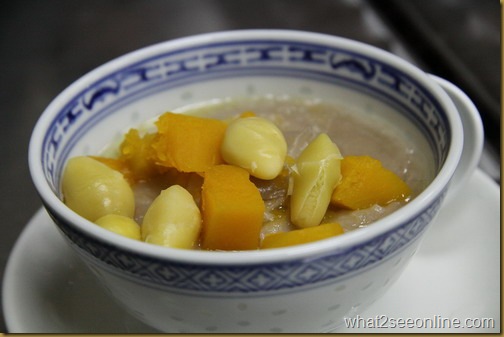 It was truly an enjoyable visit to Chinatown, the place with sights and tastes of the local culture. We wandered through the wonders of Chinatown and slowly took in the beautiful architecture and ambience.
To sum it all up, my trip to Singapore was simply satisfying, trying out all the food in different parts of the Lion City. I have the desire to do it all over again and definitely will be bringing a big appetite!
Other interesting food places in Singapore :
Chin Huat Live Seafood Restaurant
Geylang Lor 29 Fried Hokkien Mee
Clifford at The Fullerton Bay Hotel
TWG @ION
P.S. Cafe @Dempsey Hill
Imperial Treasure @ION
For readers who wish to expand their knowledge of Singapore food places and its history, I highly recommend the book titled "The End of Char Kway Teow" by food writer Dr Leslie Tay. My Singaporean food blogger friend had just launched his first book on 18th December 2010.
Based on his award winning ieatishootipost.sg food blog, the book is essentially a celebration of the Singaporean Hawker Heritage, and contained interview stories of him with the hawkers.
The book has gorgeous full page and centre spread photos of hawker food that captures the allure of the simple hawker fare. It is organized by chapters which highlight each of the hawker food, followed by a selection of the best places to eat them. There is even a section of hawker stories, with the rich history behind the unique foods that define the Singaporean identity!
The book, priced at $26.15 plus GST, is supported by the National Heritage Board and the foreword is written by well known gourmand, Peter A Knipp. Outside of Singapore, it can be purchased at http://www.goducate.org/be-a-sponsor/ieat-book and the profits are donated towards the Sandakan School Building project.
* This is a reproduction of my article published in New Straits Times