Bukit Mertajam Popular Teatime Snacks
* This article was published in the New Straits Times (Northern Streets) on 1st February 2011.
Bukit Mertajam houses plenty of eateries, and Ah Meng Coffee Shop is one ideal eatery where one can find cheap and good teatime snacks. Located along Jalan Pasar, this coffee shop is famous for its Rojak Orang Hitam Putih and the Li Guang Popiah.
The ingredients of the popiah include fried bean curd, fried egg, prawn, bean sprout, crunchy lettuce and turnip. The popiah is dressed with chili and hoisin sweet sauce and topped with fried garlic oil, chili sauce and turnip-based gravy.
Every mouthful is moist, flavorful and satisfying. A roll costs RM1.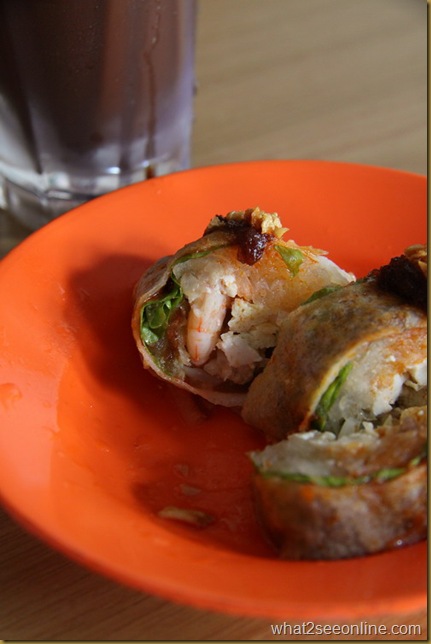 The popiah is topped with garlic oil and chili paste
This popiah stall is always packed with customers dining in and walking in for take aways.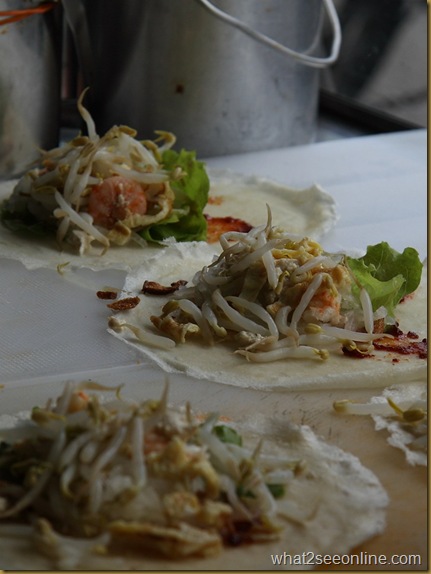 Plenty of  filling for the popiah
Other popular tea time snack is the Orang Hitam Putih Rojak. There are a few rojak stalls around, however this stall has remained the most talked about over the years. The point that really stands out is the cleanliness of the stall, which is consistently kept to the upmost.
The rojak itself is kept relatively simple, with the fruits encompassing of guava, pineapple, cucumber and jambu drenched in a thick homemade rojak sauce. A handful of crushed peanuts and sour plum powder is then sprinkled all over before serving! Prices of the rojak start from RM3, which is reasonably large enough for two. Customers can also buy the "Rojak Orang Hitam Putih" sauce which is sold in containers.
The rojak orang hitam putih is a hot favourite
Apart from the rojak and popiah, Assam Laksa is also available at RM2 per bowl. These dishes form an ideal tea time snack, coupled with glasses of fruit juices and Kopi-O.
Ah Meng Coffee Shop comes with everything needed for a simple afternoon snack, and it remains one of Bukit Mertajam's popular eateries.  The  coffeeshop is just a few doors away from Yoong Kee Eating Shop. Click here for the Map Location.
Kedai Kopi Ah Meng
Jalan Pasar/ Jalan Bunga Raya
14000 Bukit Mertajam
Seberang Jaya
Penang