Lameizi Restaurant – Szechuan Style Steamboat
* This article was published in the New Straits Times (Northern Streets) on 12th May 2011.
Lameizi Restaurant in Bayan Lepas is famed for its spicy Szechuan-soup (ma la) steamboat. The soup is filled with dried chili, with a layer of chili oil floating on top. Besides this signature soup, there are several other tasty soup bases to choose from — chicken, old duck, pork knuckle, tom yam and fish. The clear chicken soup offers a welcome throwback for those who prefer a more traditionally-flavoured steamboat stock. Each of the stock is boiled for hours for it to acquire its natural sweetness and flavour.
The steamboat at Lameizi is cooked on an infusion plate, which is faster than the conventional potable gas stove or charcoal pot. We choose to have a sectioned pot with the old duck soup on one side, and the sour vegetable fish soup on the other. The sour vegetable fish soup was rich and sourish and includes plenty of salted vegetables (kiam chye).
Combination pot of sour vegetable fish soup (RM28) and old duck soup (RM10.50)
Condiments come in red chili, green chili, cut chilies and chopped garlic. The taste of the red and green chili is distinctively unique and enhance the ingredients' taste.
Awesome choice of condiments – chili and garlic
The menu's range of fresh steamboat ingredients to choose from include thinly-sliced meat, mushrooms, dumplings, bean curd, shellfish, meatballs, fish balls, prawns, fish, noodles and vegetables. The raw meat ingredients include beef, mutton and pork. Vegetable choices range from cabbage to button mushroom and tofu puffs.
Less common but worth trying is the minced meat patty which is topped with a raw egg. Mix them together and roll them into small balls before tossing them into the soup.
Seafood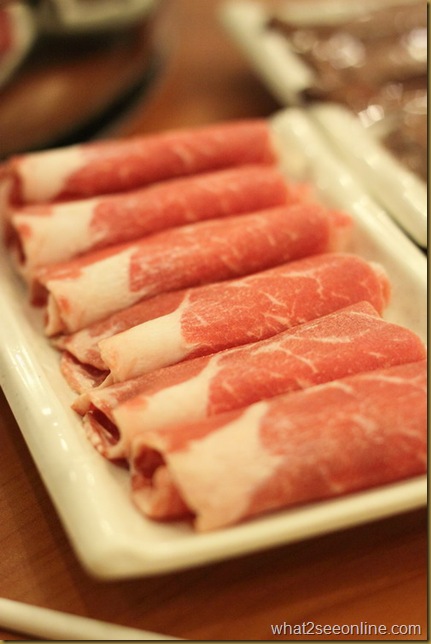 Thin slices of beef
Those who fancy innards, the range includes duck gizzard, beef tripe and tendons, pig's brain and jellied blood. Particularly enjoyable is the silky smooth jellied duck's blood.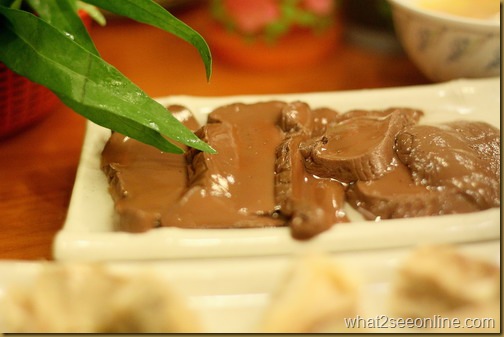 Jellied duck's blood
Duck gizzard and pig's brain
There are plenty of deep-fried treats too, like dumpling purses at RM4.50 and chucky pieces of fried fish fillet at RM9.
Having some noodles at the end of the meal is a must, as the last pot of soup tends to be the most concentrated and rich in sweetness and flavor. Noodle choices included the thin vermicelli rice noodles, potato noodles and the thick udon.
Somehow, the idea of being able to cook your own food at the table makes the meal seem even more enjoyable. There is also the option of set lunches offering beef, lamb, pork and seafood.
Potato noodles and udon
Lameizi Restaurant located in Krystal Point II in Bayan Lepas is just a few doors away from Jade Blossom Restaurant. Click here for the Map Location. Lameizi also have an outlet in Nagore Road, on the same row as SiTigun.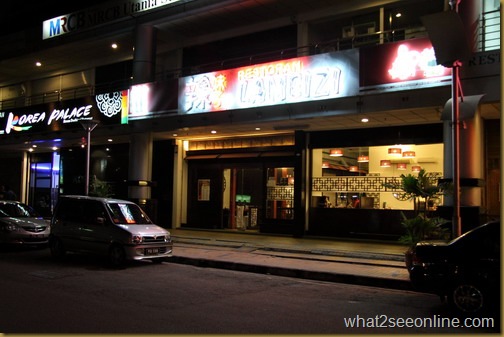 Lameizi Restaurant 辣妹子
29, 30, Kyrstal Point II
Jalan Sultan Azlan Shah
Bayan Lepas
11900 Penang
Tel: 04 6415958
Business Hour: 11.00 am till 11.00 pm
Open Daily
GPS Coordinates : 5.331893   100.296602