Palate of pleasures by Chef Chiam
BY CK Lam
Chef Chiam Choon Heng is back in his hometown here. A group of us had a wonderful dining experience at the Sesame and Soy restaurants in G Hotel, sampling fusion contemporary and traditional Chinese cuisine from the set dinner menu.
The meal offers new creations with fish, chicken, and beef dishes. Chiam starts us off with a plate loaded with two ingredients. One was the baked marinated codfish and the other a basket of flavours, with melange of sweet beans, chestnuts, carrots and baby abalone cooked Sichuan style. It was a light and refreshing course to begin with.
It was followed by the broth with fresh scallops roll, enoki mushroom, fish bladder and crab meat. The superior broth recommended by Chiam is double-boiled for many hours using chicken meat, dried scallops and dried sole fish. Served in an individual white bowl with dried fish bladder, crab meat and crab roe, the soup is kept warm with a burner underneath.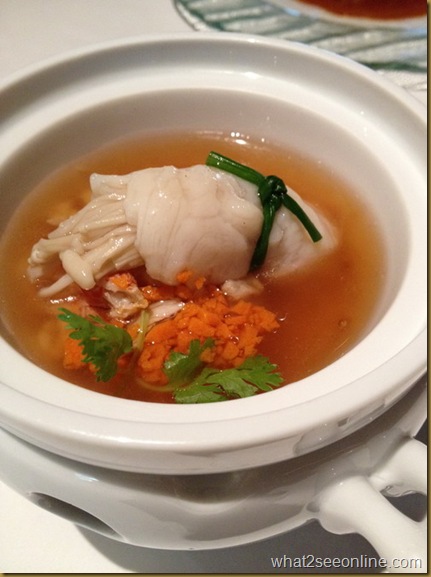 For the third course, Chiam presented one of his "must-try" signature dishes; stewed wagyu beef cheek wrapped in bean curd sheet. It brings together a new flavour with accompanied nai pak, hon-shimeji mushroom and fresh scallop.
Chiam explained that the Australian wagyu beef cheek is stewed for three hours in a special recipe sauce. This dish, which is decorated with bird carvings made out of white radish by the chef, not only pleases the eyes but also the palate.
The next dish was the elegantly presented prawn dish with local flavours — special nutmeg flavoured prawn ball with lime leaf and ginger flower. The stir-fried prawns came with shells removed. Cooked with slices of dried nutmeg, and sauced with piquant chilli and lime juice, the prawns were irresistibly succulent and kept our taste buds spinning.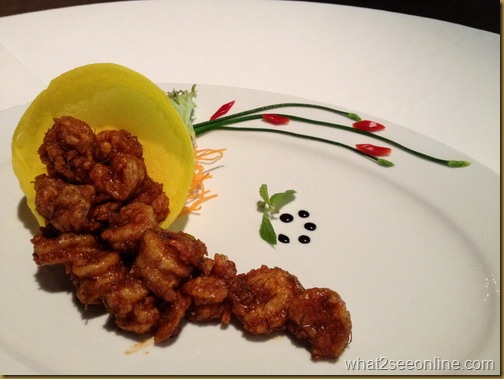 Stuffed fish maw with shrimp mousse, black caviar and snow fungus was the following dish. The steamed fish maw stuffed with shrimp mousse was served topped with black caviar and Chinese parsley. Its taste and texture contrast well with the accompanying braised snow fungus, asparagus and carrots in a clear and fragrant light oyster sauce.
Dessert was served after the hearty meal. The mango sago with pomelo was served with a scoop of black sesame ice cream, garnished with strawberry. The mango sago has an interesting creamy combination of ingredients — fresh milk, vanilla ice cream and mango puree.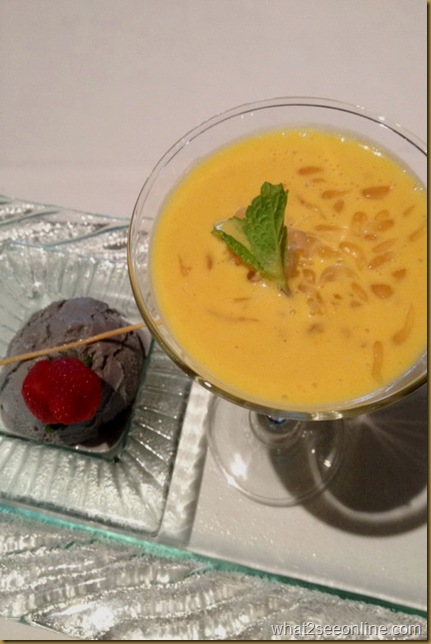 Diners can indulge in Chiam's creations at Soy and Sesame. Soy opens daily for lunch from noon to 2.30pm while Sesame is open daily for dinner from 6.30pm to 10.30pm. For more info on the pricing and reservations, do call 04 2380000.
Sesame & Soy
G Hotel
168A Persiaran Gurney
10250 Penang
* Many thanks to G Hotel for laying on this invitation.
* This is a reproduction of my article published in New Straits Times