**Updated  July 2011** – The place has since closed down!
BY CK Lam
In the past few years many old heritage buildings in Penang has been restored new leases of life while maintaining the old world charm. One such project is the Straits Collection in the core zone of the UNESCO Heritage Georgetown.
The restored shop houses in George Town's heritage enclave along Stewart Lane and Armenian Street was bought back to life with a mixture of retail, cafe, public reading, film space and short and long term residences.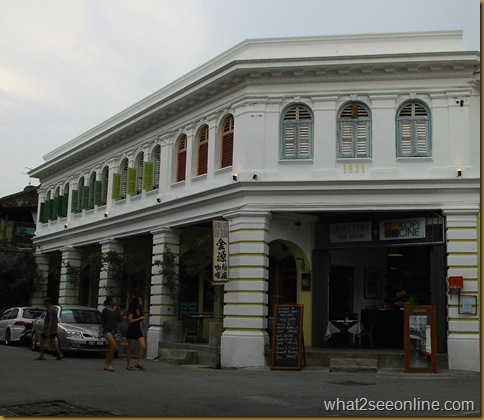 The restored Straits Collection
Straits Collection was set up by Bon Ton, the holding company and managed by Brand Bon Ton. They are known for managing and restoring old heritage properties to their (almost) original glory. Bon Ton owns and operates two well known heritage resorts in Langkawi – Bon Ton Restaurant & Resort and Temple Tree. Both have won international awards & featured in many press articles in leading magazines.
Having only opened their doors last December 2009, I was privileged to be able to meet with their proprietor, Narella McMurtrie. She was kind to accommodate me and give me a detail tour of the Chinese shop houses tucked away in the quiet Stewart Lane.
Straits Collection, 47 to 55 Stewart Lane – short term residence
Built in 1927 in the Straits Eclectic style, the houses were only 6.5m wide. The group of five adjoining Chinese shop houses was restored to its original form with great dedication. Renovation started in August all the way through to December with mainly repair, new wiring, plumbing and stabilizing work done. The facade was maintained to reflect the true style of that era. The plaque depicting its year of construction is still retained in the appearance.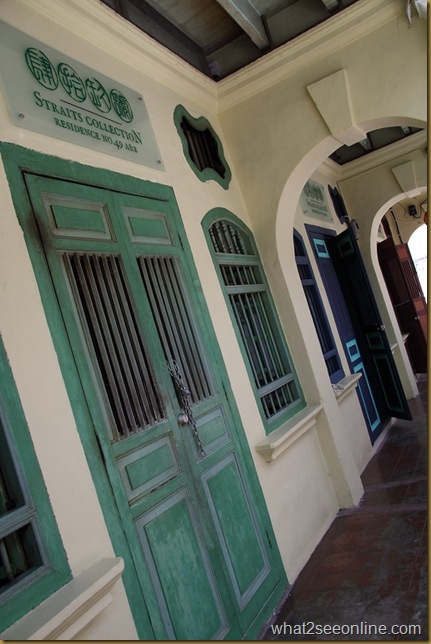 The restoration began with laborious process turning three of the shop houses into residence with contemporary comfort for travelers. With rates ranging from RM400 to RM500 per room nightly; each one room is distinct and possesses its own special old charm. The other two units house a reading room and a cafe respectively.
The houses maintain the original style and architecture with the old window rails and doors. The place portrays an authentic depiction of early Penang's lifestyle. The front hall is separated from the rest of the house by a wooden partition. Traditionally, altars are usually placed here to ward off evil spirits from entering the house.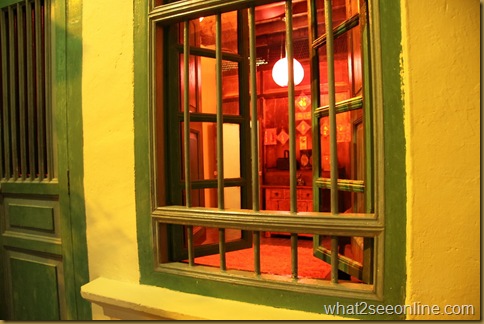 A view through the window into the main hall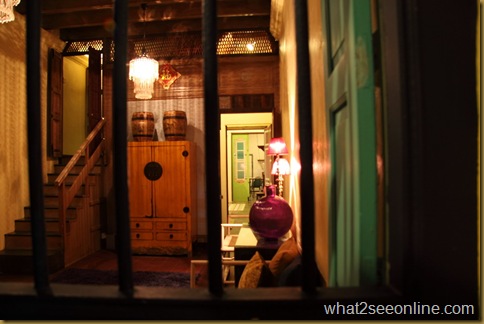 Old window rails
The spacious main halls of each unit are individually decorated with restored furniture of traditional and modern Chinese designs.
Narella insisted on maintaining as much of the original features of the old building as possible. Even the wooden partition which was once the altar place discolored by the smoke from the burning incense of joss stick is still retained…with a very Chinese feel!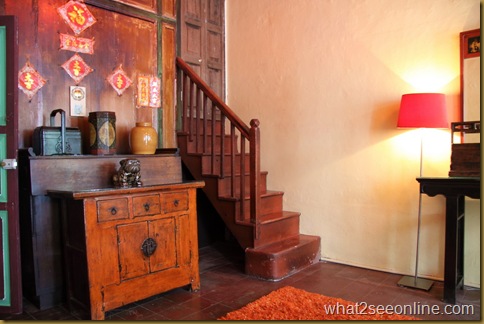 The Main hall of Stewart Lane 49A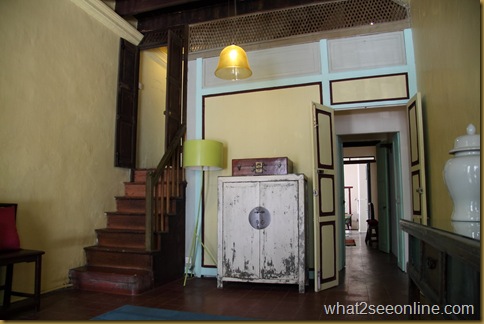 The Main hall of Stewart Lane 47A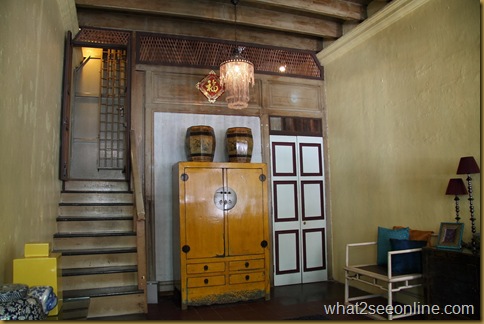 The Main hall of Stewart Lane 51A
The access way to the upstairs is via the narrow wooden staircase. Most of the original floorings are retained as they were in reasonably good condition. Only a layer of lacquer was applied on it to give it a shine.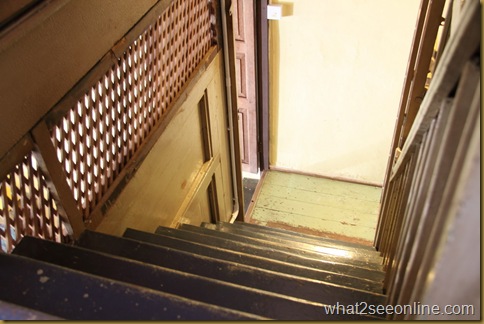 Upstairs suite is accessible via the narrow wooden staircase
Plenty of light and air passes through the upper part of the decorative wooden panels of the main hall to the middle section of the building. Some mentioned that womenfolks often take a peek at visitors through this diamond shaped holes.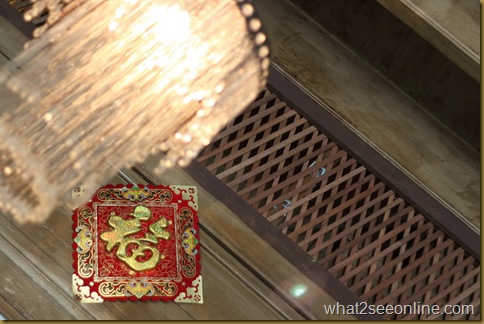 Diamond shaped design wooden panel
This upper suite leads off the main living hall and comprises of the complete top floor. One bedroom is quite large with a four poster queen bed, while the other smaller bedroom is furnished with a single bed. The bathroom has an indoor/outdoor feel and reflects the open style bathrooms of that era.
Being an interior decorator by profession, Narella has a collective taste and a loving for colors and texture! The fabrics and the hand embroidered Oriental pieces together with the carpets, furniture and beds are scoured by her. Believe it or not, most of the pieces are obtained locally from Kuala Lumpur and Penang! All the rooms are decorated and dressed up by Narella with a wonderful mix of furniture and unique hand carved pieces.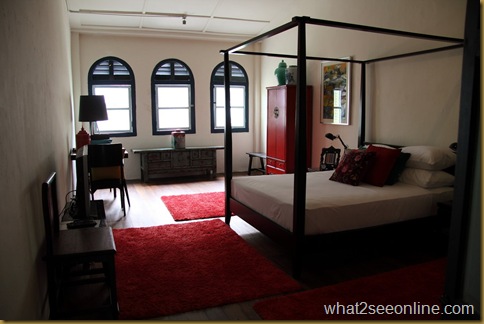 Large bedroom with a four poster queen bed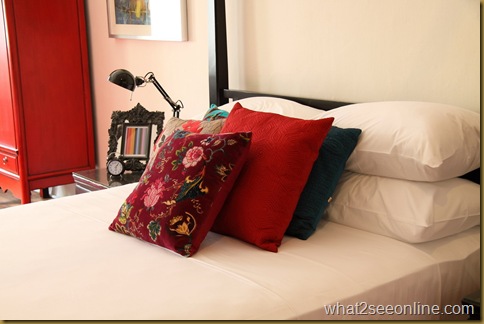 Gorgeous pieces of cushions and decorative items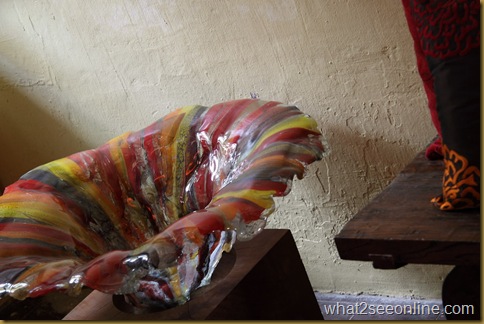 Unique decorative glass pieces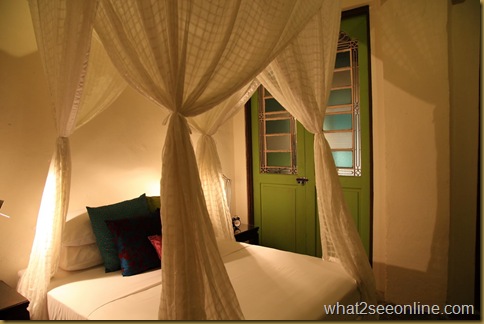 Room with softness and warm ambiance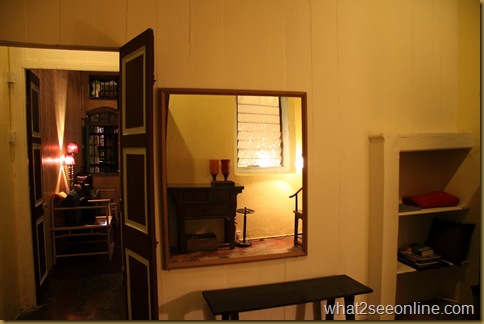 Room decorated with a wonderful mix of furniture and unique craved pieces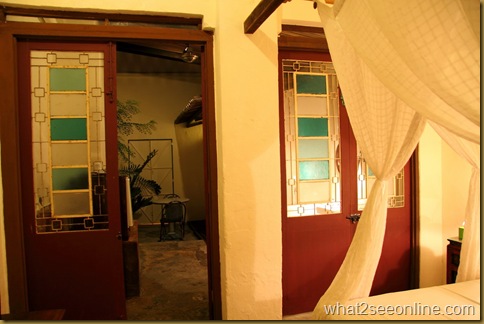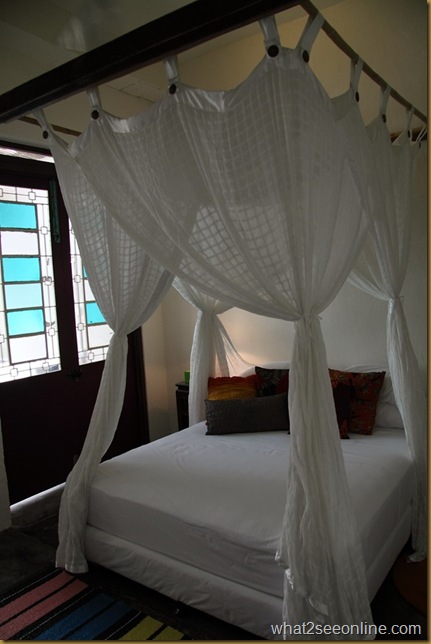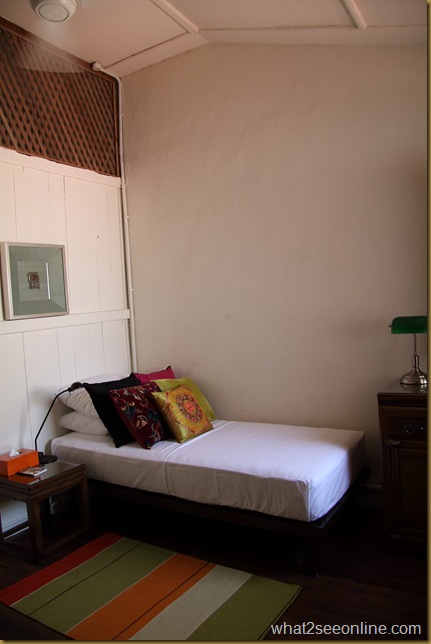 The smaller bedroom has a single bed with simple decoration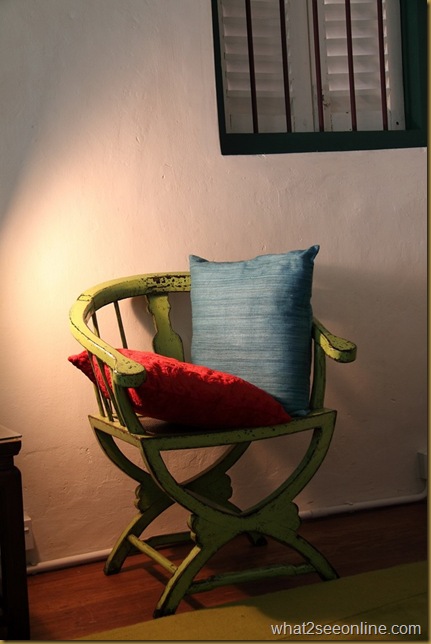 Durable, old-fashioned decorative chair
This lower suite leads off the main living hall and consists of a study/dressing room, followed by a bedroom which opens out to the courtyard and original bathroom/kitchen.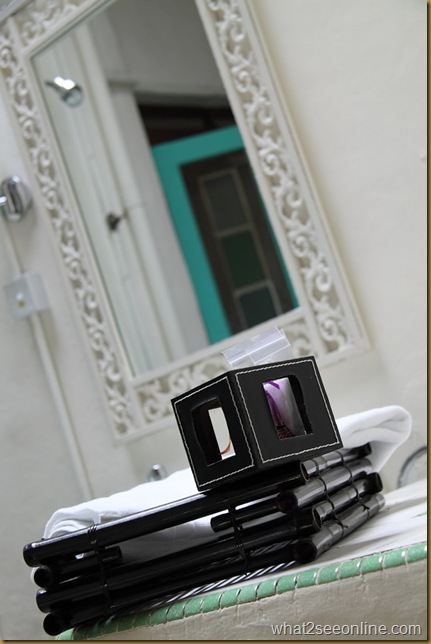 This old charming place is coupled with amenities of a modern hotel
The original old-style mosaic tiles were retained
The colorful stained glass door contains several beautiful panes of glass. I kept admiring the quality and interesting fine details of these original doors leading out to the courtyard!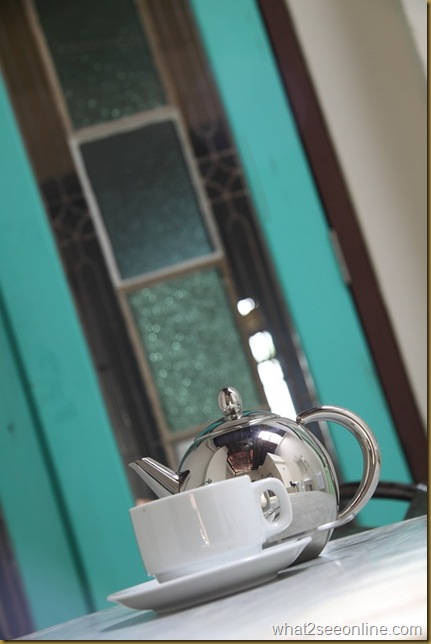 Tea/coffee making facilities are available too!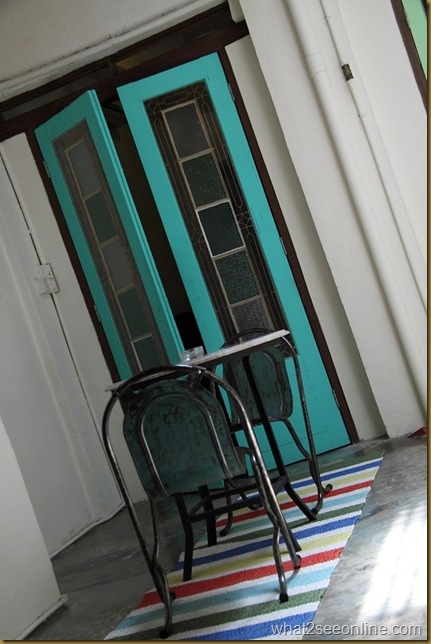 Colorful stained glass door
The place is coupled with amenities of a modern hotel with facilities that make it a perfect choice for a pleasant stay. It includes air conditioning in all the rooms, mini-fridge, WiFi, direct dial telephone, Internet connection, flat screen television, tea/coffee making facilities and hairdryer. The residences operate with a full housekeeping service and a butler on call for all the guest needs.
On the ground floor corner unit is the in-house cafe, Kopi Cine. This casual and relaxing cafe serves separate menus for breakfast, lunch and dinner along with drinks and cocktails. They specialize in Italian coffee, fruit frappes, yoghurt smoothies, as well as homemade cakes, desserts and ice creams.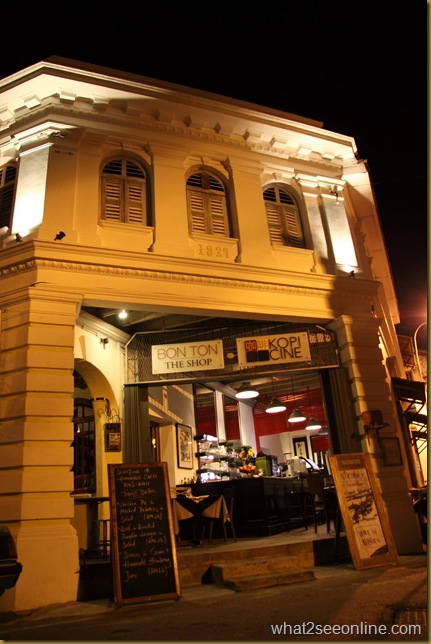 Kopi Cine, the casual and relaxing in-house café of Straits Collection
The Reading Room, a public library adjacent to the cafe is stocked with coffee table books, art books, novels and magazines for guests to read at their leisure. This place was previously occupied by Kim Guan Coffee Factory. The memorable part that is still standing in the courtyard space behind this reading room is the coffee factory's roaster and the machinery. Asian movies are shown here free of charge at 9pm daily.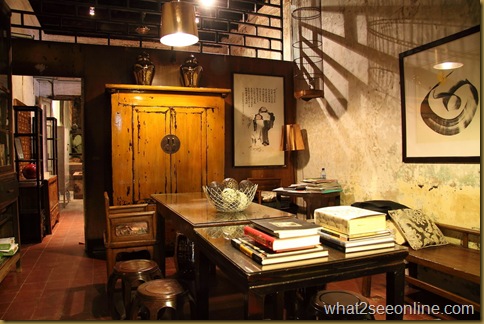 The Reading Room, a public library
Middle section of The Reading Room
It was really a nostalgic experience walking in and out of all these airy old historical Chinese buildings. Click here for the Map Location. The place is situated in close proximity to the 'Street of Harmony' with four places of worship. First to encounter is the Goddess of Mercy Temple, Masjid Kapitan Keling, Sri Mahamariamman Temple and St George Church.
There are plenty of hawker food and restaurants to visit around this part of George Town, such as Restaurant Kapitan and the Hainanese eatery Shing Kheang Aun.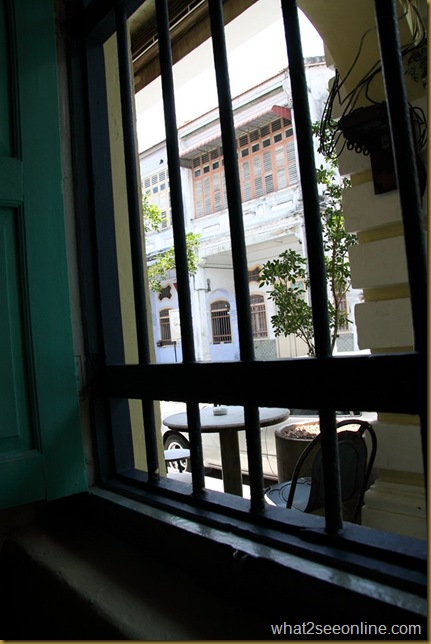 The Reading Room looking outward to the walkway
Straits Collection is a successful project by Bon Ton. Their participation in protecting and preserving a part of Penang's rich heritage really does improve the livability of the area and surroundings. With proper local planning and zoning, knowledge and professionalism about heritage, we hope to see more heritage properties being restored.
Straits Collection
47 to 55 Stewart Lane
89 to 95 Armenian Street
Georgetown
10200 Penang
Malaysia
Stewart Lane – Tel: + 604 263 7299
Armenian Street – Tel/Fax: + 604 262 7299

Email:  info@straitscollection.com.my
Website: www.straitscollection.com.my
* This is a reproduction of my article published in New Straits Times
Tags: Armenian Street, Bon Ton, Chinese Shop, Core Zone, Eclectic Style, Film Space, Goddess Of Mercy Temple, Heritage Buildings, Heritage Properties, Heritage Resorts, International Awards, Kopi Cine, Masjid Kapitan Keling, New Leases, New Straits Times (Life & Times), Old Charm, Penang Heritage Hotel, Press Articles, Public Reading, Reading Film, Restaurant Kapitan, Shing Kheang Aun, Shop Houses, Sri Mahamariamman Temple, St George Church, Stewart Lane, Straits Collection, Temple Tree, True Style, Unesco Heritage, World Charm
This entry was posted on Saturday, May 15th, 2010 at 5:49 pm and is filed under
Boutique Hotel
,
George Town
,
Heritage
,
Hotel - Review
,
Hotels
,
Media Preview
,
New Straits Times (Life & Times)
,
Penang
,
Sights
. You can follow any responses to this entry through the
RSS 2.0
feed. You can
leave a response
, or
trackback
from your own site.