*This article was published in the New Straits Times (Life & Times) on 18th August 2010.
Hameediyah Restaurant, a century-old eating house established in 1907 is among one of the oldest restaurants in Penang. The restaurant with a yellow facade located on Campbell Street serves South Indian cuisine and is well known for its nasi kandar. Those who have tried the curry dishes in Hameediyah are hooked by its intricate flavors.
Having stood the test of time and firmly established its name in Penang, the owner has since embarked on the next stage with the opening of another outlet two doors away. The new outlet, Hameediyah Tandoori House is definitely a friendly neighborhood restaurant. It has moved away from the traditional look.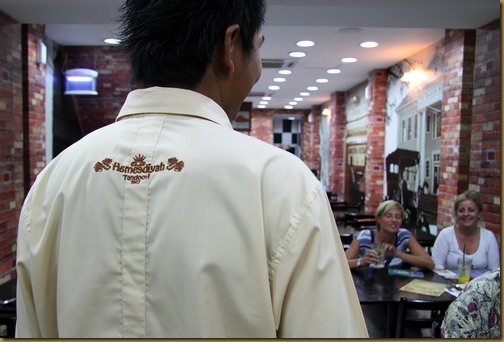 This new shop has a spacious and cleaner environment, with pleasant food presentation (only white plates are used), while still retaining the flavors of Hameediyah that many of us grew up with. This restaurant is fully air-conditioned, so diners need not sweat it out while dining.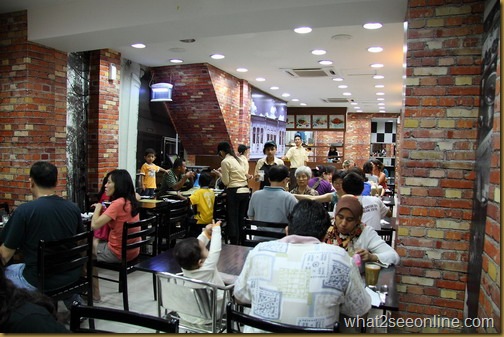 Interior of the new outlet
The prices and the menu remain the same as those of the old restaurant, including its famous nasi kandar with twenty over dishes to choose from. All these dishes complement to the naan, roti canai, briyani or even plain white rice.
Crispy papadum
We had the Kambing Kurma (mutton kurma) and appetizing side dishes of sambal nyior (coconut sambal) and cili jerok (pickled chili) with white rice. The mutton cooked with many spices and thick coconut milk, was very pungent and goes well with the sambal nyior which was subtly hinted with desiccated coconut and raw mango. The cili jerok on the other hand was spicy yet sour!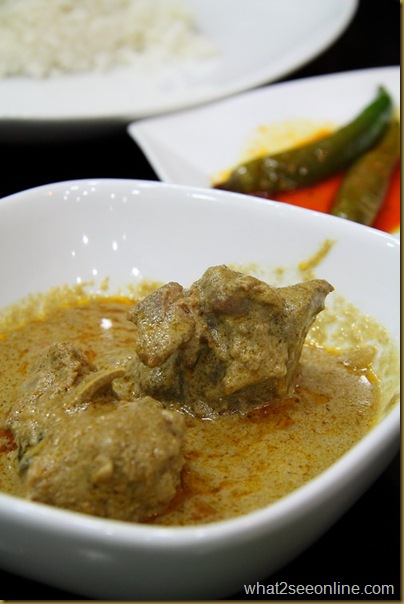 Kambing Kurma RM4.50 per piece
Sambal Nyior RM1.00 & Cili Jerok @ RM0.50 per piece
Pasembur was served with the peanut sauce. I would like to see more crushed peanuts in the sauce though. This salad makes a nice side dish.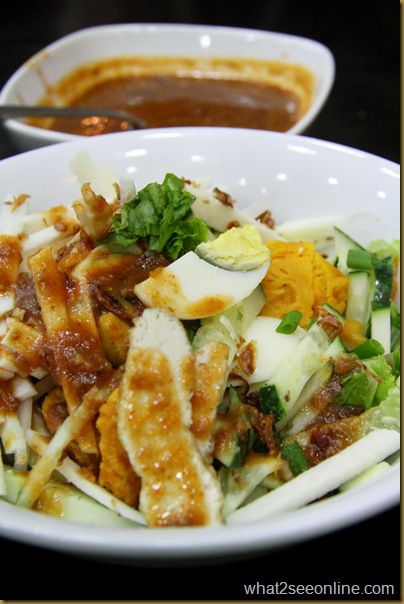 Pasembur RM4
Over the decades, Hameediyah is known for its signature dish -  Murtabak! The stuffed roti comes with choices of fillings – minced beef, chicken, mutton or vegetable.
We had the murtabak daging (minced beef) with pickled onions and accompanying curry gravy. This piece of soft bread with minced beef and chopped onion filling is encased in a layer of egg. The murtabak is simply scrumptious!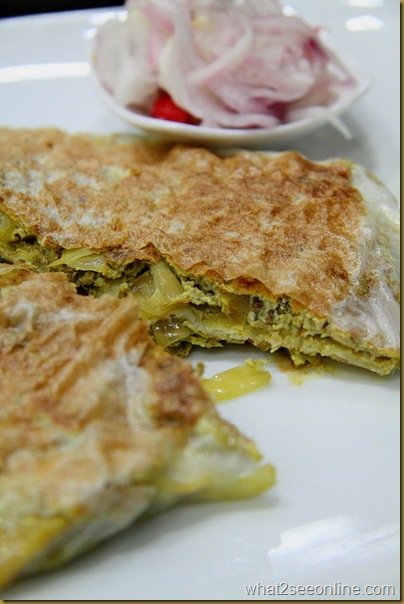 Murtabak daging RM4.50
The tender Tandoori Chicken was served with three dips and naan. The mint dip was nice. The meat was smoky and flavored-packed with  a slight sweetness. The Kambing Bakar (grilled goat meat) on the other hand, was more addictive with its gamey flavor, and it was definite my favorite!
Tandoori Chicken set RM7 & Kambing Bakar RM5
The Daging Rendang (dry beef curry) is luscious and flavored with spices. The exceptionally delicious thick gravy goes well with the  fluffy naan which is baked in the tandoor with crisp charred edges. The beef is definitely one of Hameediyah's worthy offerings.
Daging Rendang at RM2 per piece
You can take your pick of white rice or opt for the nasi briyani. The nasi briyani was flavorful with exotic spices and were done with such marvel. A plate of chicken briyani cost RM8, and it is one of the must-try dishes in Hameediyah.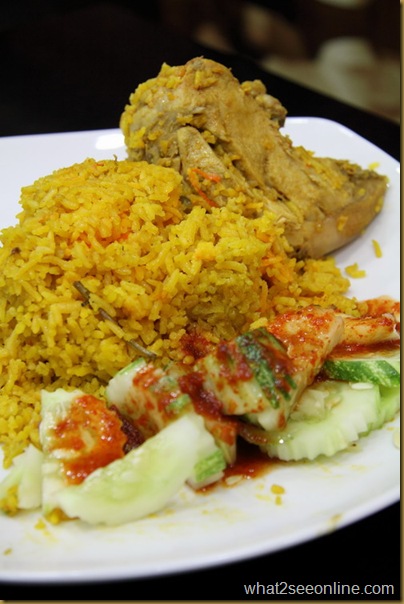 Our drinks for the meal were the refreshing Hameediyah Special Bandung (rose milk syrup), Barley Ais (ice barley) and Ros Syrup costing RM1.80 and RM1.50 respectively.
The complexity and taste of the dishes in both the new and old outlet are scented with dozens of spices and herbs, giving each dish its distinct tasty flavor to suit the diners' palates.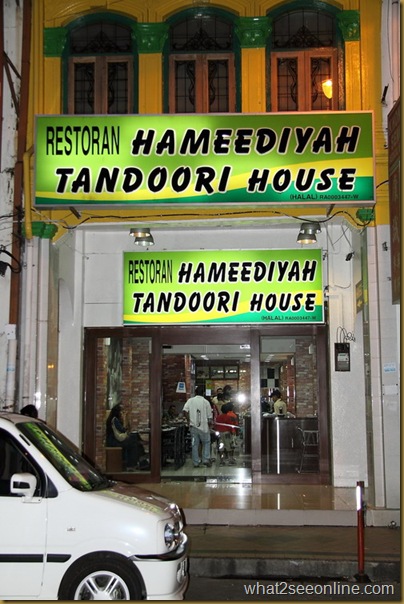 The new outlet
Nostalgia and history lives large at Hameediyah's original outlet. Dining at this 100 -year-old outlet really bestows a sense of heritage, or some would even say it makes the dishes taste better!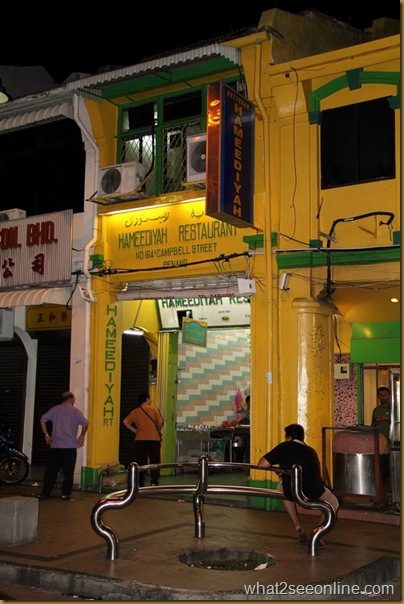 The old outlet
Craving for deep-fried chicken? The Ayam Goreng RM4.50 is flavorful with right balance of curry powder that you may want to bicker to the last scrap. The creamy curry chicken on the other hand is spicy with lots of mixed spices and a deep intense sauce.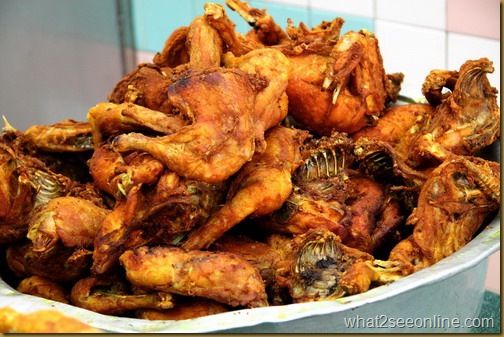 If you prefer something other than chicken, then have the Itik Kari RM18 (curry duck). Large pieces of duck are cooked in addictive thick curry. The gravy is very lemak (rich with coconut milk) and appealing with its bright reddish color.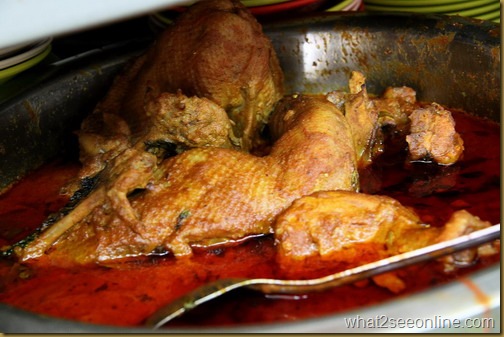 In most food outlets, prices have increased over the years and it's no exception in Hameediyah, but the overall prices are relatively similar to other outlets. Great seafood (particularly crabs and large prawns), cost more than meat. For those who are more adventurous, do check out the Kari Kepala Ikan (fish head curry).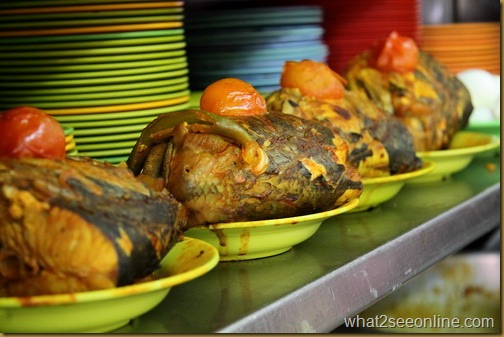 Kari Kepala Ikan RM35
Rows of mouth-watering dishes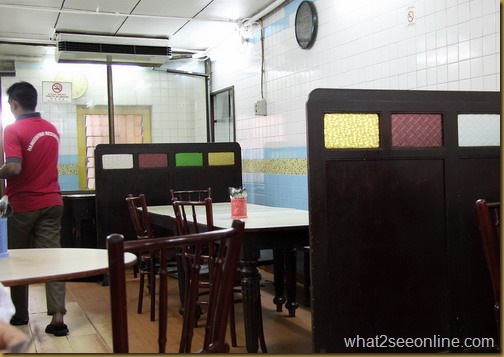 Upstairs dining area of the old outlet
Do check out the wide range of food found in the century-old restaurant and its new outlet. Click here for the Map Location.
Hameediyah Restaurant
164A Campbell Street
Penang
Tel: 04 2611095
Business Hours: 11am – 10.30pm
Closed on Friday
GPS Coordinates: N5 25.118   E100 19.947
Tags: Briyani, Campbell Street, Canai, Cili Jerok, Daging Rendang, Eating House, Flavors, Food Presentation, Hameediyah Restaurant, Hameediyah Tandoori House, Itik Kari, Kambing, Kambing Kurma, Kari Kepala Ikan, Kurma, Murtabak, Nasi Briyani, Nasi Kandar, Neighborhood Restaurant, New Straits Times (Life & Times), New Straits Times (Life & Times), Papadum, Peanut Sauce, Pickled Onions, Restaurants In Penang, Rice Crispy, Rm1, Rm4, Sambal Nyior, Shop Layout, Side Dish, Side Dishes, Signature Dish, South Indian Cuisine, Tandoori Chicken, Thick Coconut Milk, Two Doors, White Rice
This entry was posted on Thursday, August 19th, 2010 at 11:00 am and is filed under
George Town
,
Halal
,
Mamak/Indian
,
Media Preview
,
Mee Goreng
,
Nasi Kandar/ Nasi Briyani
,
New Straits Times (Life & Times)
,
Penang
. You can follow any responses to this entry through the
RSS 2.0
feed. You can
leave a response
, or
trackback
from your own site.