BY CK Lam
A rich and colorful Peranakan wedding!
Baba-Nyonya wedding ceremony is fast disappearing and forgotten by many except for a handful of the older generation. In the heritage town of Penang, there has been a strong call for couples to revive this heritage by taking their vows in this traditional style. Won't it be a lovely change for couples to wed in a truly unique traditional showcase of rich and colourful Baba-Nyonya culture?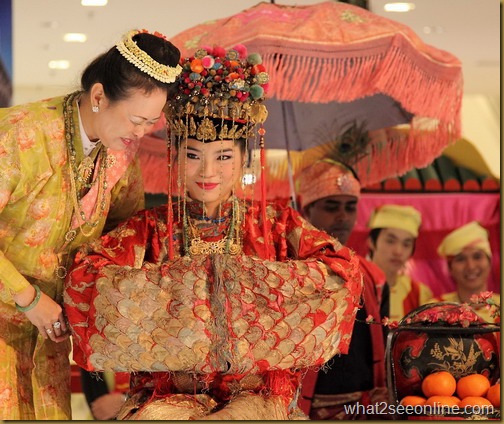 The wedding ceremony of the Baba-Nyonya is one of the fascinating and colorful wedding ceremonies around town. The wedding is actually held over a twelve days ritual starting with the exchange of gifts between the couple's parents which is then follow by a elaborate stream of traditional process, including the "cheow tao" ceremony to initiate the bride and groom into adulthood, the tea ceremony, the use of sedan chair to fetch the bride, and the lifting of the bride's veil.
Unfortunately with modernization enveloping society, the Baba-Nyonya wedding ceremony nowadays is much simpler and less elaborate. It is more of incorporating the Baba-Nyonya elements into the wedding schedule rather than following the ritual. Given the time constrains nowadays; a lot of the time consuming practices and pomp have been done away or cut short!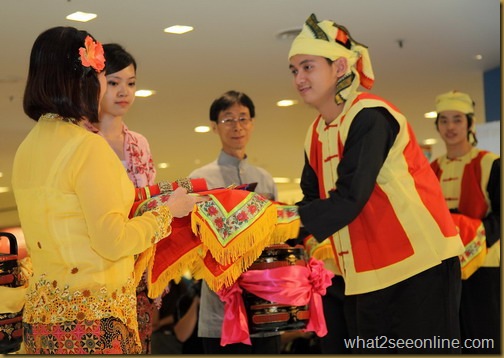 Exchanging of gifts between both the family

The groom leading the sedan chair carriers to fetch the bride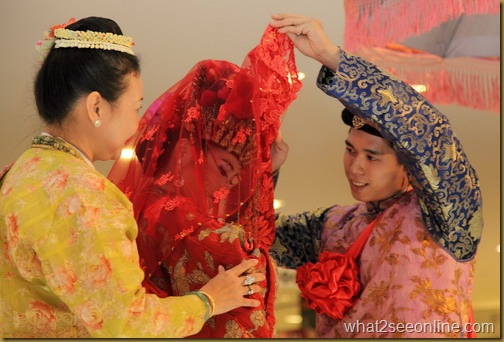 Arrival of the bride, followed with rituals which include the lifting of the bride's veil
The actual matrimonial costumes worn consisting of gowns, robes, head dress, accessories and beaded shoes (kasut manek) are elaborate and donned with intricate embroidery, beads and auspicious multi colored motives and symbols. The attire worn by the rest of the family is as elegant, especially the "sarong kebaya" and the Baju Panjang".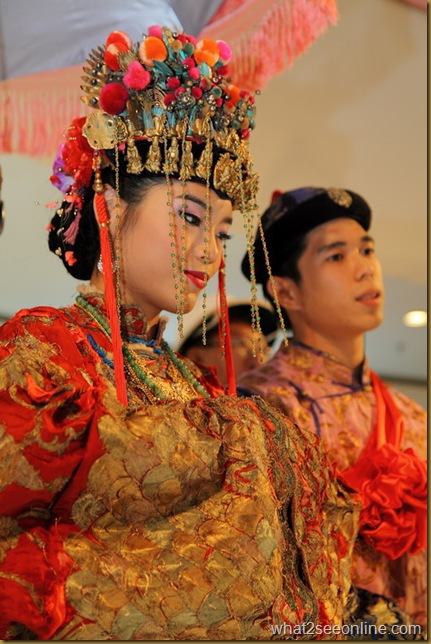 Elaborate Nyonya bridal head dress and costume
Gorgeous hand embroidered beaded shoes (kasut manik)
No matter whatever changes, an important element for the Baba-Nyonya wedding is the wedding banquet. Given that the Peranakan has a strong food culture and are affectionately with their cuisines, an elaborate spread of Nyonya dishes are usually served at the dining table. One experienced Peranakan restaurant in Penang that caters for Baba-Nyonya wedding banquet is Sri Batik Nyonya Cafe at New World Park.
*** The restaurant has since closed down and shifted.
Stepping up to the restaurant for a Nyonya wedding meal, I was faced with a heavy wooden door with huge lion-head door-knockers. Sri Batik gives a welcoming warm feeling as you enter the restaurant. Peranakan ornaments and furniture fill the restaurant with a touch of the modernist feel – most authentic indeed.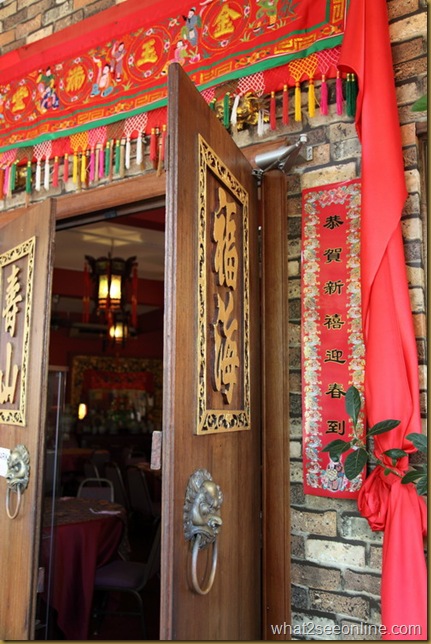 The restaurant is decorated with private collection of pictures and Peranakan artifacts, including ceramic pottery, old clocks, jar and basketry. This radiates a feeling of nostalgia, which is simply perfect for holding a Baba-Nyonya banquet!
Proprietor Kenneth Yip, who is a Baba himself, said that as a Penangite, his aspiration is to revive the art of Sri Batik Nyonya cooking whilst delivering traditional authentic Nyonya cooking to the younger generation.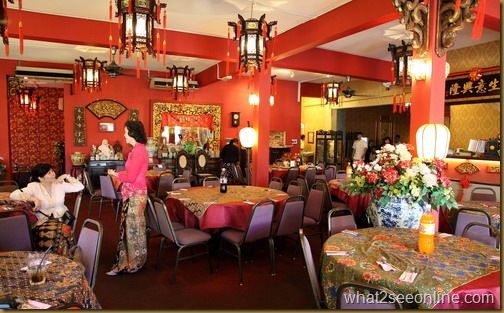 The restaurant is decorated with Peranakan artifacts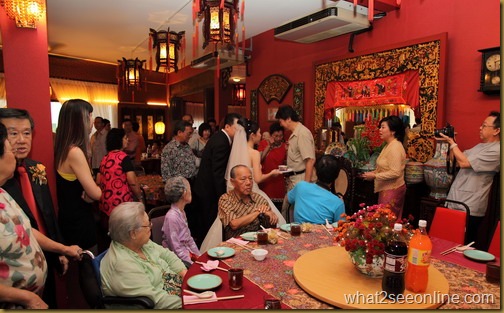 This restaurant offers a wedding menu that seemed interesting. There is a wide range of seafood and chicken dishes. The all time favourite, Curry Kapitan (chicken curry with a tangy sour taste of kaffir lime leave) is one of the several items in the menu. Rich with milk, the robust gravy has lots of oomph in its aromatic spices.
Not to be missed is the Lobak (bean curd sheets wrap with pork). This pork roll is slightly shorter; half the size of what is normally served. The ingredients use in the lobak is three layer pork, which added another dimension to the palate.
The soft and fluffy Nasi Ulam was a mix of flavours from the generous amounts of fresh herbs and spices. The daun kaduk, daun cekur, lemongrass, kaffir lime leaves and tumeric leaves are finely shredded and mixed together with the correct proportions of rice, chopped shallots and grated coconut to make a sensational aromatic rice dish.
Another all time traditional Peranakan dish is the Assam Prawn (tamarind fried prawns). The prawns are fresh, well absorbing the marinating of the tamarind pulp. The dark soy sauce coating the prawns not only adds a wonderful taste to this dish but also work up your appetite.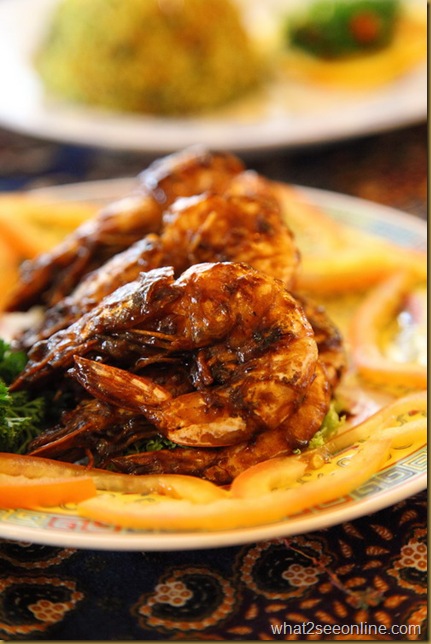 It is a nice change to enjoy a simplistic dish to complement the authentic traditional cuisines. Sri Batik came out with the Singapore Beehoon which makes a good choice over rice. It is a pleasant fried noodle with fresh ingredients of seafood.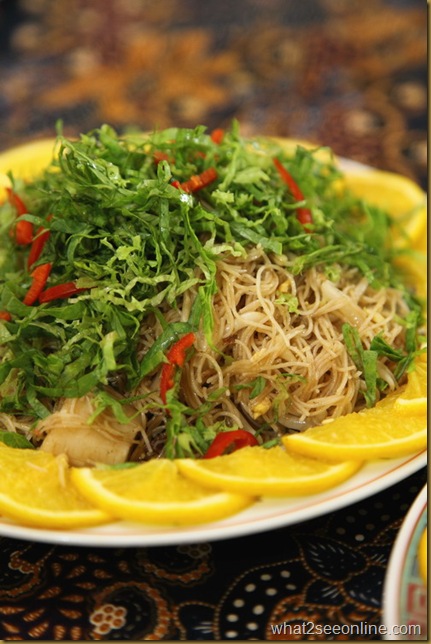 Other dish that came was the Gulai Tumis (curry fish) with pieces of fish cooked in thick sourish gravy with an aroma of spices. The gravy has course grounded ingredients of lengkuas, lemongrass and laksa flower topped with kaffir lime leaves.
The Nyonya Chap Chai (mixed vegetable) is a unique dish. Sri Batik's version maintains a sense of simplicity. This tasty stir-fried dish was presented colorfully with ingredients of gingko, broccoli, cauliflower, mushroom and carrot.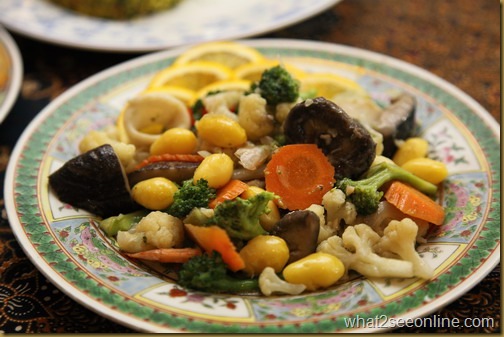 In between the meal, guests were entertained by performances by the "Nyonya Belles". The ladies together with Johny Chee, a Baba, were invited to present several songs and dance promoting the Baba-Nyonya culture.
The ladies in their colorful kebayas embroidered with beautiful motifs
The meal ended with the serving of Nyonya dessert. Sri Batik dishes out Bubur Cha Cha and large varieties of Nyonya kuih. The Bubur Cha Cha has a mixture of flavours and texture with the combination of soft sweet potato, yam and coconut milk. The amazing types of Nyonya kuih were equally satisfying.
Varieties of colorful Nyonya kuih
The delicious Bubur Cha Cha
The Baba-Nyonya wedding meal was indeed an enjoyable experience. George Town World Heritage Site with its many heritage buildings and Nyonya restaurants is an ideal place for a Baba-Nyonya wedding as it provides many backdrops for photography and dining venues.
Sri Batik Nyonya Cafe
102-E-2, New World Park
102 Jalan Burmah
10050 Georgetown
Penang
Tel: 04 2288 919
Business Hour: 11 am – 11 pm
For further information regarding Baba-Nyonya Weddings:
Nyonya Belles -  contact Johny Chee at 016 4231109
Baba Nyonya wedding ideas – contact Susan at  Focal Concepts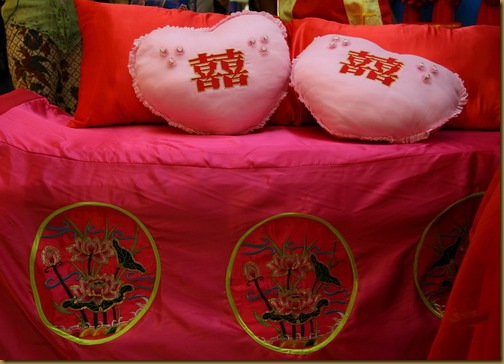 * This is a reproduction of my article published in New Straits Times
Tags: 26th October, Assam Prawn, Baba Nyonya Culture, Baba Nyonya Wedding, Baju, Baju Panjang, Bride And Groom, Cheow Tao Ceremony, Ck Lam, Colorful Wedding, Curry Kapitan, Dress Accessories, Eleme, Focal Concepts, George Town World Heritage Site, Gorgeous Hand, Gulai Tumis, Head Dress, Heritage Town, Impor, Kasut Manek, Manik, Nasi Ulam, New Straits Times (Life & Times), New World Park, Nyonya Belles, Nyonya Bridal Head Dress, Penang, Peranakan Restaurant, Peranakan Wedding, Sarong Kebaya, Sedan Chair, Sri Batik Nyonya Restaurant, Tea Ceremony, Traditional Style, Twelve Days, Wedding Ceremonies, Wedding Ceremony, Wedding Planner, Wedding Schedule
This entry was posted on Thursday, October 14th, 2010 at 7:27 pm and is filed under
Events
,
Media Preview
,
New Straits Times (Life & Times)
,
Non-Halal
,
Nyonya Cuisine
,
Penang
,
Peranakan Cuisine
,
Restaurant
. You can follow any responses to this entry through the
RSS 2.0
feed. You can
leave a response
, or
trackback
from your own site.