Penang Hawker Food – Kek Seng Ice Kacang
There are plenty of ice kacang (shaved ice) with many variations in town but there is one ice kacang that really stands through time and it is found in Kek Seng coffee shop. It is located along Penang Road in Georgetown and has been in business for many years.
Many people will agree that Kek Seng is the best place for ice kacang with its signature homemade colorful agar-agar jelly and durian ice cream besides other toppings of red bean and jagung (creamy corn). The bowl of ice kacang is drenched with colorful sweet sugar syrup and dose with evaporated milk.
Plate of ice kacang with two choices of ice cream @ RM3.50
Satisfying sweet sugar syrup
Besides the plate of ice kacang, we usually order their homemade durian ice cream…not only one bowl but with additional ones too. The homemade ice cream has a slightly grainy texture and very flavorful. It is available all-year round unlike the fresh durians which is only available at certain time of the year.
Best eaten fast before the ice cream melts
The famous durian ice cream sign
This two shoplot coffee shop still retained part of the 'kocha' (olden day) look and feel with the all-wood booths sitting places. They look pretty much the same as it was many years ago.
Many customers have the ice kacang take away. I watched as the owner feed the block of ice in the machine and in a matter of time, the ice was shaved, drifting into the Styrofoam box. Sweet sugar syrup was added on together with the red beans and jagung, followed with the colorful jelly which was removed from its mould.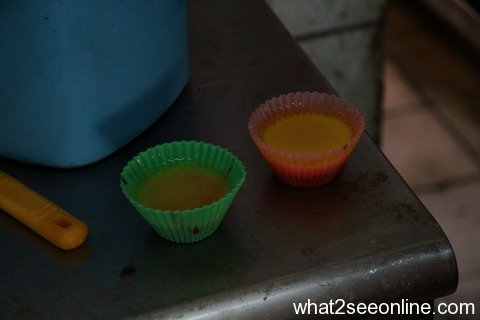 Many household would have used this agar-agar mould before
Scoops of durian and chocolate ice cream and pieces of agar-agar jelly vary according to the customers.  The boxes of ice kacang were ready to go with the final adding of the evaporated milk.
Other hawker food available in the coffee shop remains the same as before with the assam laksa, chicken rice and lorbak except the koay teow thng. Click here for the Map Location.
Kek Seng Coffee Shop
382 – 384 Penang Road
10000 Penang
Business Hour : 11am – 4.30pm
GPS Coordinates : N05 2459.4   E100 1946.5