Sigi's Bar & Grill on the Beach First Anniversary Special
* This article was published in the New Straits Times (Northern Streets) on 16th March 2011.
Sigi's Bar and Grill on the Beach at Golden Sands Resort, Penang is ONE in March! To celebrate its first anniversary since its opening, this beach front outlet along Batu Feringgi is offering diners an exclusive anniversary set menu. Available through the entire month of March 2011 except for Thursday and Sundays, the dinner priced at RM100++ per set offers a complimentary set dinner for every set purchased (Buy One, Free One). The set dinner inclusive  of appetizer, main course, dessert and coffee/tea, offers its new and best-selling dishes, making for a satisfying and affordable meal for all.
The appetizers include Gourmet Flat Bread, Salt and Pepper Calamari,  Arancini Balls stuffed with mushroom and pea risotto, and Wild Mushroom Soup with truffle cream. For the main course, diners can choose between the Peppino's Lasagne, wood-fire Chicken Tandoori Pizza, Sigi's Signature Fish and Chips, Pan-roasted Chicken Breast and the Tagliatelle Pasta with Prawns.
Tagliatelle Pasta with prawns, chilli, tomato and capsicum
This first anniversary also sees Executive Chef John Brock updating Sigi's lunch and dinner a la carte menus with 19 new dishes in the appetiser, main course and dessert sections. Some of the highlights include Sigi's Paella, Pumpkin and spinach Rotolo, Beef Cheek and Shallot Pie, Lobster Pizza, Salmon and Avocado Terrine and Lobster Linguine. The menus also offer addition desserts such as Bread and Butter Pudding and Sticky Date Pudding.
Our party of four had a wonderful time trying out dishes from the anniversary set menu and new additions from the a la carte menus. We started with wild mushroom soup with truffle cream and Cioppino, a savory and satisfying spiced fish stew. I had spoonfuls of both, complemented with a roll.
Wild mushroom soup and Cioppino
The Grilled Jumbo Prawn was grilled in a good way with toasted almond. Full of grilled fragrance, the prawn was presented on a bed of sauteed courgette alongside salad leaves.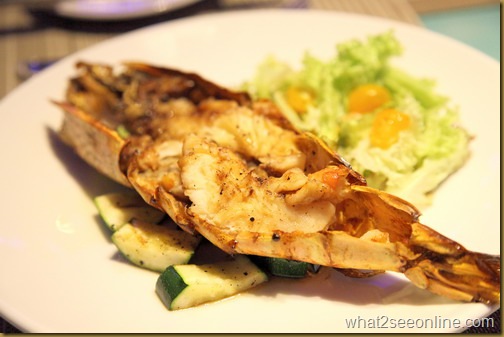 Followed closely behind was the fish dish. The Pan Fried Salmon was presented with potato gallete, salsa verde and gribiche. The fish was well made with crispy skin.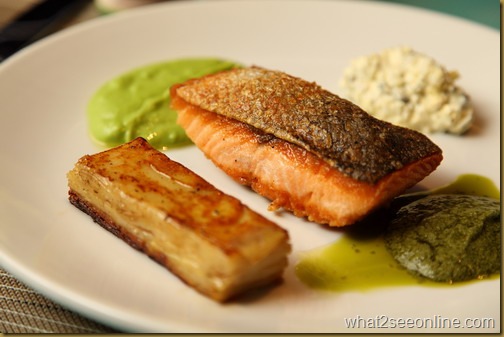 We had the Sigi's Paella, a one-pot meal with balanced seafood flavors. This version for two was done with short grain rice and a combination of capsicum, meaty chorizo, chicken, prawns, calamari and mussels.
Sigi's Paella for 2
We went on to the Slow Roasted Lamb Rack which was special in its own way. Sigi's offer the lamb served with simple combination of brocolli, goats curd tart and Romesco sauce. The rough texture sauce with piquant flavor went well with the gamey meat while the savory goats curd tart was delicious on its own. Do make a point to savor this dish.
Executive Chef John Brock introduced the stuffed pasta dish – rotolo. Made with lasagna sheet, the roll came with fillings of spinach, ricotta cheese and smashed pumpkin. The thick pieces were served drizzled with nutty color burnt sage-flavored butter. The roll does packed flavor and is a pretty healthy option.
Pumpkin Spinach with Ricotta Rotolo
Dessert is always a pleasure. We had several which include the Bread & Butter Pudding, Chilled Rice Pudding and Sticky Date Pudding together with coffee. There was a bit of creaminess and sweetness for everyone. The combination of the rice pudding with strawberry sauce was interesting new. My favorite was the rich Sticky Date Pudding, served with vanilla ice-cream.
Sticky Date Pudding
Sigi's is open from 11am till midnight daily.
Sigi's Bar & Grill On The Beach
Shangri-La's Golden Sands Resort
Batu Feringgi Beach
11100 Penang
Malaysia
Tel : 04 8861852