BY CK Lam
Hawker food features prominently in the culinary culture in the state of Penang. Across the industry there are always places that constantly make headlines while others tend to be excellent but underrated, and the New Cathay Coffee Shop is classified as the latter.
Located along Lorong Kuching right off the ever bustling Burmah Road, this coffee shop is one of the decent places to sample a plethora of Penang's street hawker fare. A favorite mostly with the locals, it begins to fill up as early as 7.30 in the morning and is absolutely packed during the peak hours of ten in the morning right through two in the afternoon.
For those opting for a lighter snack, the apom manis (Indian style pan cake) stall right beside the shop is an excellent alternative. Interestingly, the owner still maintains the tradition of using charcoal stoves and clay pots.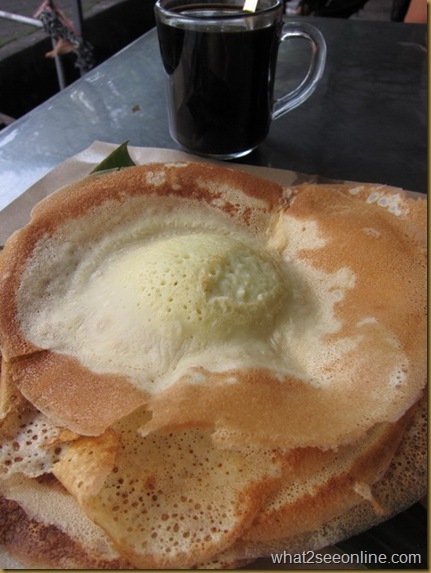 Watching him making the apom is akin to watching poetry in motion, as he constantly juggles among five stoves while swirling the clay pots. The quick action results in the apom possessing a toasty flavor yet remaining soft and moist in the center.  The freshly made apom is a bargain at RM3 for six pieces. Be sure to pair this delicacy with a cup of kopi-o (local black coffee).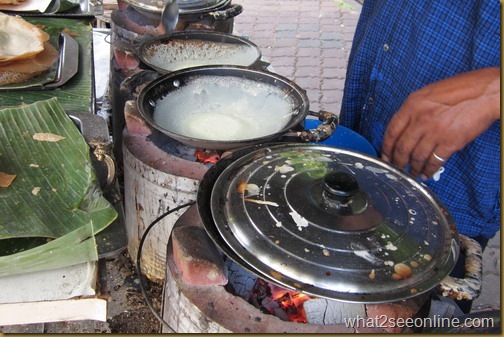 One particular dish that is a crowd favorite here is the curry mee. As one of Penang's local delight, the curry mee is yellow noodles and bee hoon (rice vermicelli) served in an orangey spicy curry broth.
Besides the common ingredients of prawns, cuttlefish and bean sprouts, there are also additional pig's coagulated blood cubes, cockles and long beans. Most importantly, the curry broth is prepared without being too creamy in flavor. Each bowl of noodle is accompanied with a spoon of appetizing chili paste.
Operating since the turn of the new century, Mr Liew's koay chiap has been satisfying customers with its flavors and textures. The most important part of this dish is effectively the broth, and the quality has been successfully maintained throughout these years.
With the flavors finely balanced between spices and duck, the broth goes well with the koay (white flat rice noodles). Served with duck meat, various innards, cakes of coagulated pig's blood and braised egg, this dish is a perennial favorite at New Cathay.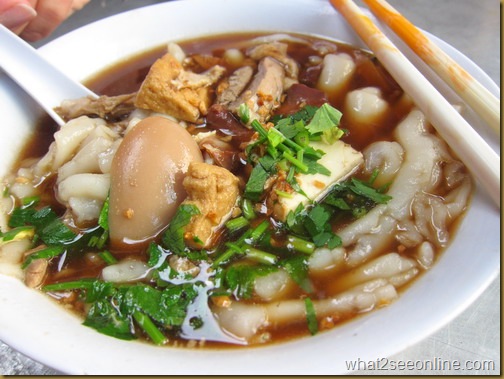 There are also other noodles available at this coffee shop; however the stall which never fails to attract the crowd is the wanton mee. An order consist of a plate of noodle garnished with fried and boiled wanton (meat dumpling), bbq lean pork, black mushroom and green leafy vegetable is accompanied with pickled green chili. The noodle is the drawing point with its crunchiness and texture, while the dumplings are equally tasty with its generous filling of minced meat.
New Cathay Coffee Shop also caters to the early breakfast crowd by serving a combination of toasted bread with kaya, half-boiled eggs as well as a heart-warming cup of kopi-o (black local coffee).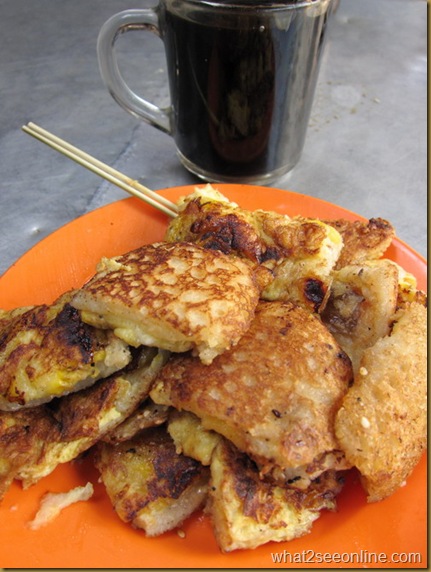 Banana pancake – RM5
Strategically located along one of the busiest part of Burmah Road, New Cathay is located diagonally opposite Convent Pulau Tikus Girls School and directly facing Belissa Row. Parking is limited along Lorong Kuching, and diners can seek parking places in the adjacent streets. Click here for the google Map Location.

New Cathay Coffee Shop
425E Burmah Road
10350 Penang
Tel: 04-8282721
Business Hours: 7am – 2pm
Closed on Sundays
* This is a reproduction of my article published in Makansutra
Tags: Apom, Apom Manis, Banana Pancake, Bean Curd, Bee Hoon, Black Coffee, Burmah Road, Cake Stall, Charcoal Fire, Chili Paste, Ck Lam, Clay Pots, Coagulated Blood, Coconut Milk, Coffee Shop, Crispy Edges, Culinary Culture, Curry Mee, Decent Places, Duck Meat, Flat Rice Noodles, Flavors, Food Features, Food Stall, Half Boiled Eggs, Hawker Food, Indian Style, Koay Chiap, Leafy Vegetable, Local Delight, Makansutra, New Cathay Coffee Shop, Pan Cake, Penang Curry Mee, Penang Hawker Food, Pulau Tikus, Rice Vermicelli, Rm3, Roadside Stall, Street Hawker, Toast Bread, Toasty Flavor, Wantan Mee
This entry was posted on Friday, March 8th, 2013 at 4:47 pm and is filed under
Curry Mee
,
Hawker
,
Koay Chiap
,
Non-Halal
,
Penang
,
Pulau Tikus
,
Street Food
,
Wanton Mee
. You can follow any responses to this entry through the
RSS 2.0
feed. You can
leave a response
, or
trackback
from your own site.