Penang's Cafes & Restaurants – Christmas and New Year Menus
BY CK Lam
The month of December brings a slew of holiday dining with plenty of hearty Christmas and New Year feasts and festive sweets.
Give yourself the gift of not cooking and check out the list of Penang's Cafes & Restaurants for your celebrations.
Feringgi Grill
Shangri-La's Rasa Sayang Resort and Spa
Batu Feringgi Beach
11100 Penang
Tel: +604-8888888
Celebrate Christmas and ring in the New Year at Feringgi Grill, one of Malaysia's Best Restaurants.
The Chambers Hotel & Restaurant
1st & 2nd Floor
23 Light Street & 2nd Floor
2 Penang Street
Penang
Tel: +604-2625566
Nona Bali Restaurant
25 Ground Floor
Lebuh Sungai Pinang 5
(Off Lebuhraya Tun Dr Lim Chong Eu)
11630 George Town
Penang
Tel: +604-2815983
Celebrate the yule tide season with dishes prepared combining Balinese culinary traditions.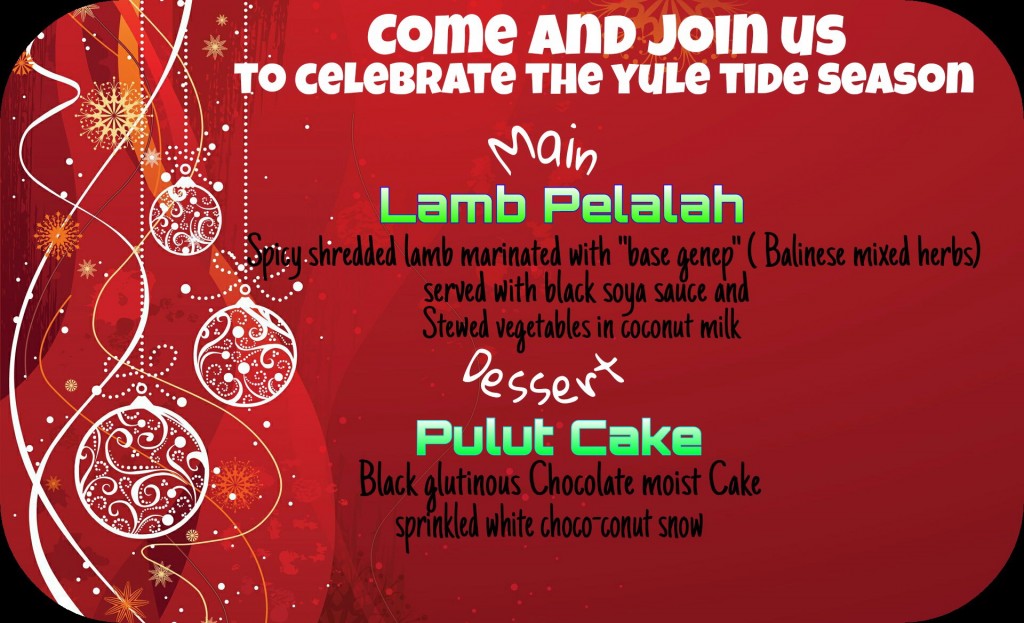 Chin's Stylish Chinese Cuisine
Tanjong City Marina
Church St Pier (Next to QE II)
8A Pengkalan Weld
Georgetown
Penang
Tel: +604-2633331 & 016-5551650
Check out the specially designed menu available only on 24th till 25th December & 31st December till 1st January at this pork free restaurant.
Kota – When Francis Meets Rempah
Jalan Tun Syed Sheh Barakbah
George Town
Penang
Tel: +604-2519420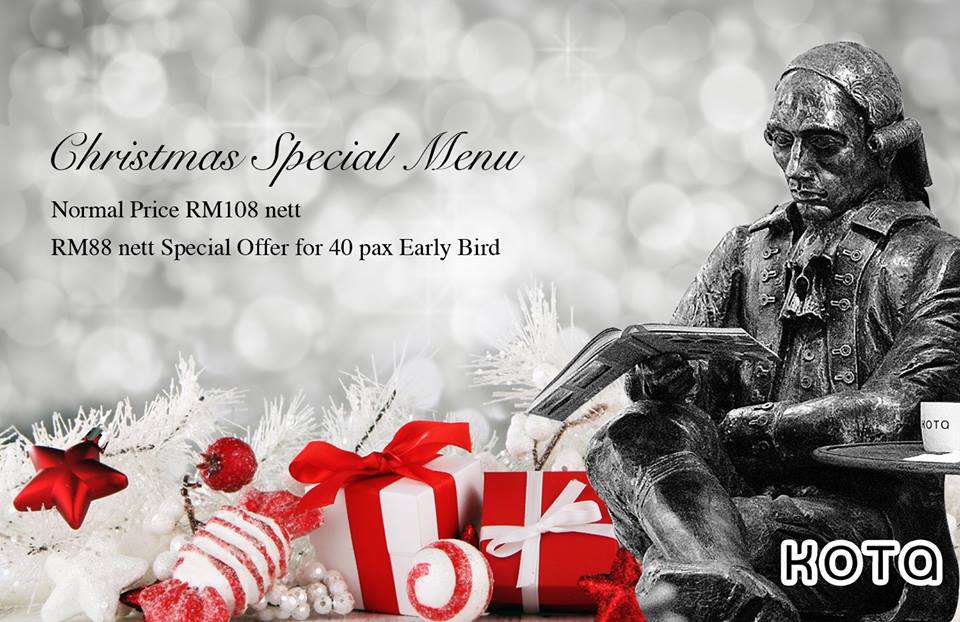 Georgetown Wines
19-19A Lebuh Leith
10200 Penang
Tel: +604-2621011
This wine bar located in a charming setting of an old refurbished mews gets you in the spirit of the holiday with a three course meal.
The O'lives Restaurant
19 Lintang Burmah
Pulau Tikus
Penang
Tel: +604-2278811
Restaurant Markus
37F Jalan Cantonment
Pulau Tikus
Penang
Tel: +604-2261443
Vintage Bulgaria Restaurant & Bar
1E Jalan Sungai Kelian
11200 Tanjong Bungah
Penang
Tel: +604 8981890
Get in the spirit of the holidays with festive flavors of Bulgaria at this nicely renovated restaurant with typical Bulgarian dining ambience.
China House
183B Victoria Street and 153 & 155 Beach Street
Georgetown
Penang
Tel: +604-2637299
Check out the Christmas Course Menus in this forever buzzing cafe within the Unesco heritage zone of George Town.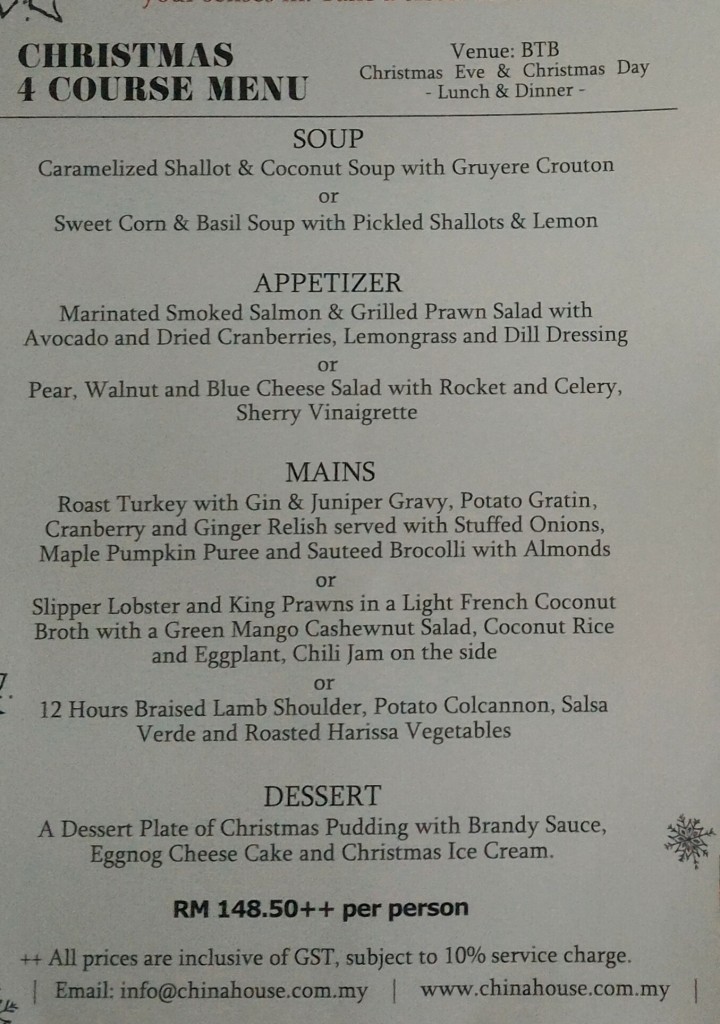 Dcova Cafe
4 Lebuh Bishop
Logan Heritage Building
Georgetown
10200 Penang
Tel: +604 2613121
The cafe that radiates history and identity of the Logan Heritage Building is giving away a complimentary Christmas fruit cake (worth RM25) for every RM120 spent in a single receipt.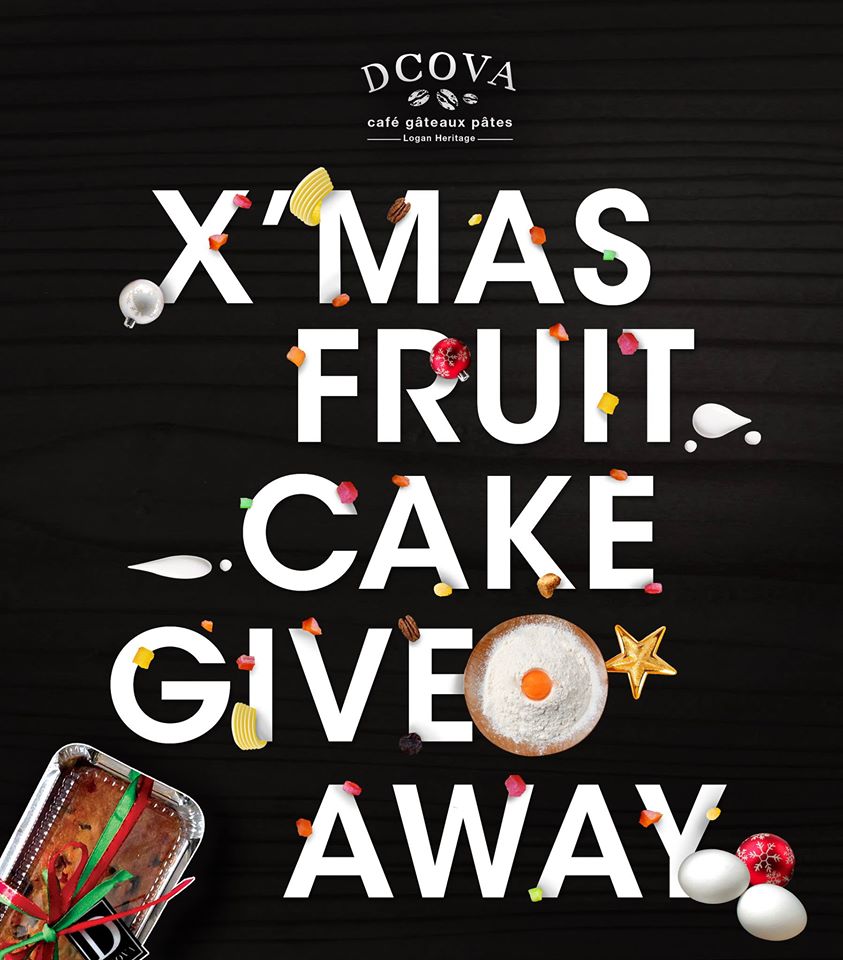 Basil, Le Bistrot
9 Kek Chuan Road
Penang
Tel: +604-2265741
Gala House
102 & 104 Lebuh Muntri
George Town
Tel: +604-2613118
Chulia Court
357 Lebuh Chulia
Georgetown
Penang
Tel: +604-2613809
Three Sixty Revolving Restaurant & Rooftop Bar
Bayview Hotel Georgetown
25A Farquhar Street
Penang
Tel: +604-2613540
32 Mansion
32 Jalan Sultan Ahmad Shah
10050 Penang
Tel: +6
04 2622232
Guests dining at 32 Mansion will indulge in a spread of festive favorites accompanied by live piano music.
IL Bacaro
Campbell House
106 Lebuh Campbell
10100 Penang
Tel: +604 2618290
The restaurant serves its cuisine the Il Bacaro way, which is based on a traditional Venetian backstreet tavern.
What The Duck Restaurant
40 Nagore Road
George Town
10050 Penang
Tel: +604-2278840
Rest assure the restaurant is also serving turkey besides its specialty duck dishes.
Via Pre
5 Weld Quay
10300 Penang
Tel: +604-2619800
Visit this tavern on the harbour, if you want a taste of Italian.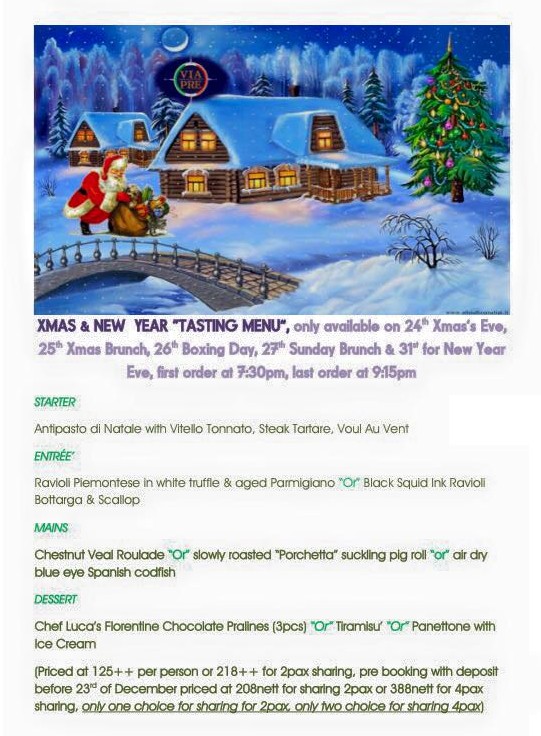 David Brown's Restaurant & Tea Terrace
Strawberry Hill
Bukit Bendera (Penang Hill)
11300 Air Itam
Penang
Tel: +604 8288337
There is no better place for your festive celebration than at this charming restaurant on top of Penang Hill.
The Book Sandwich Cafe
205 Lebuh Pantai
10300 George Town
Penang
Tel: +604-2613445
The Christmas menu of this cafe is only available for dinner on December 24th and 25th. You can also go a la carte should you prefer not to have the set dinner.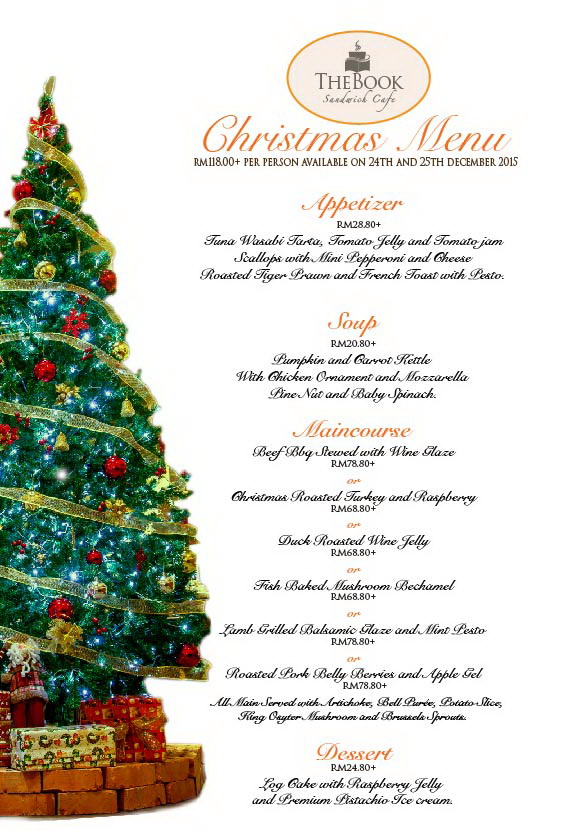 Paul Loiis
18, Lebuh King
George Town
Penang
Tel: 017- 2134383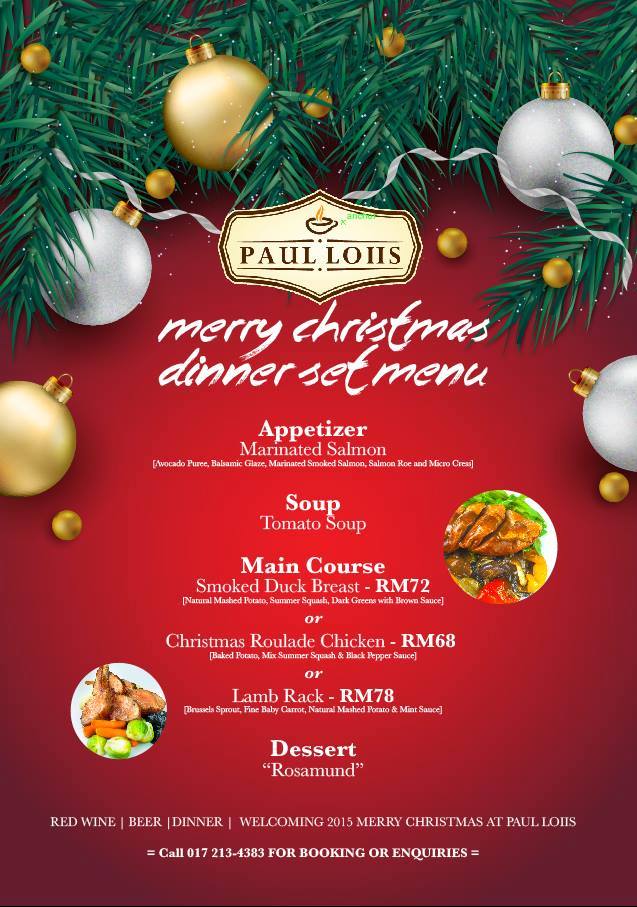 Morganfield
Gurney Paragon Mall
10250 Penang
Tel: +604-2262487
Xiang Yun Vegetarian House (Behind Alora Hotel)
No 17-G-31
Mk12 Bayan Point
11900 Bayan Lepas
Penang
Tel: +604-6371108
Check out the four course meatless vegetarian Christmas special set menu.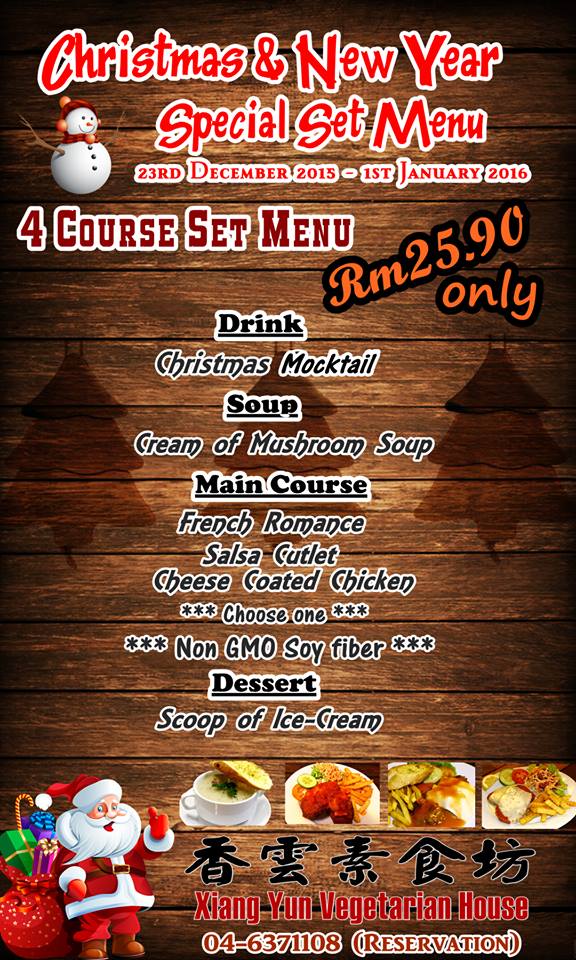 Botanica Mansion
156 Jalan Sungai Air Putih
Bandar Baru Air Putih
11000 Balik Pulau
Pulau Pinang
Malaysia
More info of the place can be view here…
Yin's Sourdough Bakery and Café
11 Pesara Claimant,
10100 Georgetown
Penang
Tel: 01124195118
Freshly baked Christmas Stollen is available on every Tuesday, Wednesday, Thursday, Friday and Saturday until Christmas. Bake by order, so booking need to be two days ahead.
The Haven Harbour
21 Jalan Bawasah
10500 Georgetown
Penang
Tel: +604-2266508
What better way to add on the festival with these cookies from The Haven Harbour Cafe.
Chocolate Passion
233-E Burma Road
10050 Penang
Tel: +604-2281437