BY CK Lam
Our recent discovery is 9-Ten Thirsty Hen, a casual cafe located in Permai 32 in Tanjung Bungah, Penang. Launched a couple of months ago, the simple outlet sporting the hen image offers reasonably-priced, comfort food.
Dinner guests will experience dishes at the family-owned cafe, taken care by siblings Visarn Noel and Uppasara Nicole.
Nicole takes care of the front while brother Noel and his friend Shane Chee are the chefs who make what comes out of the kitchen. Both the chefs proceeded with cooking from scratch – including curing ham and bacon.
We had a great night out with some friends on our first time visiting the cafe. To get things started, we shared two salads. The Caesar Salad served topped with grated cheese comes with combinations of lettuce, hardboiled egg, toasted croutons and house-made bacon.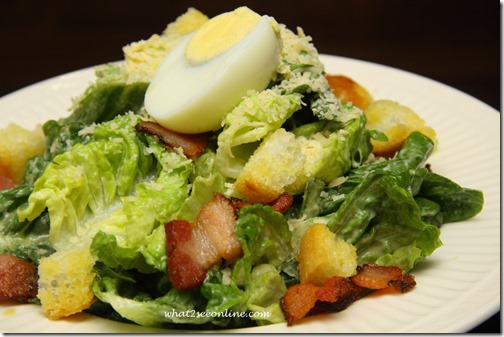 Caesar salad with bacon RM15