BY CK Lam
George Town Penang is reputed with its many heritage shophouses with five foot pedestrian walkways. Many are familiar with these sheltered walkways which are popularly known as goh kaki 五脚基. It is not surprise having one of the cafes going after the name.
Goh Kaki located in two heritage shophouses on Bishop Street is a casual relaxing space. It is one of the several cafes in town that brings back childhood memories.
The drinks menu offers brewed local coffee, fresh juices, soothing teas and ice blended. Coffee choices on the menu include Kopi C, Kopi-O, Kopi and Chocolate Coffee, all served in porcelain kopitiam cups and saucer with flower motifs.
Goh Kaki offers customers the signature 'Say No' Chocolate Coffee with "old-school" chocolates wrapped in gold foil. The chocolate coins with the charm of yesteryear are still sold at some grocers.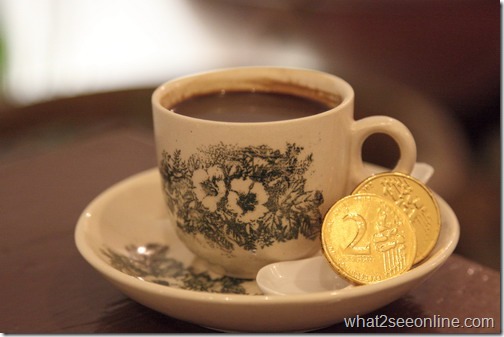 Chocolate coffee RM7.90